For the fourth straight month, the rural economy contracted due to home foreclosures, high grain prices, high unemployment, and healthcare costs, partially offset by strong farm income and banking. Despite the current weakness in rural economic conditions, bankers are much more optimistic about the economy six months from now.

The overall Rural Mainstreet Index (RMI) improved to 48.4 this month from September's 47.6, according to the October survey of bank CEOs in a 10-state region. The RMI is well below readings earlier this year and is the fourth consecutive month below growth neutral 50.0.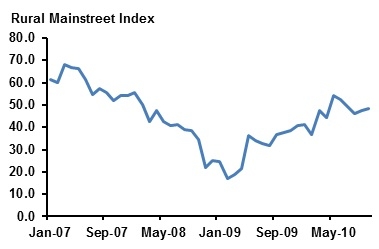 "Unfortunately, very healthy farm income is not translating to healthy business activity for the Rural Mainstreet economy. Businesses heavily dependent on the domestic economy continue to experience pullbacks in growth," said economist Ernie Goss, co-author of the report.

Agriculture

Agriculture continues its positive momentum as the farmland price index rocketed to 60.0 in October from 57.7 in September and 55.3 in August. This is the ninth straight month the index has been above growth neutral. Goss noted, "Farm indicators remain very strong, including farmland prices and the sale of agriculture equipment."

Confirming strong farmland prices, Terry Engelken, CEO of Federation Bank in Washington, Iowa, said, "We have had several farm land auctions recently and several parcels brought over $9,000 per acre." The farmland price index rose in all 10 states surveyed, with strong gains in Colorado, Illinois, Kansas, Minnesota, and Wyoming.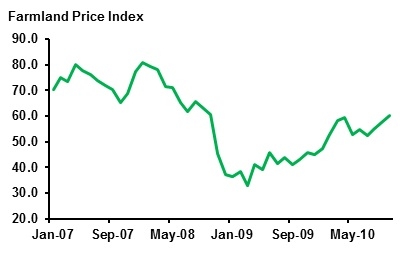 Farm equipment-sales index also improved to 61.0 from 56.2 in September as higher grain prices have encouraged farmers to invest in new equipment. Bradley Bauer, president of Pinnacle Bank in Ogallala, Neb, added, "The higher agricultural commodities prices should help stimulate the rural economy in upcoming months."

Banking

Banking indicators continue to perform well as checking-deposits and certificate of deposits improved, but loan volumes declined below growth neutral to 48.4 from September's much stronger 57.4. "While businesses on Rural Mainstreet are experiencing tough economic times, banking and farming continue to enjoy solid economic fortunes," said Goss.

In the October survey, bankers were asked about the mortgage foreclosure moratorium. More than half, or 52%, think the moratorium would delay the housing rebound and 29% expect the moratorium would add incentive for home owners to delay or forgo mortgage payments.

Ethanol

Bankers were also asked a special question regarding ethanol production and profitability. Roughly 56% expect the high corn prices to be a challenge to ethanol profitability, while 31% indicate the expiration of the blender's tax credit to be the most significant challenge to ethanol profitability.

Outlook

The October survey was comprised of mixed financial signals, but the improvement in the Confidence Index to 57.3 from September's 54.9 is a sign that bankers are expecting a rebound in the economy.

The bright spot continues to be agriculture. Strong exports, continued ethanol demand, and low supplies have propelled grain prices to multi-year highs. High grain prices and improving economic conditions, should pull the rural economy out of its slump.

Disclosure: No positions