The price earnings multiple of UnitedHealth Group Inc. (NYSE:UNH) is over 15, but the company has been growing earnings only slightly over 3%, and on a quarterly growth has actually turned negative, so something seems amiss.
In our EPS growth charts, we calculate trailing 12-month EPS for every quarter, and in our quarterly growth chart we plot that change in the trailing 12-month data quarter by quarter. The yearly growth rate chart we plot that change in data between this quarter and the same quarter of the previous year to define yearly growth rate trends respectively.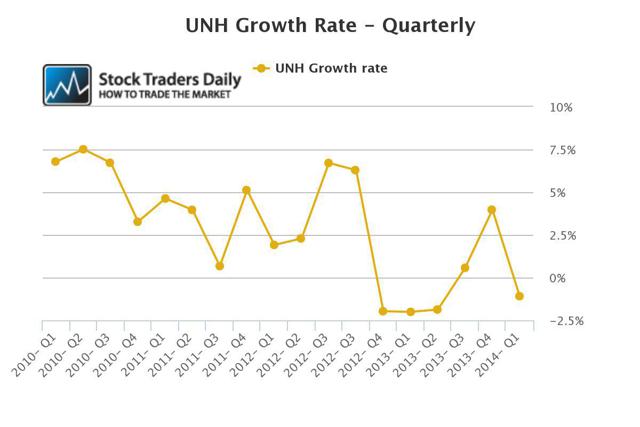 Click to enlarge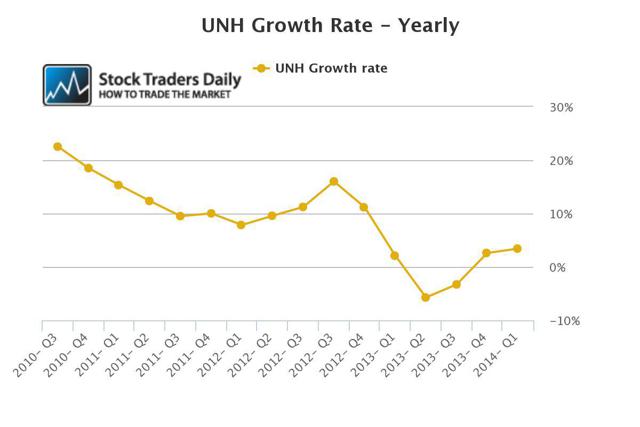 Click to enlarge
An observation of these charts discloses that UnitedHealth Group has had negative quarterly growth rate trends recently, but the yearly growth rate chart shows us that the company actually may have reached an earnings trough and it may have begun to recover or at least stabilize. Yearly growth rate chart shows us that yearly growth was negative until recently, adding support to the notion that earnings growth rates may stem their decline.
Unfortunately, the street is expecting UnitedHealth Group to report earnings of $1.26, which would be lower than the same period a year ago, and add downward pressure on the yearly growth rates we are observing. Because those yearly growth rates are already barely above 3%, and the forthcoming report, if it is in line with analysts' estimates, would cause that 3% rate to decline as well, the current PE multiple of 15 looks rich and from a valuation perspective concerns exist.
The stock is approaching a level of longer-term resistance as defined in our real time trading report for UNH, and therefore modest upside appears likely according to our technical observations, but if longer term resistance is tested and it holds, we will then expect the stock to decline more aggressively. This could be considered in line with our fundamental observations above, but because price matters more to traders, resistance should be monitored closely.
Disclosure: The author has no positions in any stocks mentioned, and no plans to initiate any positions within the next 72 hours.
Business relationship disclosure: By Thomas H. Kee Jr. for Stock Traders Daily and neither receives compensation from the publicly traded companies listed in this article for writing this article.