A key chart to monitor in the weekly "Charts to Watch - Global Market Update" is chart 36, "Germany (NYSEARCA:EWG): Eco Outlook, Industrial Production & PMI". German economic data continues to decelerate from levels of growth seen last year. This is likely to weigh on euro-area growth. When lagged 1 year, the expectations component of the ZEW survey (Black Line in the chart) has a 0.67 correlation with the year-over-year change in euro-area GDP (source: Bloomberg). All three industrial indicators below, Investor Expectations of Economic Growth (Black Line), German Industrial Production (Gold Line), and the German Markit Manufacturing PMI (Green Line), have been in a down trend for 6 months. Euro area GDP grew at 0.2% in Q1 and is estimated to have grown by 0.3% in Q2. For the full year 2014, expectations are for euro-area growth equal to 1.1%, up from -0.4% last year.
The next ZEW Expectation of Economic Growth survey was released today, July 15th. The next data point for Germany Industrial Production will be available August 6th. The next Markit Germany Manufacturing PMI figure will be released on July 24th.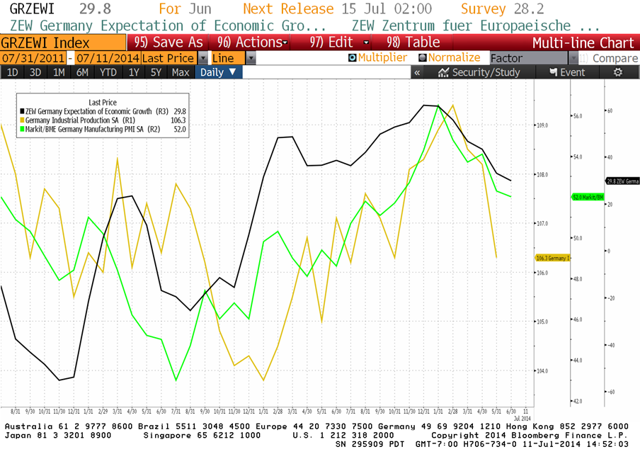 Disclosure: The opinions expressed in this Charts to Watch report are those of the author. The materials and commentary are strictly informational and should be used for research use only. This bulletin is not intended to provide investing or other advice or guidance with respect to the matters addressed in the bulletin. All relevant facts, including individual circumstances, need to be considered by the reader to arrive at investment conclusions that comply with matters addressed in this bulletin. Charts and information used in this report are sourced from Bloomberg, unless otherwise noted.
Disclosure: The author is long EWG.
Business relationship disclosure: Accuvest Global Advisors is a registered investment advisor in the SF Bay Area. This article was written by James Calhoun, one of portfolio managers. We did not receive compensation for this article, and we have no business relationship with any company whose stock is mentioned in this article.