By Sridharan Raman
In 2011 and 2012, Crocs saw strong earnings on the back of high margins, but that trend seems to have stalled and the company is now facing falling margins as it expands its selections. What's more, the search for a new CEO has been dragging on for months.
Are there just not enough good candidates, or are the good candidates reluctant to take the job? Based on the poor Earnings Quality model score of 9 (which puts the company in the bottom decile of all companies), it looks like Crocs' earnings may not be coming from sustainable sources.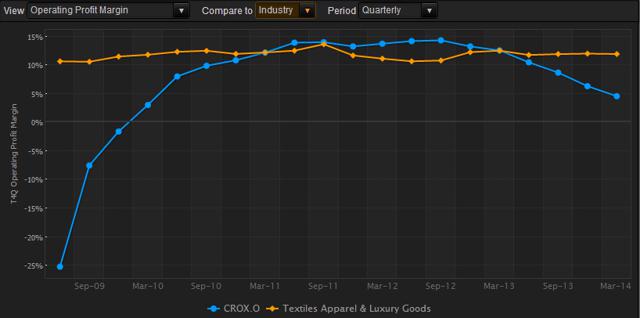 (Source: Thomson Reuters Eikon/StarMine)
Shaky footsteps
After seeing margins improve through 2012, Crocs has seen trailing Q4 operating profit margin fall for the past six consecutive quarters. In September 2012, Crocs had operating profit margin of 14.2%, above the industry median. Since then, this measure has fallen to 4.5%, far below the industry median of 11.8%. Operating profit margin is one of the inputs of return on net operating profits, a measure of how efficiently a company operates. On that measure, Crocs has plunged to 13% from 53%, when the rest of the industry has remained flat. When we compare the March quarters of 2013 and 2014, we see that the revenues have only increased by 0.3% but the cost of sales have increased by 7.1%.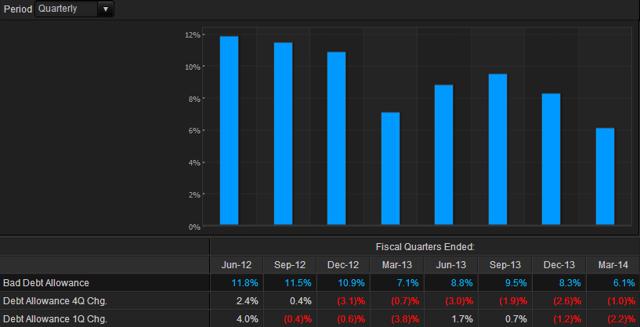 (Source: Thomson Reuters Eikon/StarMine)
Tread lightly
Bad debt allowance is typically what the company expects not to collect on its receivables. For Crocs, we look at bad debt allowance as a percentage of accounts receivables, and we see that the company has lowered its bad debt allowance. That comes despite a spike in AR, which went up by $30 million from a year ago (the March quarter typically has seasonally high receivables because of timing on some payments). Despite that increase in AR, the company has lowered its allowance for doubtful accounts. While it is possible that Crocs expects fewer write-offs on its receivables, it is a measure to watch, as these earnings may not be sustainable.
Crocs has also seen a spike in inventories of almost 30% from the previous quarter. Perhaps that is because it is gearing up for the busy season, but most of the increase came from finished goods (which increased by more than 30%), while raw materials and work in progress went down. Keep an eye on those numbers to see if sales justify those higher inventory numbers. If not, some of that inventory could become obsolete (out of fashion) and require a write-down.
On the last earnings call, CFO Jeff Lasher painted a gloomy picture, citing these issues:
Macroeconomic challenges in Japan
Challenges in the American wholesale channels
A 1.5% decrease in same-store sales
Lower margins due to a larger product mix
Increase in administrative costs
Several one-time exceptional charges, including store closings
Retirement of the CEO and a continuing search for a new one
Expected "strategic transitioning" to refine the company strategy
That is a lot of news to digest, with one silver lining: The Blackstone Group took a significant position (20%) in the company, which looks like a sign of confidence. Based on the Earnings Quality model, however, it looks like Crocs isn't enjoying these beach days yet.
Disclosure: The author has no positions in any stocks mentioned, and no plans to initiate any positions within the next 72 hours.
Business relationship disclosure: Alpha Now at Thomson Reuters is a team of expert analysts that are constantly looking at the financial landscape in order to keep you up to date on the latest movements. This article was written by Sridharan Raman, independent commentator and analyst. We did not receive compensation for this article, and we have no business relationship with any company whose stock is mentioned in this article.