I recently wrote a bullish piece, outlining my investment thesis for the purchase of Sirius XM Holdings (NASDAQ:SIRI). The shares were trading at roughly $3.25 per share, which was significantly less than the buyout offer by Liberty Media (NASDAQ:LMCA). I viewed the price at that time to be an attractive entry a management seemed very committed towards using their free cash flow to significantly reduce the number of shares outstanding. In the article below, I will update my stance towards SIRI.
SIRI recently announced they are adding an additional $2 billion towards their share repurchase plan. SIRI has already earmarked $4 billion towards reducing the amount of shares outstanding which heartens me as an investor. SIRI has an absolutely obscene amount of shares outstanding, partly due to the egregious terms it needed to receive financing for its business. In essence it had to pay exorbitant prices to launch and maintain the business. Thankfully, for investors the company has morphed into a free cash flow machine which will allow them to retire some of their higher priced debt. The debt reductions along with the reduction in share count should put SIRI on firmer footing going forward.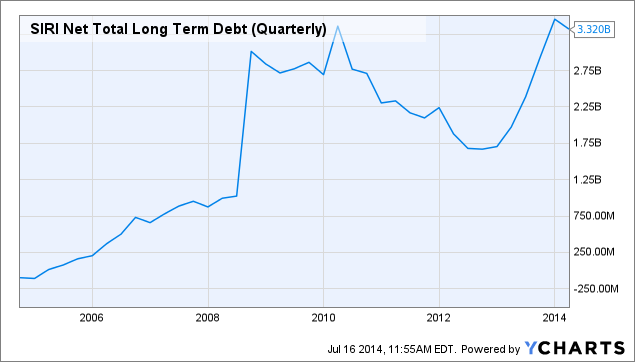 SIRI Net Total Long Term Debt (Quarterly) data by YCharts
Here is what I am looking for going into earnings. The first data point is subscriber additions and revenue per subscriber numbers. I expect SIRI to show a decent amount of new additions. I am shocked more analysts aren't impressed with the subscription based model SIRI has developed. SIRI has over 25 million paying customers, which in my view is a truly staggering number. The cash flow generated by the subscription model is fairly easy to predict which is the main reason why I am interested in the company. I view SIRI as a non-cyclical company with stable, easy to predict revenues. SIRI gross profit margin checks in at a stellar 63%, a sign of a dominant company in its respective field.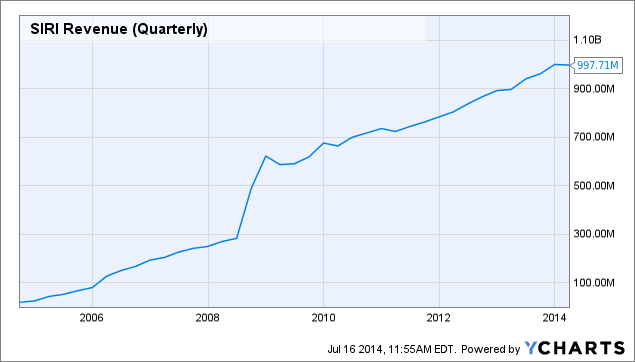 SIRI Revenue (Quarterly) data by YCharts
The second data point I will be looking at is the number of shares outstanding along with further information on how the company expects to deploy the capital it has earmarked for share repurchases. I am specifically looking for how many shares are outstanding and what portion if any of the funds have been used towards share repurchases. I am also looking to see if LMCA holds a larger or smaller percentage of the company. I noticed an interesting tidbit in the press release, mentioning the monies earmarked for share repurchases can be used to reduce LMCA stake.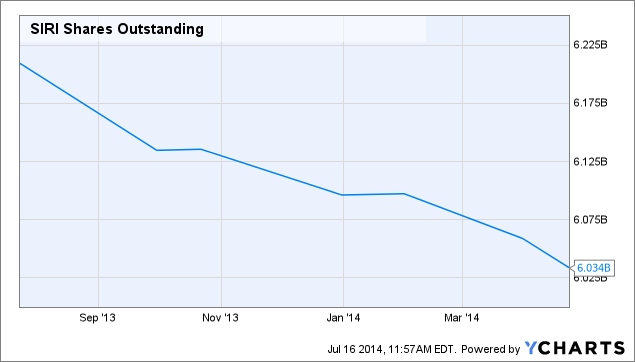 SIRI Shares Outstanding data by YCharts
Sirius XM Holdings Inc. (SIRI) today announced that its Board of Directors has approved an additional $2 billion common stock repurchase program. Shares of common stock may be purchased from time to time on the open market and in privately negotiated transactions, including in accelerated stock repurchase transactions and transactions with Liberty Media (LMCA) and its affiliates. The Company will fund the repurchases through cash on hand, future cash flow from operations and future borrowings.
I am of the opinion that LMCA will continue to control the company, as they will simply use the cash flow generated to reduce the amount of shares outstanding. By buying the other existing share holders out, LMCA can virtually take the company private over the next few years without using its existing capital. I expect the number of shares LMCA owns to remain stagnant yet they will control a larger portion of the company as time goes on. A decrease in the number of shares LMCA owns would cause me to rethink this position.
In conclusion, the additional capital earmarked for share repurchases is a welcomed event for SIRI bulls. It demonstrates management's intent on rewarding long term shareholders. I will be anxiously awaiting earnings as I expect them to be quite enlightening. I would like to thank you for reading and I look forward to your comments.
Disclosure: The author is long SIRI. The author wrote this article themselves, and it expresses their own opinions. The author is not receiving compensation for it (other than from Seeking Alpha). The author has no business relationship with any company whose stock is mentioned in this article.
Additional disclosure: Investors are always reminded that before making any investment, you should do your own proper due diligence on any name directly or indirectly mentioned in this article. Investors should also consider seeking advice from a broker or financial adviser before making any investment decisions. Any material in this article should be considered general information, and not relied on as a formal investment recommendation.