As we have seen in the past, earnings season is putting a pause in the market rally, as everyone sits back to take inventory of where we are and where those who manage large companies think we are going. The forecasts offered by management teams are very important and thus far, our feeling is that guidance has generally been bullish, even if cautiously so.
Through the end of the year, we doubt that the market is driven by earnings, but rather the continuation of deal flow and financial engineering.
Chart of the Day:
The following one year chart of gold highlights the importance of the $1,300/ounce level for the precious metal. As we approach that level again, we are watching for support to kick in because if it does not, we could see another move towards the $1,250/ounce area.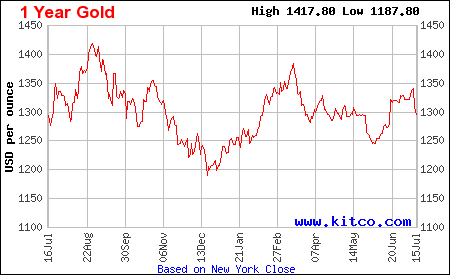 Source: Kitco
Commodity prices are as follows (at time of submission):
Gold: $1,302.10/ounce, up by $5.00/ounce
Silver: $20.835/ounce, down by $0.054/ounce
Oil: $101.05/barrel, up by $1.09/barrel
RBOB Gas: $2.89/gallon, down by $0.0086/gallon
Natural Gas: $4.123/MMbtu, up by $0.026/MMbtu
Copper: $3.2185/pound, down by $0.031/pound
Platinum: $1,486.60/ounce, up by $1.60/ounce
Fuel Cell Stocks
Our initial reaction to yesterday is to question why Janet Yellen did not discuss the valuations in the fuel cell manufacturers although she probably was unaware of yesterday's move at the time. The sector shot higher yesterday at the open after an analyst began coverage on Plug Power (NASDAQ:PLUG) and a report which stated that the company could supply up to 10% of the components for fuel cell powered forklifts.
This news also increased investor interest in FuelCell Energy (NASDAQ:FCEL) and Ballard Power Systems (NASDAQ:BLDP) which saw volume spike and investors bid higher for shares. Long-term, we only see one or two names surviving in this space and think that those companies who do manage to survive will have to grow into their valuations. There are going to be a lot of these short-term spikes caused by contract announcements and analyst upgrades, but we have trouble seeing these names moving strongly higher without the companies branching out and making inroads to new uses or increasing the rate at which they gain market share in the forklift industry.
Plug Power would have to move above $5/share for us to believe that a new breakout was possible and right now that does not appear to be the case. We could be wrong, but until the $5/share level is breached and support built, we are skeptical.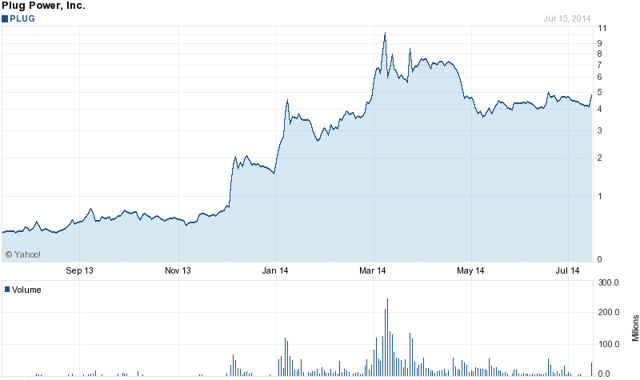 Click to enlarge
Source: Yahoo Finance
We do not view these stocks as long-term investments, but rather speculative investments that over the long-term most likely will not pan out. Short-term money can be made, but we think losses will accrue for those who continually profess that these are long-term plays that need time to work out.
Volatility In Oil E&P Names
We are seeing investors reevaluate their risk tolerance as it pertains to the oil E&P names. Many of the companies which have rallied strongly are correcting, such as Halcon Resources (NYSE:HK), while investors wait on the next round of news which will drive the shares higher. The market got a little ahead of itself, as fast money continued to trickle in and chase momentum, and after a consolidation we think that the move higher in names like Halcon Resources will resume.
Those companies which have kept the attention of investors, and specifically momentum traders, have been outliers in this market and have done so on the back of news pertaining to operating results, future events or M&A activity. One name which continues to power higher that we like is Anadarko Petroleum (NYSE:APC) because of its domestic assets.
The company has some really attractive assets that it is working to develop out west, but with recent talk centering around the company's property which generates royalties, we think that a deal might be coming down the pipeline soon. As the company looks to create shareholder value, we would not be surprised to see these assets placed into an entity (most likely a MLP) with some debt transferred and an IPO. We could see a best case scenario where Anadarko creates between $2.5-5 billion in value for investors if it were to place certain assets into a MLP, which would be a nice move for investors as it could immediately create growth by freeing up cash and also drive further buybacks and dividend increases.
Disclosure: The author is long HK. The author wrote this article themselves, and it expresses their own opinions. The author is not receiving compensation for it (other than from Seeking Alpha). The author has no business relationship with any company whose stock is mentioned in this article.