By Steven Carroll
Apple (NASDAQ:AAPL) has been performing well; it's known the world over, but its stock has not returned to idiotic valuation levels. The partnership with IBM (NYSE:IBM) certainly looks like a significant challenge to Microsoft (NASDAQ:MSFT), but a surging stock price in recent months still didn't even revisit the median 10 year P/E ratio.
Perhaps even more intriguing is that Microsoft, despite its challenges, is now trading at a higher forward P/E than Apple, and at a premium to its 10-year median. Apple, of course, remains far below its median valuation (the dotted line in the graph below).
As Apple now appears, for the first time, to be changing its long-term strategy away from just the consumer and will no doubt more effectively challenge Microsoft for large enterprise deals, it seems strange that Microsoft's valuation has moved to a premium for the first time in a decade.
Putting all of this into market expectation terms, the market is now implying Apple will grow its EPS at 6.4% per year for the next five years. In order for a stock to be mispriced, you need to have a different view. Of course as Apple grows, the sheer scale of the business makes such EPS growth harder to justify - but given its position in the marketplace, premium brand and strong management, those expectations appear realistic and the company, with a tailwind of enterprise deals potentially emerging, certainly has the potential to positively surprise. Amazon (NASDAQ:AMZN), to give you a comparison, is priced for 86% EPS growth each year for the next five years.

Take a bite of this
Analysts are certainly paying attention to Apple's improved prospects. The I/B/E/S FY1 EPS forecasts have risen 3.8% in the last 90 days, while FY2 (Sep 2015) are up 4.6%. Analyst recommendations have also been rising, with two new buy recommendations in the last 30 days. All of this combines to put Apple in the top 7% for change in analyst sentiment in North America, compared with MSFT's more mundane top 44%.
Apple scores well across the board in terms of both short- and long-term prospects. The StarMine scores seen below highlight the strong fundamentals of the business from a credit perspective, as well as strong momentum scores (price, analyst revisions) and valuation (relative and Intrinsic) using the StarMine Dividend Discount Model.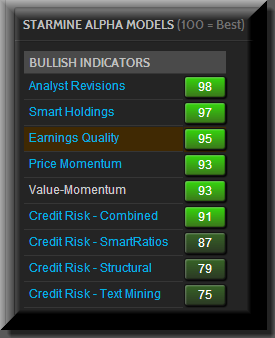 Compare Apple to other fruit
What one wants to find in the marketplace is a premium company that is not sold for a premium price. A five-year view of Apple's P/E versus the computer hardware industry (OK, we concede Apple spans multiple business lines) is revealing. Gone is the premium cost - with the industry aggregate now more expensive than its formerly glamorous constituent.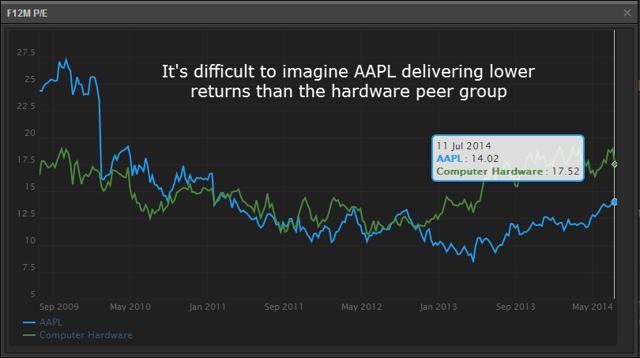 Manageable risk
The other area that one must touch on is the company's balance sheet. Having now issued its first debt (done purely for balance sheet optimization, they had no actual need for money), it's clear just how safe Apple is as a creditor. StarMine's scores and the cash flow chart below tell the same story - the company is generating massive amounts of free cash that are simply piling up in the bank account (however, note that much of the cash is piled up offshore, not able to be repatriated without incurring U.S. corporate tax). In 2013, free cash flow was a phenomenal $44.59 billion.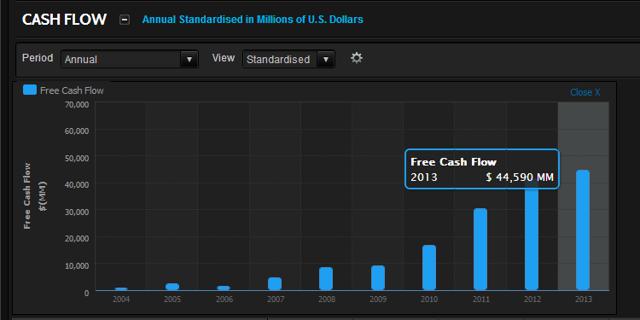 In the bargain bin?
The market has polished Apple several times, across multiple decades, and the company is a known entity. It is just returning to all-time highs, but remains subdued from a valuation perspective as its earnings have surged more than the price. For those wanting exposure to the tech industry, and who are rightly cautious of the silly valuations on offer in many areas, Apple looks like a sensible space to park your cash. Now if they'd just start paying a decent dividend … a bowl of Apple might be a delicious investment meal.
Disclosure: The author has no positions in any stocks mentioned, and no plans to initiate any positions within the next 72 hours.
Business relationship disclosure: Alpha Now at Thomson Reuters is a team of expert analysts that are constantly looking at the financial landscape in order to keep you up to date on the latest movements. This article was written by Steven Carroll, independent commentator and analyst. We did not receive compensation for this article, and we have no business relationship with any company whose stock is mentioned in this article.