A professional investor & trader has significant advantages over the typical retail investor. First and foremost is the time we can allocate and learn from the market as it is not like we have a day job. Second, we have acquired and can use more tools that retail investors either are not aware of or are prohibited from using in vehicles like 401(k)s. These include bull call and put spreads and other option strategies among other tricks of the trade.
When you trade for a living you also develop various techniques for "scalping" a quick two to four percent on an individual equity. That may not make much difference when one has $100,000 in a 401(k) but when one is managing millions of dollars it can accumulate.
One strategy I have successfully executed consistently over the years is actioning secondaries in the high yield energy partnership and real estate investment trust (REIT) space as I find it is one of the few repeating inefficiencies in the market.
Secondaries are capital raises by these various entities usually to buy additional assets in the space they operated in. Since these structures have to pay out the vast majority of their free cash flow to their share or unit holders, it is really only viable option to raise funds for additional property, facility and other cash flow generating asset purchases.
This is a concept that is misunderstood by a lot of investors who often knock these stocks down 5% to 10% on the announcement of a secondary offering quite often. However, these declines tend to be good buying opportunities and the stock quite often recovers to pre-secondary price level within a month or two. The stocks quite often recovers half their drop much sooner than that.
To see why, let's take a simple example. If REIT #1 issues a secondary that accounts for 10% of its existing float, the stock will usually go down a like amount. However, if the funds are used to buy assets that produce the same amount of free cash flow per dollar as the company's existing portfolio; there is no difference to free cash flow per share per unit. Yes, the amount of shares has increased 10% but so has the cash flow for the total entity.
I detailed Memorial Production Partners (NASDAQ:MEMP) last week as a buy on its secondary. I bought a huge slug of shares when they fell to $22.20 a share on the secondary announcement through the day of the actual secondary. I sold a few days later for a quick 4% gain - roughly half the secondary drop in price which is my usual strategy for a quick gain - while keeping a core position I have had on this high yield play for quite some time.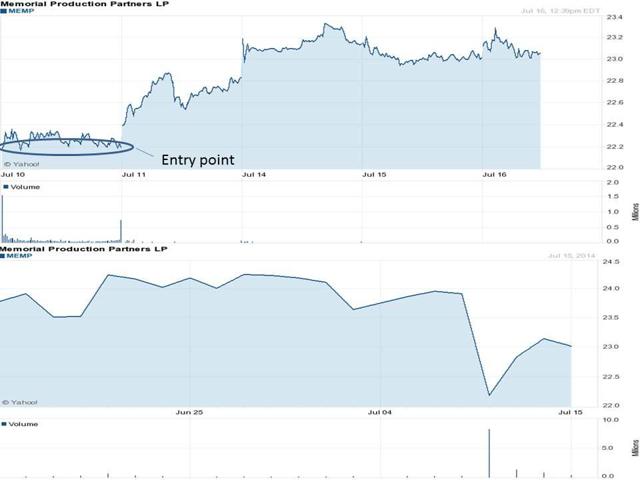 Click to enlarge
Today's special is on Independence Realty Trust, Inc. (NYSEMKT:IRT), A REIT that is down some 10% since the announcement of a secondary offering of approximately 7mm shares. I added to my core position at $9.45 a share this morning, just under the official secondary price of $9.50 a share.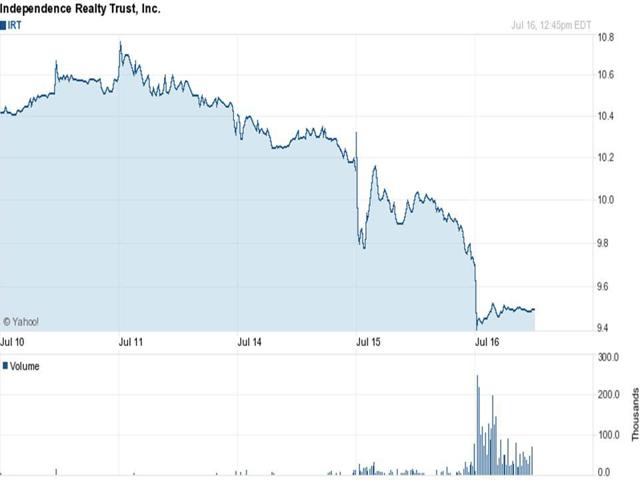 Click to enlarge
Even with the recent drop, my core position is nicely up since I profiled it in April. With the drop this REIT pays an over 7.5% yield and makes its payments monthly. The new capital will allow Independence to continue to grow. Revenues are tracking to better than doubling from last year and the company recently acquired a ~$20mm apartment community in Mississippi. Given this REIT's yield and growth, the shares are cheap at just over 10 times forward AFFO (Adjusted Funds from Operations). I will be looking to sell this additional stake at ~$10 a share, which will represent roughly half the REIT's drop this week. I also plan to keep my original core position as it is a stalwart in my income portfolio.
I am offering this up for income investors that are looking to add another tool to their yield toolbox. Hopefully, they will find it as much as a successful strategy as I have over the years. Happy Hunting.
Disclosure: The author is long IRT, MEMP. The author wrote this article themselves, and it expresses their own opinions. The author is not receiving compensation for it (other than from Seeking Alpha). The author has no business relationship with any company whose stock is mentioned in this article.