Are Investors Wildly Optimistic?
While you can find things to be concerned about on the sentiment front, if an individual investor was highly optimistic that the U.S. market would push higher, we would expect to see net inflows into U.S. based-stock funds. Said more directly, if we "knew" stocks would be higher in three weeks or three months, most of us would stay in stocks. According to recent data, investors are not as optimistic about the stock market as many believe. Facts from Reuters:
Investors in U.S.-based mutual funds pulled $7.8 billion out of stock funds in the week ended July 2 on fears of an early rate hike from the Federal Reserve, data from the Investment Company Institute showed on Wednesday. The net outflows from stock funds were the biggest since the start of last year, according to data from ICI, a U.S. mutual fund trade organization. Funds that specialize in U.S. stocks posted $8.9 billion in outflow.
We Live In A Global Economy
Stocks across the globe tend to move in unison, which means equity prices in Germany are highly correlated to those in the United States.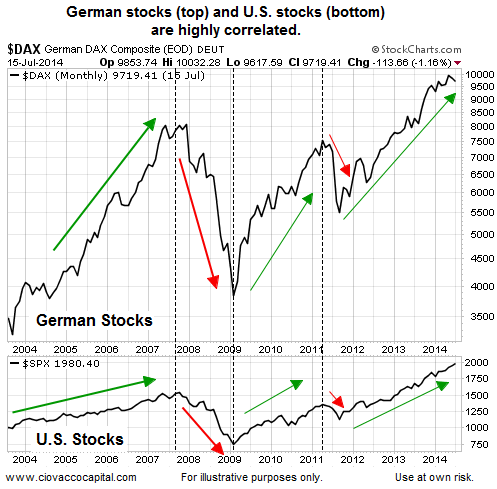 If stocks were on the verge of a myopic peak, we would expect, at least from an anecdotal evidence perspective, that investors around the globe would be highly optimistic about owning stocks, especially in a large developed nation, such as Germany that correlates so highly with the S&P 500. Is that what we have now? From The Economic Times:
Investment sentiment in Germany fell to the lowest level for 19 months in July amid signs of a dent in activity in Europe's top economy, a survey found on Tuesday. The widely watched investor confidence index calculated by the ZEW economic institute fell by 2.7 points to 27.1 points in July, it said in a statement.
Economically Sensitive Stocks Holding Breakout
On July 2, we penned the following:
The weekly chart of consumer discretionary stocks is trying to nail down a new all-time weekly closing high this week, which speaks to improving economic confidence.
The updated version of the chart shown on July 2 shows the bullish push higher is still holding above previous resistance. As long as the consumer discretionary ETF (NYSEARCA:XLY) holds above 67.06, all things being equal, it is a good sign for stocks and the U.S. economy.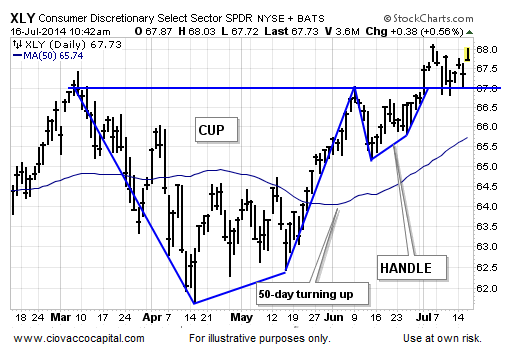 AAII Sentiment Survey
We noted on June 9 that AAII sentiment readings were not alarming. How do they look now? While this week's figures are worth watching, as of 7/9/2014, the bullish sentiment of 37.6% was still below the long-term average of 39.0% (hardly alarming).
Investment Implications - Still Long
Since the topic of investing in individual stocks is outside the realm of our normal base of topics, you may have missed "Retirement: Are You Exposed To False Diversification Risk?" The article illustrates a few points that are relevant for all investors:
Bear markets occur on a fairly regular basis, and they are never fun.
The vast majority of stocks decline in a bear market, even blue chips.
If we know 1 and 2 above, then it is prudent to develop specific and actionable plans prior to the onset of the next "surprisingly painful" period that features bears controlling the stock market.
In last week's video, we made the case for staying with stocks. Since the S&P 500 is up 13 points this week (as of Wednesday afternoon), the bullish case remains intact. Therefore, we continue to hold U.S. stocks (NYSEARCA:SPY), and leading sectors, such as technology. As of 1:20 p.m. EDT Wednesday, SPY has gained 0.68% this week; XLK has tacked on 1.62%. As always, we will monitor the incoming data with a flexible and open mind. Thursday's economic docket features reports on housing, employment, and manufacturing.
Disclosure: The author is long SPY, XLK. The author wrote this article themselves, and it expresses their own opinions. The author is not receiving compensation for it. The author has no business relationship with any company whose stock is mentioned in this article.