It is no mystery that REIT investors fear higher interest rates. With the sector having rallied this year on a respite from 2013's surging 10-Year Treasury yield, most, but not all, of the damage inflicted during last year's massive sell off has been retraced.
As I have noted on numerous occasions, REITs, collectively, are moving in inverse lockstep action compared to the 10-Year. REITs, as measured by IYR are up 15%, while the 10-Year is down 15 percent year-to-date.
Blue: 10-Year Treasury Red: S&P 500 Green: IYR (REIT Index)

Source: Yahoo Finance
Why Are REITs So Sensitive?
REITs have recurring contractual cash flow that does offer the impression of bond similarity. When we look at an overview of American Capital Realty Properties' (NASDAQ:ARCP) tenant portfolio, it is instructive to focus on its 12.3 year average remaining net lease term.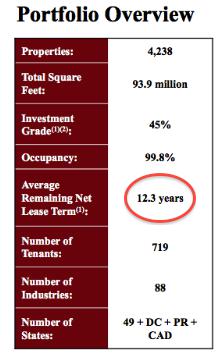 Source: ARCPreit.com
Buying a triple net lease portfolio such as ARCP's in some way would be similar to considering purchase of a fixed rate 12-year-to-maturity security. When buying a 12-year piece of paper, one locks into a specified rate of interest deal with the borrower. If interest rates fluctuate during the interim, that 12-year note could be worth less (or more) than what was paid for it if were sold during the time of holding. If rates go up, the bondholder generally sees the price of the security go down. If rates go down, the opposite occurs.
Looking at ARCP, one is buying a portfolio of 4200+ stand alone properties averaging 12 years to lease termination. If lease rates go up, ARCP is unable to change terms with existing tenants for an average of 12 years - just like the bond investor would be unable to benefit from a rise in interest rates.
Dissimilar to most fixed income securities, however, triple net lease contracts typically have annual step up clauses, commonly in the 1-2% range. Step-ups are one of the ways that REITs are able to generate growth for investors.
Here's how ARCP's average lease maturity stacks up compared to other net lease REITs.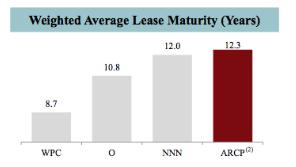 Source: ARCPreit.com
There's additional complication that makes REIT analysis much more involved than a simple bond. On top of occasional equity issuance, REITs leverage themselves (carry debt) in order to grow funds from operations by more than the menial amount that step ups can afford. The more leverage that is used, the quicker the REIT can expand, but the more interest expense it will incur. Further, when its debt matures, a REIT carries refinance risk - something the market appears particularly focused on.
Since many REITs choose to pay out most of the AFFO, CAD, or FAD that it generates - its cost of capital is an important variable in the ultimate amount distributable to shareholders. Let's look at ARCP's current debt profile to understand how debt impacts the bottom line.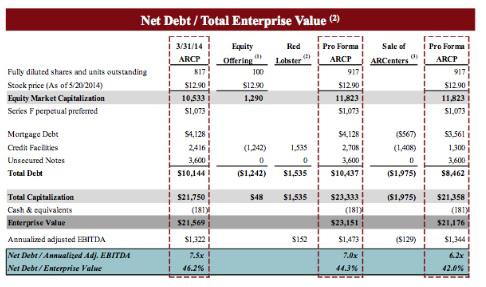 If we examine the far right column, we see 42% net debt/enterprise, which represents the portion of total "capital stack" that ARCP's obligations currently represent. In the next slide we see on a blended percentage basis what ARCP's $8.462 billion of various indebtedness (noted above) is currently costing them.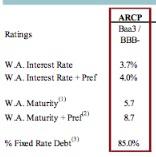 Including its preferred exposure, ARCP is paying 4% a year on its debt, in other words about $338 million. With 917 million shares outstanding, that represents about 37 cents a share of debt service. ARCP has estimated AFFO this year of about $1.15. The market is fearing that for all REITs, not just ARCP, that future maturing debt will be rolled over into more expensive service as rates rise, thus impacting the bottom line.
If debt service were 5%, for example, interest expense would go up to $423 million a year, or about another 10 cents per share. That may not sound like much, but with ARCP already paying out an annual dividend of $1.00 a share, knocking off 10 cents of AFFO would have them barely covering the dividend - assuming $1.15 of distributable cash this year.
So one can see how influential a higher cost of capital can be and why the market gets skittish on certain REITs every time the 10-year needle turns to the upside.
Factoring In Leasing & Real Estate Market Fundamentals
Net lease REITs like ARCP and Realty Income (NYSE:O), which skew their contracts longer-term, are bounced around a bit more during rate volatility than other REITs that operate with shorter lease terms. Since self-storage REITs, for example, typically contract with tenants on a month to month basis, they are not viewed as rate sensitive. With flexibility to control rates on a frequent basis, Extra Space Storage (NYSE:EXR) saw little stock price affect from the May 2013 Fed announcement. Extra Space is being viewed as a growth play as opposed to triple nets, which are perceived more like step-up bonds.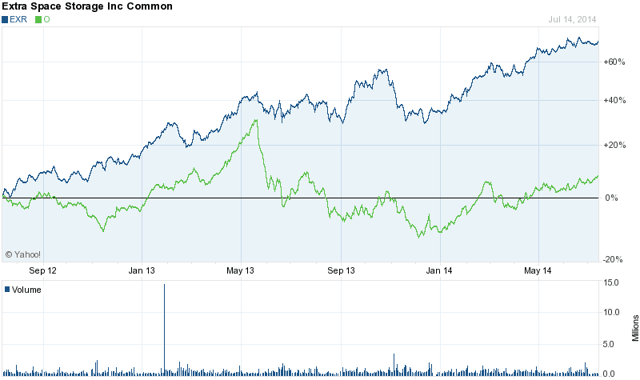 Source: Yahoo Finance
The extent to which a REIT has pricing control over its property and how frequently it is able to pass along that control to tenants is an important part of the forward performance mix. Apartment REITs and collegiate community REITs, for example, tend to re-price on an annual basis, but generally their step ups have been in line with inflation, so not much better - if at all better - than what triple nets get on an annual basis.
As I've opined in the past, if leasing fundamentals improve in a rising rate environment, a REIT's rising cost of capital could be negated or even surpassed by increased net operating income (NOI). ARCP and O, because of their longer lock-ins, however, will be slower to benefit from improved leasing, as opposed to self storage, hotels, and even the apartment landlords that can re-price their product on a more frequent basis. By the same token, if leasing fundamentals got worse industry-wide, locking in long-term contracts would be of comparative benefit.
Finally one must also factor in the general pricing environment for real estate. Another way for REITs to provide shareholder value is to purchase properties on the cheap, fix them up, or utilize as is, and divest them at a later date for a profit. In other words, buy at a high cap rate and divest at a lower cap rate. With the real estate market being in the tank by and large since the financial crisis, there hasn't been much opportunity for divestiture appreciation. Many markets recently have been seeing price firming, however. If this continues, REIT net asset value appreciation could be a plus for investors.
Strategic Session & Summary
Though I'm still of the opinion that interest rates won't be off to the races near-term, REIT investors should nonetheless position defensively with their portfolios. Owning a mix of companies, participating in varying milieus with disparate fundamentals would be a sound approach to sector investment in my view. As we pare down the taper and look forward to a potential rate tightening scenario, one should keep the potential effect of a rising cost of capital situation in mind, especially when considering triple net REITs.
Most of the names I mentioned late last year and early this year have appreciated pretty substantially, so I would be hard pressed to bang the table on them here, however, I think they represent a nice diversified portfolio to look at on pullbacks.
Home Properties (NYSE:HME): Mid-Atlantic apartment landlord
LaSalle Hotels (NYSE:LHO): Upscale hotelier
Omega Healthcare (OHI): Skilled Nursing Facilities
EPR Properties (EPR): Theaters, ski resorts, education
Realty Income (O): Mostly stand-alone commercial
Two names I would buy here are American Realty and Lexington (NYSE:LXP). Both are cheap on an FFO basis and I think are being underestimated/undervalued by the market.
Extra Space Storage, which I mentioned earlier in the article, appears to be a compelling REIT growth story. However, at present valuation, I would need a considerable pullback to get aggressive.
To conclude, as we have entered a seemingly benign interest rate environment, I would not become complacent on REIT allocations nor forget last year's downside volatility. While wholesale valuations are not as frothy as they were during the Spring of 2013, they're not nearly as attractive as they were just six months ago.
Disclosure: The author is long ARCP, OHI, HME, EPR, LHO, LXP. The author wrote this article themselves, and it expresses their own opinions. The author is not receiving compensation for it (other than from Seeking Alpha). The author has no business relationship with any company whose stock is mentioned in this article.
Additional disclosure: Disclaimer: The above should not be considered or construed as individualized or specific investment advice. Do your own research and consult a professional, if necessary, before making investment decisions.