Background: Verizon Communications (NYSE:VZ) is the largest provider of wireline and wireless communications in the United States. The company trades an average of 12.9 million shares per day, and the market cap is $209 billion.
Verizon is large enough that key competitors include Sprint (NYSE:S), AT&T (NYSE:T), T-Mobile (NASDAQ:TMUS), Charter Communications (NASDAQ:CHTR), and Comcast Corporation (NASDAQ:CMCSA).
The upcoming second-quarter earnings is highly anticipated by hopeful investors expecting an earnings growth report before the market opens on July 22, 2014. The Analyst's mean profit appraisal is presently 90 cents a share, a gain of 17 cents (23.3%) from 73 cents during the corresponding quarter last year.
Analysts are estimating a low of 86 cents per share, up to the most optimistic estimate of 94 cents per share. Along with beating last year's results, this quarter is expected to beat last quarter's result of 84 cents per share.
The majority of analysts believe Verizon Communications continues to offer a buying opportunity. 24 of the 33 analysts covering the company give a buy recommendation. Some (9) are taking a more cautious approach, and rate it a hold. As of the last update I have, none of the analysts are recommending selling. The average analyst target price for Verizon Communications is $53.80.
After last quarter's results, the shares decreased only slightly 2.4%, or $1.15 from the close before earnings release to the closing after. The final price preceding the report was $47.43, and concluded at $46.28 the next trading session.
Looking back from the closing price before last quarter's results until now, the shares increased a humble 6.1%, or $2.89. The close before the announcement was $47.43, and currently was about $46.28 as of this writing.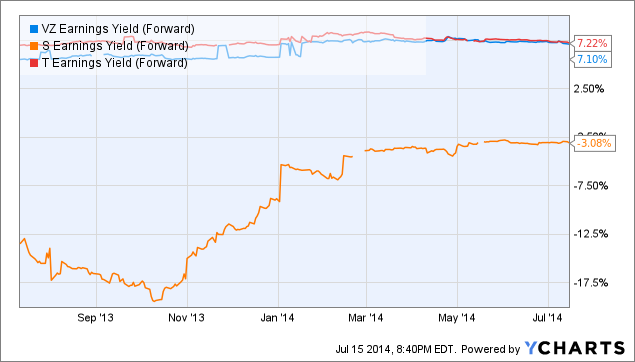 VZ Earnings Yield (Forward) data by YCharts
When we evaluate the options market, especially the contracts expiring immediately following the earnings release, we are in a position to achieve a more adequate comprehension of what other traders are expecting. It's an important step that you don't want to skip.
Option buyers and sellers are betting on a price change of $1.25 up or down move in the stock price, or about a 2% change during the next 11 days.
$49.07 to $51.57 is the expected range for the at the money contract expiring first after the earnings update. Make sure you're ready for it.
With a below average Beta of 0.04, you're not going to see much for price movement on any given day with its low level of volatility. It's not a surprise that during the last year the shares traded within a range of $45.08 to $51.94.
So buying Verizon or AT&T isn't going to make you rich from share appreciation overnight, but that doesn't mean it isn't a strong candidate for long-term investors. For yield seekers, it's a great stable stock that pays $2.12 a share per year for a yield of 4.3%.
That compares to AT&T's 5.2% and is one of the primary metrics I use to compare the two. In fact, I like both companies and have written about the bull thesis for each of them. I don't care for AT&T's customer service, but I do like the stock. Verizon's choice to maintain margins by positioning itself as the premium carrier (based on cost) is a risky move, as more consumers are migrating to pre-paid plans.
As stated in Sirius XM's (NASDAQ:SIRI) earnings preview, AT&T, Sprint, T-Mobile, and U.S. Cellular (NYSE:USM) all offer unlimited plans directly or through resellers. However, Verizon's data comes at a significantly higher cost than Sprint's. Smartphone sales are the rule instead of the exception now, and as they become commodity items, I have to believe the wireless carriers will too.
We watched this movie before with long distance 20 years ago. Okay, well some of us "old timers" have anyway. First it was Sprint's "so clear you can hear a pin drop" at 10 cents a minute, and we all thought it was a holiday every day. Then the bottom fell out of long distance rates, and it didn't take long before rates fell in half again.
Now we're at a point that $10 a month (or less) will get your home unlimited long distance along with a bunch of features that once sold at a premium. It's difficult to imagine Sprint isn't going to continue growing its user base as long as it's able to offer a lower price. Something to consider as you read about the shrinking number of landlines in the upcoming report.
Disclosure: The author has no positions in any stocks mentioned, and no plans to initiate any positions within the next 72 hours. The author wrote this article themselves, and it expresses their own opinions. The author is not receiving compensation for it (other than from Seeking Alpha). The author has no business relationship with any company whose stock is mentioned in this article.