Overview
"Regret of neglected opportunity is the worst hell that a living soul can inhabit." ~ Rafael Sabatini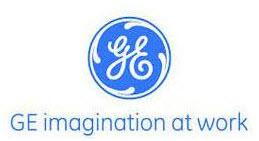 General Electric (NYSE:GE) is scheduled to report earnings on Friday, July 18, before the market opens. I believe the company will beat expectations and possibly raise guidance going forward. This may cause a substantial rise in the stock price. If this occurs market participants will miss out on an opportunity to lock in shares at a 3.31% dividend yield. The following article is my earnings preview.
Current Chart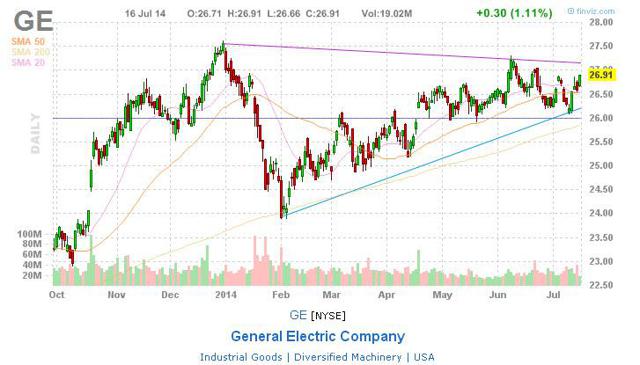 Click to enlarge
(Source: Finviz.com)
Previous earnings performance assessment
General Electric has beaten or exceeded expectations for the past seven quarters in a row. The stock price has increased 37% over the past two years.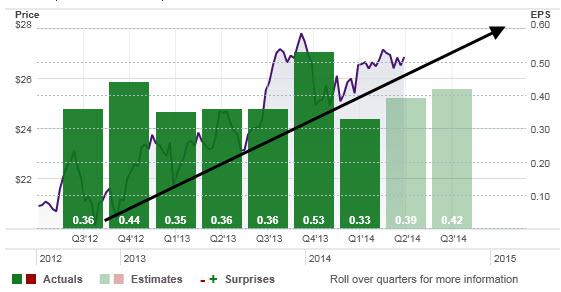 (Source: Scottrade.com)
On 4/17/2014, General Electric reported first quarter 2014 earnings of $0.33 per share. This result was in-line with the consensus of the 10 analysts following the company and missed last year's first quarter results by 5.71%.
Current quarter expectations
Regarding fiscal year 2014 second quarter earnings, the consensus of the 12 analysts covering General Electric is a mean per share value of $0.39. The high estimate is $0.40 and the low is $0.38, so there is not much disagreement on what to expect. Nonetheless, I believe the company has made significant strides over the past quarter which may lead to an earnings surprise. I will highlight these initiatives in the following sections.
Current fundamental evaluation
General Electric's forward PE ratio of 14.71 is well below the industry average and indicates investors are not willing to pay a premium for this stock presently. I see this as a definitive buying opportunity. There are many non-believers regarding General Electric's future prospects based on the Alstom (OTCPK:ALSMY) acquisition and some negative sentiment against current management. Nevertheless, during the past year, earnings growth has outpaced its historical five-year growth rate. I believe General Electric is about to hit its stride and set an entirely new standard regarding operational efficiency and effectiveness. The cost reduction and avoidance program has had sufficient time to kick into high gear at this point I surmise.
General Electric's shifting into high gear
Spin Off of Consumer Finance Division
General Electric's turnaround story may be poised to shift into high gear in the near future. GE plans to divest $4 billion of the expansive conglomerate by spinning off the consumer finance business in an initial public offering later this year. The new company will be called Synchrony Financial (Pending:SYF). I posit this is a great move freeing up capital for redeployment.
Focus on profitability
The company has implemented a program to sell or discontinue all operations that aren't meeting a minimum profit margin target of 10%. This has allowed General Electric to focus on strengths such as General Electric's industrial business. Profits rose 12% year-over-year for the division according to last quarter's report. The jet engine and oil and gas businesses delivered strong results as well. I see these divisions' profit margins coming in even higher on this quarters report.
Current quarter under new management
GE announced a series of major changes to the company's management structure a few months back. Dan Janki was appointed to lead General Electric's Treasury operations, Mark Begor, who led General Electric Capital's Real Estate business, succeeded Janki as president & CEO of GE Energy Management. Alec Burger, the former North America leader for GE Capital Real Estate, succeeded Mark Begor as president and CEO of GE Capital Real Estate.
My take away is this is great news. This was a major shake up to the core leadership of the company. I posit this has sent a powerful message to all of General Electric's management. A fire has been lit under the entire chain of command at General Electric, which is good news for investors. Furthermore, all the changes regarding management, divestitures and operations will free up capital and streamline operations which should underpin earnings in the second quarter.
US and Global recovery is not priced in
GE currently trades for a 21% discount to the industry. I suggest this leaves the stock with plenty of room to run. The global and U.S. recoveries may be spurred higher by numerous emerging economic catalysts. The wealth effect has come into play for consumers as price increases of homes and a booming stock market have improved their balance sheets significantly. Further, the booming shale oil, technology and banking sectors should provide a strong foundation for the next leg higher. The potential upside of these catalysts may not be priced in to the stock.
Insider buying at current levels
There have been several insider buys at current levels throughout the past year. See chart below.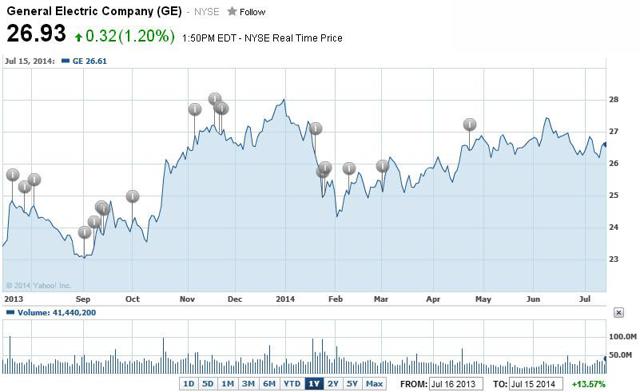 Click to enlarge
(Source: Yahoo.com)
The most notable was a direct purchase by Jeff Immelt of 104,900 shares on march 3, 2014, at a price of $25.19 per share. That is a an approximately $2.64 million investment. If that is not an example of putting your money where your mouth is, I don't know what is. Nonetheless, there are always downside risks to any thesis.
Downside Risks
GE is counting on growth coming from emerging markets. In the last few months, two major developments have taken place that may seriously threaten the stability of these markets.
Emerging markets, which have been one of the biggest beneficiaries of quantitative easing, were hit particularly hard last year when talk of "tapering" first started to panic investors. Countries with higher current account deficits saw vicious sell-offs as a result.
The current geopolitical turmoil in Eastern Europe and the Middle East presents multinational corporations with two new major risks. Sanctions against Russia could inadvertently punish U.S. interests, and the Russians could push back against American companies as well. At the very least, there has been a significant amount of uncertainty and risk in the air currently. Moreover, conflict in the Middle East appears to have accelerated significantly in recent months. It seems as though all-out war could start at any time. This would not be good for anyone. Nevertheless, market participants seem almost complete desensitized to these developments at this point. I'm not sure if this is good or bad for the markets at this point.
Conclusion
General Electric's changes at the top should have invigorated the company's performance over the past quarter. I see a surprise in the making on Friday. The company is focused on shuttering unprofitable segments and redirecting that capital to profitable segments. I posit this will have a synergistic effect on margins propelling profits higher exponentially.
Furthermore, GE has a solid long-term growth story and pays a hefty dividend of 3.3%. These facts coupled with the Fed's announcement that rates will remain at ultra-low levels for at least the foreseeable future leads me to believe the company is a better hedge against inflation than fixed income instruments such as bonds and CDs. Factor this in with the statistic that historically dividend-paying stocks have outperformed non-dividend-paying stocks and General Electric appears to be an excellent total return play at current levels. Nevertheless, you can never be 100% sure about anything. For this reason, I suggest layering in a third at a time to reduce risk. If you are considering starting a position I would purchase one third prior to earnings, one third after and one third at some time in the future.
Disclosure: The author has no positions in any stocks mentioned, and no plans to initiate any positions within the next 72 hours. The author wrote this article themselves, and it expresses their own opinions. The author is not receiving compensation for it (other than from Seeking Alpha). The author has no business relationship with any company whose stock is mentioned in this article.
Editor's Note: This article discusses one or more securities that do not trade on a major U.S. exchange. Please be aware of the risks associated with these stocks.