Since my positive mention in a piece entitled, Goldman Sachs: My Favorite Dow Stock For 2014, published December 26, 2013, shares of Goldman Sachs (NYSE:GS) are down more than 4%, while the S&P 500 is up more than 7% during the same period.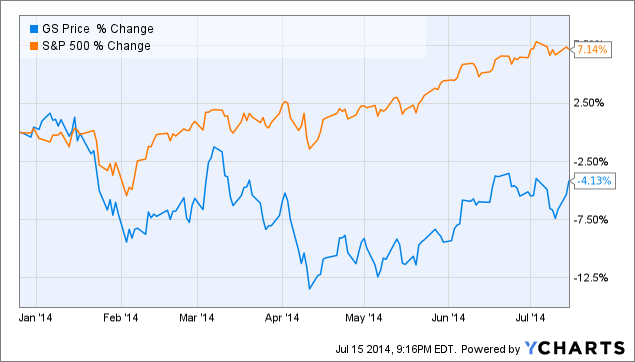 GS data by YCharts
Second Quarter Earnings
GS recently reported strong Q2 earnings:
Revenue increased 6% to $9.13 billion from $8.61 billion in the same period a year ago.
EPS of $4.10 per share vs. $3.70 during the same period a year ago.
FICC revenues fell 10% compared to last year.
Investment Banking revenue increased 15% compared to the same period a year ago.
Investing and lending revenue increased 46% compared to the same period a year ago.
Investment Management revenue increased 8% compared to the same period a year ago.
On the whole, I believe these results were quite strong. GS also reported that it had repurchased 7.8 million shares of common stock at an average cost of $160.89 per share. Under the current program, GS has authorization to repurchase an additional 39.1 million shares.
Disappointment So Far
While GS has not been a complete disaster, the stock has been quite disappointing so far this year. In my view, the main reason why GS has performed poorly in 2014 is the overall negative backdrop that has impacted large banks and investment banks. As shown by the chart below, Morgan Stanley (NYSE:MS) and JPMorgan Chase (NYSE:JPM) have fared only slightly better than GS, while Citigroup (NYSE:C) has fared worse than GS. Part of the reason why financials have underperformed so far in 2014 has been the drop in interest rates. Quiet markets have also led to a drop in earnings from trading activities. However, in my view, these issues are not significant enough to keep large financial stocks from moving higher from here.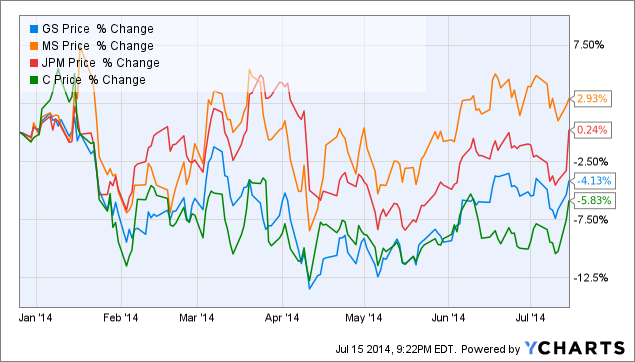 GS data by YCharts
Why I Remain Bullish
I am sticking with my bullish view on GS because all parts of my initial thesis remain intact. GS continues to trade at a cheap valuation relative to historic norms and relative to other stocks. In addition to this, due to increased regulation, GS has been forced to move away from some of the risky trading activity that created significant volatility in earnings. The result should be more stable earnings and a higher valuation over time. Finally, the capital markets continue to remain strong and M&A activity continues to increase. Strong markets and deal activity should continue to benefit GS.
Berkshire Continues To Own Goldman
Warren Buffett's Berkshire Hathaway continues to hold its 2% stake in GS, which was acquired in 2013 after Buffett worked out a special deal with GS. Buffett's vote of confidence is especially noteworthy for GS because Buffett has proved especially adroit at investing in financial companies. It is not coincidental that Berkshire's biggest bank holding, Wells Fargo, has significantly outperformed its peers. Berkshire also owns U.S. Bancorp and American Express, two stocks that have significantly outperformed most other financial stocks over the past few years.
Conclusion
Due to the high valuations facing most of the stocks in the Dow Jones Industrial Average, GS continues to be my favorite stock for the remainder of 2014. For many of the same reasons why I like GS, I also believe Morgan Stanley is a good buy. In March, Morgan Stanley made news by announcing a $1 billion buyback and a doubling in its quarterly dividend. Like GS and JPMorgan Chase, I expect Morgan Stanley to report a strong second quarter which could send shares higher.
Disclosure: The author has no positions in any stocks mentioned, but may initiate a long position in GS over the next 72 hours. The author wrote this article themselves, and it expresses their own opinions. The author is not receiving compensation for it (other than from Seeking Alpha). The author has no business relationship with any company whose stock is mentioned in this article.