Apple's (NASDAQ:AAPL) newly announced deal with IBM (NYSE:IBM) confirms once and for all that it is putting one aspect, at least, of the Jobs legacy behind it, and embracing the corporate market. Last year, I proposed (to a deluge of criticism and abuse) that a highly logical move for Apple would be to acquire BlackBerry (NASDAQ:BBRY). Sixteen months on it still looks like a deal that could be hugely beneficial for shareholders in both companies.
John Chen has achieved a remarkable stabilization of BlackBerry, but just how vulnerable the company remains was demonstrated by the 5% share price drop in the immediate aftermath of the Apple-IBM (IBM) announcement. The underlying cause is apparent from the chart below.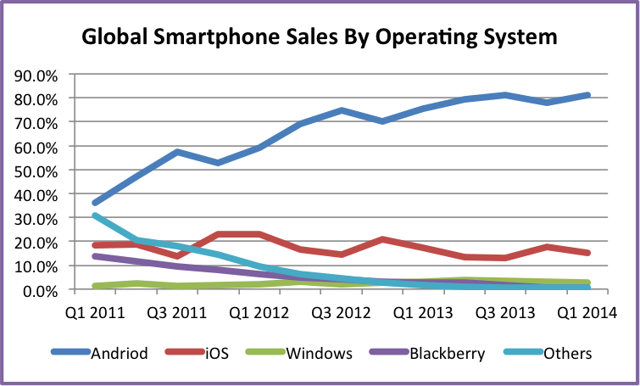 Source: Created by author.
Until mid-2011 there were four viable smartphone operating systems in the market: Android, iOS, Symbian (included in "Others" in the chart) and BlackBerry each had a market share of at least 10%. Now Android and iOS have over 96% of the market between them. BlackBerry is down to just 0.6%. It is very hard to see a long-term future for the company on that basis -- even more so with Apple's deal with IBM.
In short, someone is going to buy BlackBerry, and exploit its undeniable strengths in mobile security, as well as QNX and the rest of its remarkable patent and software library. BlackBerry's current market capitalization is $5.6 billion, giving an enterprise value of about $4.3 billion once net cash is knocked off. It could probably be bought for a net price of $6-$7 billion.
If the buyer is Apple it will be in a position to dominate the enterprise and government mobile segments. If someone else does, there will be two players. It's as simple as that.
Disclosure: The author is long AAPL. The author wrote this article themselves, and it expresses their own opinions. The author is not receiving compensation for it (other than from Seeking Alpha). The author has no business relationship with any company whose stock is mentioned in this article.