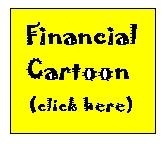 Outlook: The first of the 77 million baby boomers (1946 to 1964) will be eligible for retirement next year. With them comes a significant unfunded liability representing the "elephant in the room" for policymakers.
To the Moon and Back: The combined unfunded obligations of Social Security, Medicare and Medicaid amount to $43.6 trillion. If you stacked 43.6 trillion dollar bills on top of each other it would be equal to the distance of over five trips to the moon and back. Consider that as you gaze at the evening sky.
Social Security's unfunded obligations amount to $5.4 trillion—and that's probably understating the deficit as the current actuarial assumptions overstate the future resources to satisfy this obligation.
Running Out of Money and Time: Currently, 51 million Americans receive $650 billion in social security payments. It is currently estimated that by 2017 the current payroll tax that supports current social security benefits will be insufficient to distribute benefits at the current rate. By 2037, it will have exhausted the bonds lent to the US government during the periods of surpluses.
While the trust fund will be exhausted in 2037, current payroll taxes will be sufficient to pay 78% of current benefits. The average social security benefit is currently $1,164 on a monthly basis at the beginning of 2010. This means our children will only be receiving $907.92 monthly, post 2037.
More Bad: Even in the face of a solvent Social Security system there still remains a 10% to 20% income gap for retirees. This is a result of lower levels of private pension plans and rising health care costs. Couple this will lower housing and investment values it paints a very bleak picture for retiring baby boomers. Yet the true burden will fall on the baby boomers' children and grandchildren who will be diverting more of their resources to support a profligate generation.
A Radically Simple Solution: Without the political will to cut benefits or raise payroll taxes, maybe policymakers should consider a market driven alternative: allow qualified corporate dividends to be tax-exempt for retirees.
It would have the following multiple benefits: a steady source of inflation-adjusted supplemental income for retirees to fill that yawning gap; promote equity investment in corporations by seniors—who still hold most of the capital; create an incentive for corporations to return earnings back to shareholders in the form of dividends—which is the ultimate test of performance; provide an incentive for the partial privatization of the social security system.
Investment Implications: There will be more investment vehicles created to generate steady income for a needy retirement population. That's why equity-income stocks make sense not only now on a short-term basis, due to their relatively attractive yield versus treasuries, but also as a longer term as solution for the yawning retirement income gap.
There are many individual high quality stocks that currently generate an attractive dividend yield, e.g., McDonalds (3.1%). There are also ETFs that provide equity-income oriented by owning broadly diversified dividend paying stocks. The ones I favor are the iShares Dow Select Dividend Index Fund (NYSEARCA:DVY) and the SPDR S&P Dividend ETF (NYSEARCA:SDY).
CEF Weekly Review: The 13 closed-end fund (CEF) types on average posted a 0.1% increase for the week ending 10/22/10. The high-low spread was +1.9% versus +2.1% the previous week on an average price appreciation of 0.1% versus 0.1%, respectively. On an aggregate, unweighted basis, the weekly average price change for the 500 plus CEFs was down 0.1%.
The PowerShares CEF Income Composite (NYSEARCA:PCEF), an ETF that invests in taxable income CEFs, was up 0.3% for the week. The S&P 500 was up 0.6% for the week and extended its positive YTD performance to 6.1%.
(Click here for YTD CEF Performance. The table is based on a smaller CEF sample size as all the data fields are not available for the CEF universe.)
The Eqcome CEF Fear Index for the week experienced a modest uptick. The average price was down 0.1% while NAV was flat. The CBOE Volatility Index (VIX), which typically moves inversely with the stock market—but is mostly a measurement of volatility based on stock options' premiums—continued its fall. It dropped another 1.3% for the week to below 19.
The VIX has been experiencing a level of complacency that was plumbed prior to its spike in late February and preceding the "flash crash" in May. The VIX at 18.78 is now at its lowest point since April. It is now at a point of being regarded as a contra indicator suggesting investors exercise caution with regards to any big upside equity bets.
The S&P 500's average daily share volume exceeded the 4 billion shares mark for the second week in a row. It advanced a further 2.9% to 4.576 billion average daily shares traded. S&P shares traded significantly tapering off on Friday as investors await news from South Korea's meeting of the "G-20" countries as they try to sort out the international currency mess.
Money Flow: "Money Flow" into the DJIA ticked up 0.52% for the week and 4.69% for the month. The up/down ratio eased to 1.02, the same as for the month. The financial sector experienced the greatest weekly change, up 1.69%; the basic materials sector the least, down 0.9%.
The total inflows into mutual funds for the week ending 10/13/10 were up $8.0 billion with equity fund investors' adding $830 million. The equity inflow was attributed to the strength of foreign funds adding $1.45 billion and a significant reduction in domestic equity outflows of 623 million versus an outflow of 5.39 billion the previous week.
The Bond Bubble Express continues raking it in—albeit, at a reduced rate. Both taxable and muni funds in total increased $5.7 billion versus a $7.19 billion inflow the previous week. Money market funds experienced accelerated decreases with investors withdrawing $17.0 billion versus $5.81 billion the previous week. Money market funds stand at $2.78 trillion as of 10/20/10. Institutional funds decreased by 12.0% versus retail's decrease of 5.0%. Institutional funds are twice the size of retail at $1.84 trillion.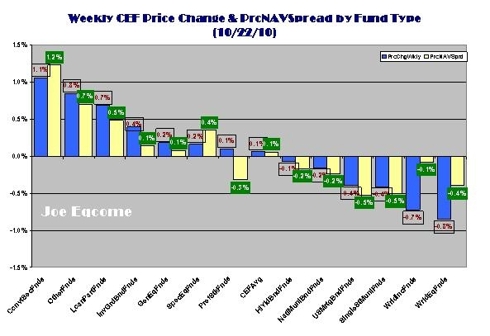 CEF Weekly Fund Type Performance: The 13 CEF fund types weekly performance took on some of the trapping of investor uncertainty as there appeared to be diffusion among the equity and fixed-income fund types with regards to share price performance.
With ConvSecFnds and OtherFnds taking the lead, it seems investors were hedging their equity bets. WrldEqFnds may have tumbled on China's increase in interest rates but most of the lost seemed recovered during the subsequent part of the week.
Weekly CEF Winners and Losers: One of the CEFs with the greatest positive PrcNAVSprd [*] was Credit Suisse High Yield Bond Fund (NYSEMKT:DHY). DHY share price increased 1.0% while its NAV per share declined 2.0% generating a positive PrcNAVSprd of 3.0%. The positive spread was generated as a result of a decline in NAV which was a function of the dilution related to the closing of its recent rights offering on Friday of last week at a 92.5% discount to NAV. (See related article by fellow blogger George Spritzer entitled "Credit Suisse High Yield Bond Fund Rights Offering Expires" (10/18/10) for additional information regarding this offering.)
The CEFs having the greatest negative PrcNAVSprd for the week was same one that had the greatest positive PrcNAVSprd last week: Morgan Stanley China "A" Share Fund (NYSE:CAF).
CAF price declined 0.9% while its NAV jumped 4.6% generating a negative PrcNAVSprd of 4.6%. The two other China CEFs (GCH and TDF) share prices were off by the same amount. The Shanghai Composite Index has experienced a sharp rally since late September as direct foreign investments were up 6.1% in September YOY. (See: "CEF Focus Stock(s) for the Week" section below for a further analysis of PrcNAVSprd performance.)
Economic & Earnings Outlook: (Click here for next week's economic calendar; click here for earnings' announcements and estimates.)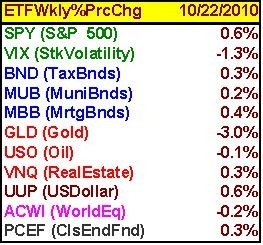 ETFs: For a more detailed EFT performance by sectors, click here.
Insider Trading: Insider trading picked up a bit this week. The insider with the greatest participation this month continues to be Rodney F. Dammeyer, a director of several of the Invesco Van Kampen CEFs.
Not only did Mr. Dammeyer add to his recent insider buying in Invesco Van Kampen Trust for Investment Grade Munis Fund (NYSE:VGM), but he also acquired 18,500 shares of Invesco Van Kampen California Value Muni Income Trust (NYSE:VCV) at $13.38 per share for a capital expenditure of $247,493, 17,500 shares in Invesco Van Kampen Muni Trust (NYSE:VKQ) at $14.13 per share for an expenditure of $247,258, 7,400 shares in Invesco Van Kampen Trust for Insured Munis (NYSE:VIM) and 5,212 shares of Invesco Van Kampen Select Sector Muni Trust (NYSEMKT:VKL). Most of the recent share purchases have been for the DRD Family Partnership, LP.
James Keenan, a portfolio manager a Blackrock has added to his position in Blackrock Corporate High Yield Fund V (NYSE:HYV) as he has been an accumulator of the stock this year beginning with a 3,500 initial position in March. He has accumulated 14,397 shares YTD.
There were several small insider purchases of several of the John Hancock funds (PDT, HPS, HTD and HPF) by one of its Trustees, Deborah C. Jackson.
(Click here for a hyperlink to the Joe Eqcome's CEF Weekly Insider Report.)
CEF Distribution Announcements This Week: The following is a link to a table of CEF distribution announcements this week as well as the previous week's with yet expired ex-dividend dates. The list is not intended to be inclusive. (Click here for Joe Eqcome's Weekly CEF Distribution Announcements)
Significant CEF Corporate Events: Two Nuveen sponsored CEFs called for redemption at par of all their outstanding auction-rate preferred securities (ARPS) for Nuveen Arizona Dividend Advantage Municipal Fund (AMEX: NFZ) and Nuveen Arizona Dividend Advantage Municipal Fund 2 (AMEX: NKR). (Click here for details.)
Credit Suisse High Yield Bond Fund (DHY) announced results of its transferable rights offering. An aggregate of 18,725,102 common shares of the Fund will be issued pursuant to subscriptions by rights holders through the Offer. The Offer, which commenced on September 13, 2010 and expired on October 15, 2010, was over-subscribed.
The subscription price was $2.72 per share and was determined based upon a formula equal to 92.5% of the average of the last reported sales price of the Fund's common shares on the NYSE Amex on the expiration date and each of the four preceding trading days. Shares subscribed for will be issued promptly after receipt of all shareholder payments and the pro-rata allocation of shares in connection with the Offer's over-subscription privilege. Gross proceeds of the Offer are expected to be approximately $51 million.
The Taiwan Greater China Fund (TFC), will offer to repurchase up to 5% of its outstanding shares in the TFC's eleventh semi-annual repurchase offer. The semi-annual repurchase offer will begin on or about November 19, 2010 and end on December 10, 2010.
The repurchase price per share will be the Fund's net asset value per share as determined at the close of regular trading on the Taiwan Stock Exchange on December 16, 2010 or, if the Taiwan Stock Exchange is not open on December 16, 2010, at the opening of the NYSE on December 16, 2010.
Each share repurchased pursuant to the semi-annual repurchase offer will be subject to a repurchase fee equal to 2% of the net asset value per share, which will be deducted from the repurchase price to offset expenses related to the semi-annual repurchase offer.
CEF Focus Stock(s) for the Week: This week's focus is on the "Weekly CEF Winners and Losers" section of this periodical.
The purpose of the PrcNAVSprd calculation is to look for wide weekly swings in share price versus the underlying NAV per share and to determine whether there is a short-term mispricing at the extreme ends of the PrcNAVSprd spectrum or if it represents a "heads up" with regards to an upcoming corporate event such as a merger, tender, etc.
Analysis and Results: Having accumulated a year's of the week's greatest positive and negative PrcNAVSprds, an analysis was conducted to determine if there was any value to this metric.
The preliminary conclusions were:
The greatest weekly positive and negative PrcNAVSprd was a better than average predictor of the future direction of the share price on a Friday-to-Friday close.

A strategy of "shorting" the greatest positive and going "long" the greatest negative PrcNAVSprd would generate a positive return two-thirds of the weeks over the past year.

While the long/short strategy did generate positive returns, on an average weekly basis they were not large.

There was no correlation between the magnitude of the PrcNAVSprd and the subsequent week's change in share price.
Disclosure: Author owns a diversified portfolio of CEFs and ETFs and is long stocks in the CEFBig10™, CEFMuni10™ and CEFDisc10™
The article outlining the results can be found at Joe Eqcome's website: CEF Weekly PrcNAVSprds as an Investment Tool (10/21/10).
[*] All things being equal, price and NAV should move in tandem. A price movement greater than the NAV generates a positive PrcNAVSprd and may be interpreted as negative on a near-term basis and indicate that the stock is overvalued relative to its NAV which in theory is the stock's intrinsic value. The opposite would be true for a negative PrcNAVSprd