A friend of mine had recently asked me if I could take a quick look at NQ Mobile's (NYSE:NQ) apps and see if they can help give any indication whether the company is legitimate or a fraud. After showing him my findings and giving my opinion, he told me that I should share the information on here.
One of my opinions is that the advertising revenue NQ Mobile says they are generating from the latest available financial statements is very hard to swallow based on what I've seen from their mobile apps. From NQ Mobile's unaudited income statement for the 2013 fourth quarter and fiscal year 2013, it says they generated $16.7 million from advertising in the fourth quarter and $36.6 million from advertising for the entire year in 2013.
This advertising revenue is apparently coming from NQ Mobile's consumer security apps and the Chinese mobile games being published by their subsidiary, FL Mobile.
Before going further, I think a quick explanation of some of the different forms of mobile advertising from within an app is warranted first since not everyone may be familiar with them. The most common forms are banner ads, interstitial ads, and CPA (cost per action or cost per acquisition).
Most people should be familiar with banner ads. It is an ad that takes up a small part of the screen, usually at the top or bottom. Interstitial ads are ads that pop up and often occupy the majority of the screen. You would have to click a close button to close down the ad to continue using the app. Banner ads and interstitial ads are usually done on a pay per impression or pay per click basis. This means the advertiser pays either when someone sees the ad or clicks on the ad.
CPA refers to ads where the advertiser only pays after a certain action is performed. The most common action is a user has to click to download, install, and then open up an app before the advertiser pays out.
Initially, I took a look at the various security apps available from NQ Mobile. The first is their flagship security app called NQ Mobile Security. After taking a look at the app, there aren't really that many advertisements that appear. The only real constant source is a "Features App" section advertising other apps that come up when pressing a menu button located on the top right. This section always featured the same 4 apps throughout the entire time I had NQ Mobile Security installed.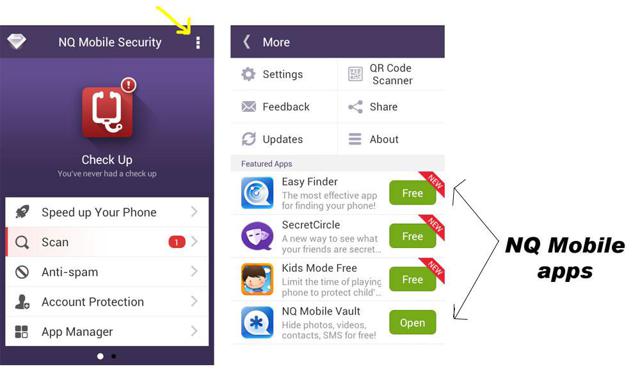 However, two of these featured apps called "Easy Finder" and "NQ Mobile Vault" are other apps created by NQ Mobile. So NQ Mobile is at least using part of the space to feature their own apps. This means there's no advertising revenue coming in from these two slots.
A developer or publisher might be paying NQ to feature the "SecretCircle" and "Kids Mode Free" apps. If so, then this is likely done on a CPA basis where the advertiser only pays out when someone actually downloads and installs the app from the featured apps section. However, these two apps could also be owned by NQ Mobile as well, and I have a strong suspicion they are.
What I have no doubt of is that the "SecretCircle" and "Kids Mode Free" apps are owned by the same company. For starters, the websites for both apps use the same template design.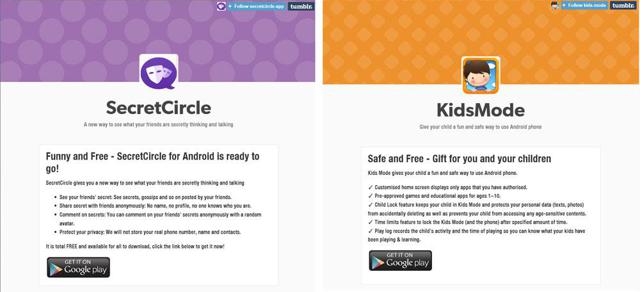 But more conclusive is the fact that the websites for SecretCircle and the website for Kids Mode Free app are being hosted on consecutive IP addresses, meaning barring astronomical odds, they are being hosted on the same server.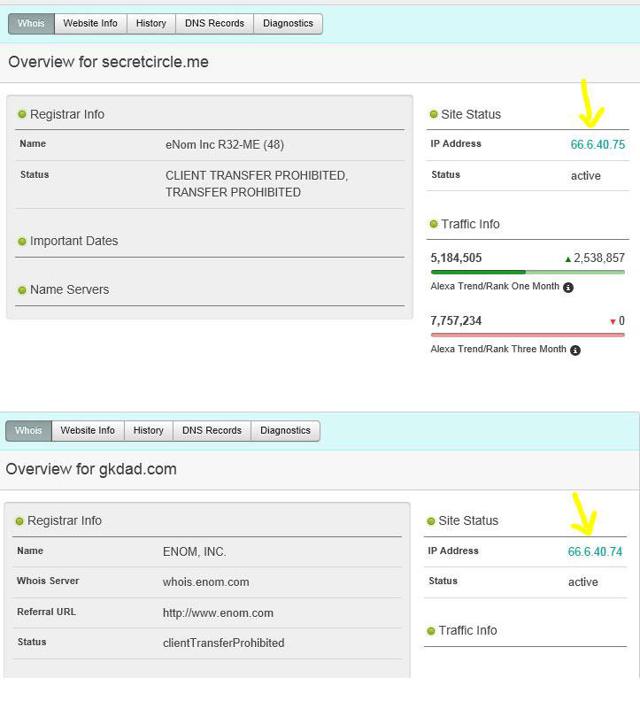 When opening the NQ Mobile Security app, an interstitial ad would also pop up once in awhile. The interstitial app ad always featured the same advertisement for the "SecretCircle" app throughout the entire time I used their security app.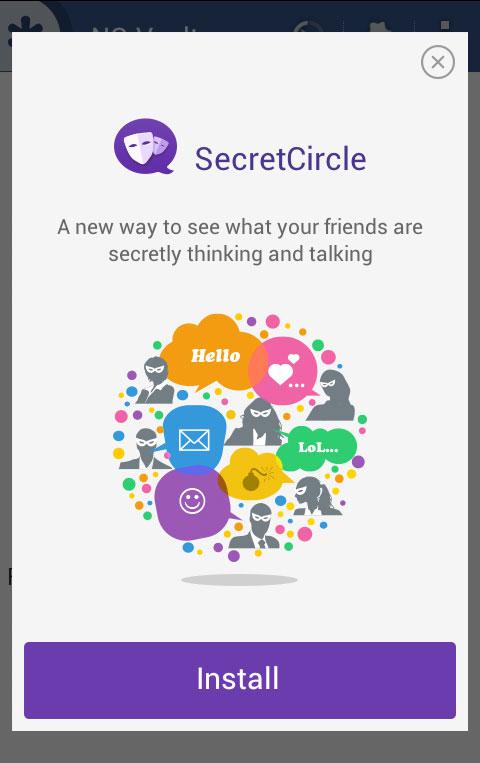 Taking a look at another of NQ Mobile's most popular apps called NQ Vault, I found it also had the same level and types of advertisements as their security app. There's a featured apps section that has two other NQ Mobile apps and the same "SecretCircle" and "Kids Mode Free" apps. There's also the same occasional interstitial ad for the SecretCircle app.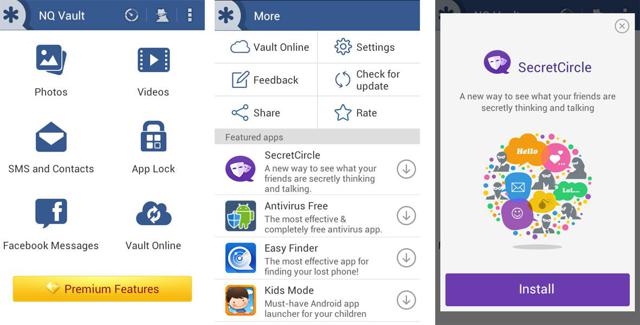 It is pretty much the same thing for NQ Mobile's other security app called Antivirus Free. The only possible form of advertisement is from another featured apps section, called "Trending Apps" here. And it also has two other NQ Mobile apps along with the "SecretCircle" and "Kids Mode Free" app.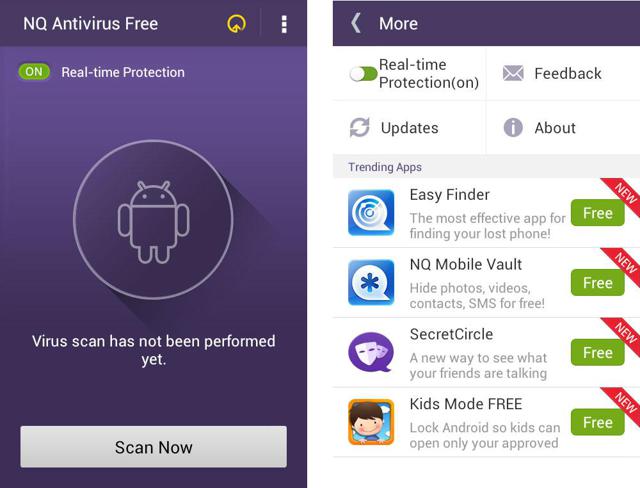 The NQ Mobile Security, NQ Vault, and Antivirus Free apps are the top NQ Mobile apps based on Google Play with a range of 10 million-50 million downloads each. As such, you would think the majority of advertising revenue would be coming from these apps. However, the lack of advertisements on them makes it doubtful their three top apps are contributing anything significant to the $37 million total in advertising revenue NQ Mobile reported for 2013.
If NQ Mobile does in fact also own the "SecretCircle" and "Kids Mode Free" apps, then their 3 top apps would be pretty much be generating $0 in advertising revenue right now since all they are advertising in these apps are other apps owned by NQ Mobile.
Although even if someone else owns the "SecretCircle" and "Kids Mode Free" apps and is paying NQ Mobile every time a user installs one of them from within NQ's apps, data would suggest the advertising revenue being generated by NQ Mobile from this is very limited compared to the reported $36 million in advertising revenue for 2013.
When a user taps to download SecretCircle from the featured section or the interstitial ads from any of the NQ Mobile apps, they are taken to the Google Play store to download the SecretCircle app.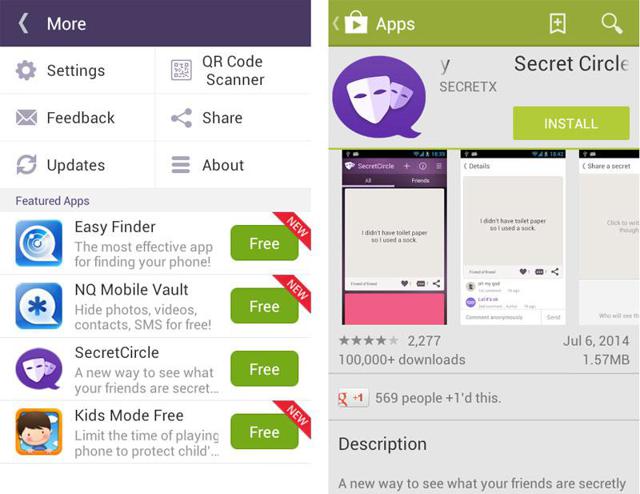 From Google Play data, the install range for SecretCircle is only between 100,000-500,000 users. Advertisers usually pay around an average of 25 cents to 50 cents for a non-gaming app install depending on the user's home country. So even if you generously assume NQ helped generate almost every single one of the downloads for the SecretCircle app and they are getting paid for it, a rough estimate of the advertising revenue generated by NQ from this app would be only a range of $25,000 to $250,000.
But based on additional download data gathered for the SecretCircle app, it just passed the 100,000 download mark on Google Play on July 3, 2014. So the total installs for it right now are much, much closer to 100,000 than to 500,000.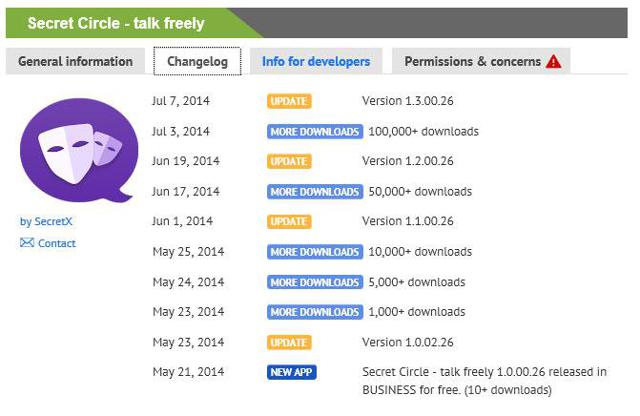 At around 100,000 total downloads if NQ Mobile helped generate them all and was paid per each install, then the estimated ad revenue generated would only be somewhere around $25,000 to $50,000 total. That is peanuts given the fact this app is on the featured section and the interstitial ads that pop up on the top 3 NQ Mobile apps.
Looking at NQ Mobile's lesser used apps, a few of them do seem to have more frequent advertisements appearing. However, it's difficult to believe these apps are generating significant revenue given their small download numbers and app categories.
Take NQ Mobile's Call Blocker app, for example. It does feature a banner ad on the bottom that appears once you open the app. However, total downloads from Google Play for this app are only 5 million to 10 million.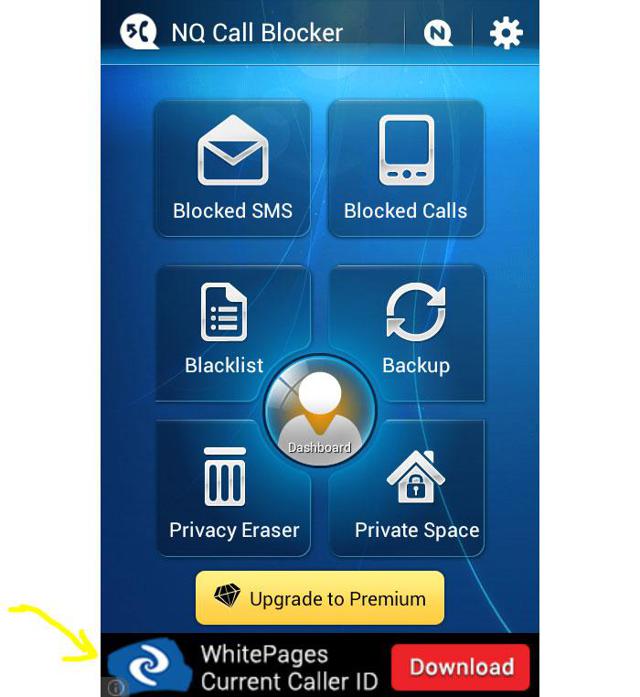 On top of this is the fact this is a utility app. This categorization makes it unlikely that users would open it up every day, or as frequently as a popular social networking app, news app, or mobile game. It is not uncommon for social networking apps or mobile games to have a good percentage of users that open them multiple times a day. But the same cannot be said for most utility apps. And the more frequently a user opens an app with ads, the better the monetization rate. Therefore, it is hard to believe that a significant portion of NQ Mobile's advertising revenue is being generated from this Call Blocker app alone.
The same is true of another NQ Mobile app called Android Booster. This app also has banner ads appearing, 5 million to 10 million downloads on Google Play, and is also a utility app. This app also has a "Trending Apps" section, but it is only advertising other NQ Mobile apps.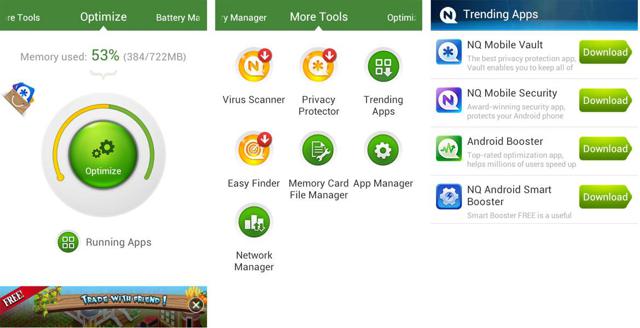 Last, let's take a look at NQ Mobile's Super Task Killer app, which also has 5 million to 10 million downloads on Google Play. There are no banner ads, but if you touch a slider button on the right, it does bring up an ad wall.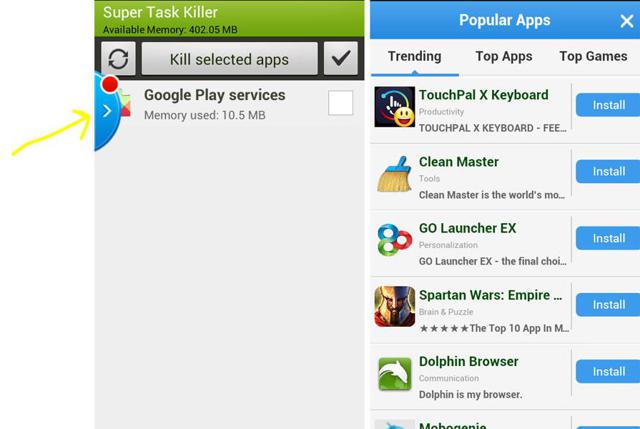 With this type of ad wall, the advertisers pay out when a user installs an app from them. But given common smartphone users habits, it is unlikely many users of the app would be constantly opening up this ad wall to look for new apps to download.
Given what I've seen from the lack of advertisements on NQ Mobile's three most popular apps, the lower user numbers for their next three most popular apps (which have more frequent advertisements), and the fact all of the apps are utility apps (which again are generally opened less frequently than other types of apps), I see very little chance the top 6 NQ Mobile apps are generating anything even remotely close to the $36.6 million in advertising revenue annually that NQ Mobile reported in 2013.
Just to be sure, I also checked behind China and Hong Kong VPNs on different Android phones, and newly installed NQ Mobile Security from a Chinese Android app store and NQ Mobile's Chinese website to see if it is possible NQ Mobile is showing significantly more advertisements to their users in China, the company's home and supposed largest market.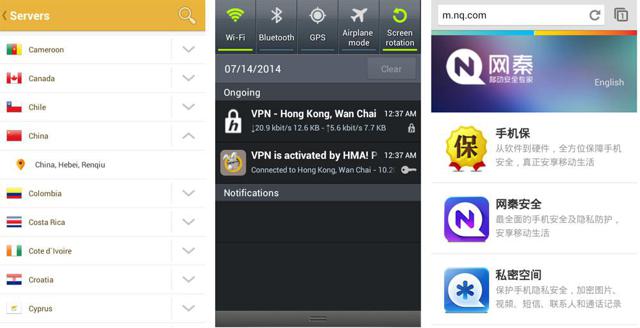 However, that isn't the case. Aside from a few slightly different localized features such as links to NQ Mobile's Weibo and We Chat pages, or promoting their China phone insurance program called NQ Care, there doesn't seem to be any outside advertisements at all on the Chinese version of their NQ Mobile Security app. They are only promoting other NQ Mobile apps on it.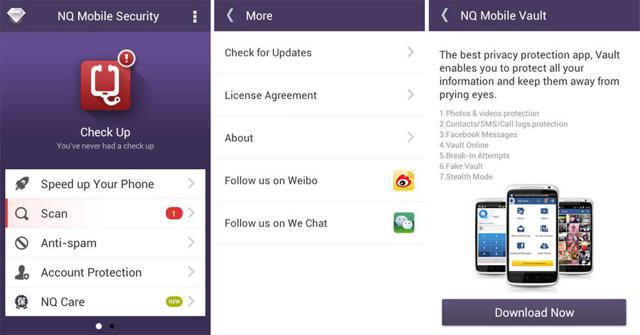 So the question is, where is all this advertising revenue actually coming from for NQ Mobile if the ad revenues reported in their financial statements are real? A possible explanation is most of the advertising revenue is actually coming from mobile games being published by FL Mobile. Except based on NQ Mobile's last earnings transcript for the fourth quarter of 2013, their CFO said FL Mobile had total revenue of $14 million in Q4 with $7.9 million from mobile games and $6.1 million from advertising.
Given that the total advertising revenue for the fourth quarter of 2013 is $16.7 million, this means the other $10.6 million in advertising revenue during the quarter has to be from apps outside of FL Mobile games.
Looking back another quarter at the earnings transcript for the third quarter of 2013, one of their CEOs, Omar Khan, said that they had $11 million in advertising revenue and that "the gaming portion is $4.7 million and the remainder is $6.3 million."
From those numbers, the advertising revenue from FL Mobile accounted for 42% of total advertising revenue in the third quarter of 2013 and 36% of total advertising revenue in the fourth quarter of 2013. So the other roughly 60% has to be generated from other NQ Mobile apps. If the ratio is similar in the first and second quarter, then over $20 million in advertising revenue in 2013 would have to be generated from outside of the FL Mobile games. But based on what I've seen from their apps and the advertisements -- or lack of advertisements -- on them, it is highly questionable they are coming from the NQ Mobile apps.
Another puzzle regarding their advertising revenue is where did the jump in non-gaming advertising revenue from the third quarter of 2013 to the fourth quarter of 2013 come from? Based on the numbers, advertising revenue excluding FL Mobile jumped from $6.3 million in the third quarter of 2013 to $10.6 million in the fourth quarter. This is a 70% increase in only one quarter.
However, NQ Mobile's total monthly active users excluding FL Mobile barely increased from the third quarter to the fourth quarter. It was 152.1 million in the third quarter and 156.4 million in the fourth quarter. That is only an increase of 3%.
So how can advertising revenue excluding FL Mobile jump 70% in one quarter while the total monthly active users barely increased 3% in the same period? Either mobile advertising rates increased dramatically in just one quarter, NQ Mobile struck gold and found a much more profitable mobile advertising model for their apps during that period, or something doesn't seem right.
As I told my friend, just taking a look at NQ Mobile's apps along with their financial statements, a lot of things don't pass the eye test or jibe with common industry knowledge.
I tried contacting NQ Mobile multiple times via their listed IR contact information to ask them about their advertising revenue after I gathered the information discussed here about a week ago. I have not received a response back so far.
Disclosure: The author has no positions in any stocks mentioned, and no plans to initiate any positions within the next 72 hours. The author wrote this article themselves, and it expresses their own opinions. The author is not receiving compensation for it. The author has no business relationship with any company whose stock is mentioned in this article.