Celladon Corp. (CLDN) - Sell Recommendation - Price Target $10.25.
Thesis: The 180-day lockup period for CLDN will come to an end on July 29. At this time, major pre-IPO shareholders, including many VC firms, will be allowed to sell their outstanding shares. Results of academic studies show that share price declines at this time are highly concentrated in venture capital-backed firms, like CLDN. While CLDN does show some promise long-term, the lockup expiration offers investors a short opportunity.
The 180-day lockup period following the January 29, 2014 IPO of Celladon Corp. will come to an end on July 29, allowing major pre-IPO shareholders in the clinical-stage cardiovascular biotech firm to sell their outstanding shares.
These shareholders primarily consist of venture capital firms, including several that specialize in life science investments. The conclusion of the lockup period will also permit CLDN's executives and directors to sell their shares in the firm.
The sudden increase in CLDN shares available for sale on the market with the expiration of the lockup period will likely lead to at least a temporary decrease in the price of CLDN shares, possibly generating a short opportunity for aggressive investors.
Early Market Performance
CLDN's IPO - revised to 5.5 million shares at $8 per share from 5.0 million shares at $14-$16 per share the day before the offering - priced as expected at $8 per share and generated a small 2.3% return in its first day of trading. The stock saw strong gains to a close of $15.84 on March 14 before beginning a lengthy slide to below its IPO price at $7.90 per share on June 3. CLDN enjoyed exceptional gains in June and closed at $16.32 per share on July 3; however, the stock has again skidded in the first half of July to a close of $11.79 on July 15.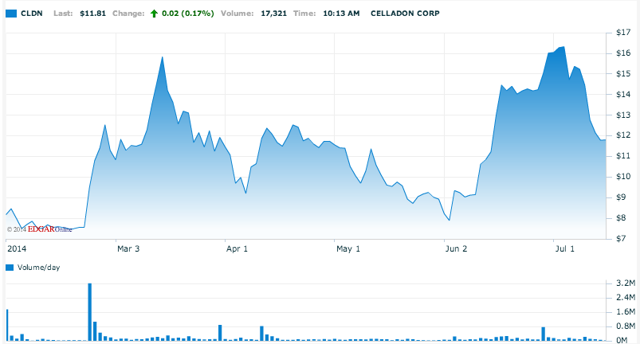 Click to enlarge
(Nasdaq.com)
Potential Selling of 12.0 Million Shares
The lockup period expiration on July 28 will free approximately 12.0 million shares of CLDN to be sold, more than twice the 5.5 million shares offered in the firm's IPO.
Numerous venture capital firms hold stakes in CLDN, including Enterprise Partners, with 1.8 million shares; Lundbeckfond Invest, with 1.6 million shares; Novartis Bioventures, with 1.4 million shares; Johnson & Johnson, with 1.2 million shares; GBS Bioventures, with 1.0 million shares; and several more.
Several of these firms are likely to sell at least a portion of their stakes in CLDN, both to return capital to their investors and to move away from the unpredictable stock while it still exceeds its IPO value.
CLDN's directors and executives may also choose to sell some of their shares in the firm while they still have significant value, having had no opportunity to do so since the January IPO.
Evidence That Lockup Expirations Offer Short Opportunities
The results of published empirical studies by professors at the University of Kentucky, University of South Florida, and other institutions (Bradley, Jordan, Roten, and Ha-Chin Yi) have concluded that the expiration of lockup periods, on average, are associated with significant, negative abnormal returns, as the sudden increase in public shares (a potential tripling, according to a 2001 NYU study) typically leads to decline in price. A joint study by Duke's Fuqua School of Business and Harvard Business School finds this price drop is 2%. Data generated through our own research over the past three years aligns with these conclusions.
Thus, the lockup expiration often creates a short opportunity for aggressive investors.
Losses are often concentrated in venture capital-backed firms, like CLDN. Field and Hanka (2001) find the losses described above as three times larger in VC-backed firms.
The largest losses have been found to occur for firms with the highest post-IPO rises in stock price and in "high-tech" firms, as well as firms with the best reputed underwriters and the largest relative trading volume close to the expiration.
Overview of CLDN
CLDN is a clinical-stage biotechnology company seeking to develop novel therapies through its expertise in calcium dysregulation. MYDICAR, the firm's most advanced product candidate, targets an enzyme that becomes deficient in heart failure patients, the SERCA2a enzyme, through gene therapy. SERCA2a was identified as a molecular target related to heart failure in the 1990s, but no firm has been successful in targeting SERCA2a through traditional discovery methods as of yet.
MYDICAR is in the process of Phase 2 clinical trials, which are used to establish drug efficacy. The firm retains rights to MYDICAR globally and to its small molecule platform of SERCA2a modulators. CLDN intends to commercialize MYDICAR for any approved heart failure indications in the United States.
For additional information on CLDN, see our previous article here.
Management Highlights
Krisztina M. Zsebo, Ph.D. has served as CLDN's president and CEO since 2004.
Dr. Zsebo previously worked in executive positions at Remedyne Corporation, Connetics Corporation, ALZA Corporation, Cell Genesys, Inc., and Amgen (NASDAQ:AMGN).
Dr. Zsebo holds a B.S. in Biochemistry from the University of Maryland, an M.S. in Biochemistry and Biophysics from Oregon State University and a Ph.D. in Comparative Biochemistry from the University of California, Berkeley.
Competitors in Private, Government, and Academic Sectors
CLDN competes with other biotech and pharmaceutical firms attempting to develop treatments for similar indications. Competitors with potentially competing product candidates in clinical and pre-clinical stages include Renova Therapeutics, Juventas Therapeutics, NanoCor Therapeutics, BEAT BioTherapeutics, and VentriNova. CLDN may also compete with government and academic organizations seeking to develop comparable treatments.
Conclusion: Short Opportunity For Aggressive Investors
Though CLDN has been on a slide in July, the firm has generally performed well, if inconsistently, since its IPO. The many venture capital firms and insiders may want to take some money off the table which should cause downward pressure on this stock.
Its products remain far from receiving regulatory approval and even further from potential commercial success, however, meaning that any long-term investment in the firm is essentially a bet on MYDICAR's commercialization.
CLDN recently announced a pair of new clinical development initiatives for MYDICAR, for patients suffering from end-stage renal disease (ESRD) who will receive surgery for arteriovenous fistula (AVF) creation before hemodialysis and for patients suffering advanced heart failure with systolic dysfunction. The added potential to capitalize on MYDICAR resulting from these additional initiatives may attract investors.
We suggest that aggressive investors consider the lockup expiration event as a short opportunity.
We invite readers wishing to join the discussion on IPO lockup expirations to click the +FOLLOW button above the title of this article - and those looking for the latest development to click +Get real time alerts.
Disclosure: The author is short CLDN. The author wrote this article themselves, and it expresses their own opinions. The author is not receiving compensation for it (other than from Seeking Alpha). The author has no business relationship with any company whose stock is mentioned in this article.