First Solar (NASDAQ:FSLR) will be announcing their 3rd quarter earnings results on Thursday, October 28th after the market closes.
Here is their performance compared to some of their peers.

In the past 12 months the stock has underperformed the overall stock market. The S&P is up 9.94% and FSLR is down 6.75%.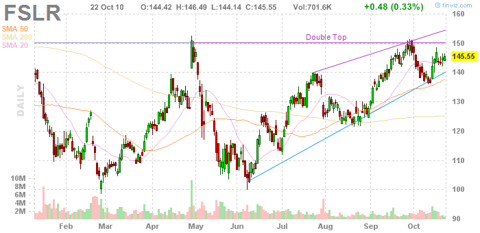 The bull case for First Solar came out in an October 6th press release (see here).
The company announced an increase of 380 MW of orders for 2011 over previously announced orders.
Here are the projects under contract by First Solar from their 10-Q filed on August 2nd, 2010.
Project/Location

Project Size in

MW AC

Contract

Topaz, California

550

PPA* – PG&E

Sunlight, California

300

PPA – PG&E

Sunlight, California

250

PPA – Southern California Edison

Stateline, California

300

PPA – Southern California Edison

Agua Caliente, Arizona

290

PPA – PG&E

AV Solar Ranch 1, California

230

PPA – PG&E

Silver State North, Nevada

50

PPA – NV Energy

PNM, New Mexico

22

EPC – (Utility-owned generation)

St. Clair, Ontario, Canada

40

Ontario RESOP Program

Walpole, Ontario, Canada

20

Ontario RESOP Program

Belmont, Ontario, Canada

20

Ontario RESOP Program

Amherstburg, Ontario, Canada

10

Ontario RESOP Program

Tilbury, Ontario, Canada

5

Ontario RESOP Program

Total

2,087
* PPA – Power Purchase Agreement
380 MW of new orders would be

an increase of 19%!

Investors currently long FSLR will look at stock stock sitting within 10% of its 52 week high as just waiting for a nice earnings announcement to propel it to a new 52 week high.

With the price of the US dollar getting weaker against the euro, this does well for a US company like First Solar who sells its product in Europe.
The bear case for First Solar will point to the high short interest in the stock.
Short interest is currently at 21% and a bear will say that smart money is short this company.

The October 6th press release did nothing for the stock price.

"Behind the numbers" pointed out recently that First Solar added a line item on their financial statement called "unbilled receivables". A change in accounting that could be a red flag.
The options tell us another story.
The Nov 145 straddle is priced at almost $15, this is in essence predicting a 10% move in the stock. Post earnings we can see the stock as low as $130 or as high as $160.
What I find interesting is that this stock usually gaps up or down 10% on earnings. Why are the options only priced for the usual 10% move? Usually we see options priced much higher than the historical move, especially right before earnings.
Disclosure: No positions