Stratasys Ltd. (NASDAQ:SSYS) is a leader in the 3-D printing business. It has been focused on the industrial demand for these printers, but the acquisition of MakerBot is likely to increase its exposure to small businesses (like engineers, teachers, designers, etc.), as well as to consumers. While the 3-D printers that are suited for industrial usage may run into the hundreds of thousands, MakerBot 3-D printers are just around $2,000, which puts these products in reach for many consumers and smaller businesses.
Shares of Stratasys look very attractive, since this company is now very well positioned to compete in both the industrial and consumer segments of the 3-D printing market. The 3-D printer industry could revolutionize manufacturing, and has uses that are not fully understood or developed yet. This industry is so new that it could expand for many years and become a "boom", much like the industrial revolution or the internet. This means there is rapid secular growth potential for many years to come.
The market obviously sees the huge potential in 3-D printing, as most stocks have become very richly valued. However, some stocks appear to have gone too far, based on current fundamentals, and that has led to a significant pullback in this sector. After a pullback from recent highs, Stratasys shares appear very attractively valued when considering other companies in the industry such as 3D Systems (NYSE:DDD) and ExOne (NASDAQ:XONE). For example, 3D Systems trades for about $57, and analysts expect it to earn about 81 cents per share in 2014, which puts the price-to-earnings ratio at more than 60 times. ExOne trades for about $38, and analysts expect it to lose money in 2014 and earn only 12 cents per share in 2015. Meanwhile, Stratasys is trading at just around 35 times estimates for 2015.
Wal-Mart and Amazon.com could help accelerate a consumer boom in 3-D printers. An Investor Business Daily article details that these retail giants could grow the market significantly. It states:
Both Amazon.com (NASDAQ: AMZN) and Wal-Mart (NYSE: WMT) have pilot programs in place involving 3-D printed objects.

"We see the entrance of retail giants into 3-D printing as positive," Pacific Crest analyst Weston Twigg said in a note Wednesday. "If large retailers embrace it, printer sales and materials usage should increase and awareness improve, benefiting companies like 3D Systems (NYSE: DDD) and Stratasys (NASDAQ: SSYS)."
With the major growth potential this company has, the stock is not inexpensive, but it probably still makes a lot of sense in terms of valuation. Analysts expect Stratasys to earn nearly $3 per share in 2015, and that puts the price-to-earnings ratio at about 35. This actually seems cheap when you consider that Chipotle Mexican Grill (NYSE:CMG) is expected to earn about $12.60 per share in 2014, and that stock currently trades for nearly $600 per share. Nonetheless, valuation is a potential downside risk to consider. Volatility risk is another issue for investors to consider as this stock makes big moves. Just take a look at the chart below and the volatility is easy to see.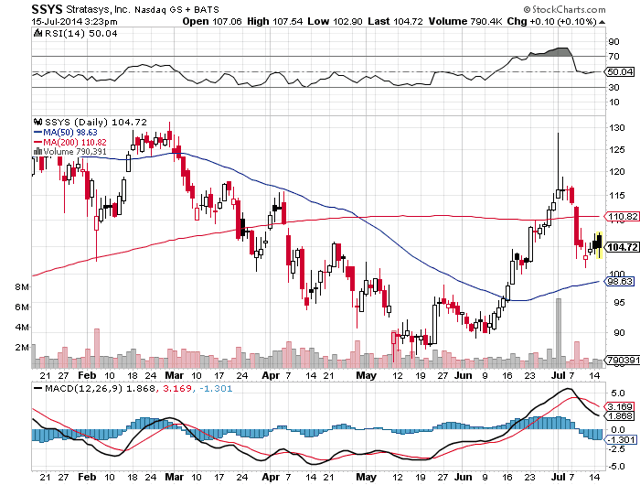 Click to enlarge
Some analysts believe that Stratasys is an ideal takeover target. A number of large tech companies such as Hewlett-Packard (NYSE:HPQ) have shown interest in making major inroads into the 3-D printing business and that is why a buyout could make a lot of sense. Hewlett Packard and Stratasys have partnered before in a manufacturing and distribution agreement, although that deal was terminated a couple of years ago. Still, the past history shared between these companies is worth noting and the growth potential is hard to ignore. That is why I find this stock attractive, especially on any pullbacks.
Here are some key points for Stratasys, Ltd.:
Current share price: $105.31
The 52-week range is $83 to $138.10
Annual dividend: n/a
Kopin Corporation (NASDAQ:KOPN) is a little-known tech stock that appears greatly undervalued. Kopin is a developer and manufacturer of wearable technology products, such as modules for head-worn computers and display systems. This company has developed a range of patented technology, which includes: optics, ultra-small displays, speech enhancement technology, ergonomically designed headset systems, and more. Kopin Corporation's proprietary technology is protected by over 200 patents and patents pending. Kopin also has a cash-rich balance sheet, which greatly reduces potential downside risks and makes the valuation of the stock appear even more compelling.
Kopin Corporation's market capitalization is currently just around $200 million. Plus, it has an extremely strong balance sheet with no debt and about $106 million in cash, which is equivalent to $1.70 per share. Based on this cheap market cap, a $106 million cash hoard, over 200 patents and patents pending, and a potential partnership with Google, this stock appears to be significantly undervalued. If you back out the cash on the balance sheet, that leaves an enterprise value of just around $100 million, which is very low considering the significant value of its patent portfolio and the potential growth prospects for wearable devices. This company and the stock appear to be a hidden gem, based on these values.
This company has been making progress in developing new technology and new customers. On June 4th, this company announced it is introducing a new line of high-brightness displays and display modules for smart eyewear. On June 23, 2014, the company announced it received a $9 million order for a thermal weapon sight program and that the order could be increased to about $13 million. This order was for display modules for the U.S. Army's Thermal Weapon Sight Program, or "TWS". One analyst believes Kopin Corporation could be a potential partner with Google Inc. (NASDAQ:GOOG) (NASDAQ:GOOGL) for the Google Glass program, and this could be another potential upside catalyst for the stock.
When compared to the valuations of other wearable tech companies, Kopin shares look downright cheap, and that could lead to major upside potential. Jawbone is a maker of wearable technology (items such as fitness bands) and other products. This company is currently private, but based on recent rounds of funding, the company already appears to be valued at around $3 billion.
With Kopin Corporation trading at an enterprise valuation of just about $100 million, the potential upside for this stock could be a multiple of the current share price. For example, if Kopin Corporation was to trade at a $3 billion valuation (like Jawbone), the share price would go from the $3 range to nearly $100 per share. While I certainly would not expect that anytime soon, it does show that there is very significant upside at even a fraction of the $3 billion valuation. When you see well-known companies like Jawbone being valued at $3 billion before an IPO and possibly much more than that after an IPO, it shows that little-known companies like Kopin Corporation could get a huge "re-valuation" at some point. Kopin Corporation could also be an attractive takeover target, especially since it has a valuable patent portfolio. An article by TheInfomation.com, which is titled "Next on Google's Shopping List: Wearables", confirms that Google is poised to make more acquisitions and that it is specifically targeting wearables. It states:
"Nest Labs for $3.2 billion. DeepMind Technologies for $550 million. Which company will Google buy next? The tech giant has been studying wearable technology companies to acquire, according to three people briefed on the internal discussions. It isn't clear whether the studying has led to formal talks and which companies Google is focused on. But the people said Google CEO Larry Page is serious about making a move."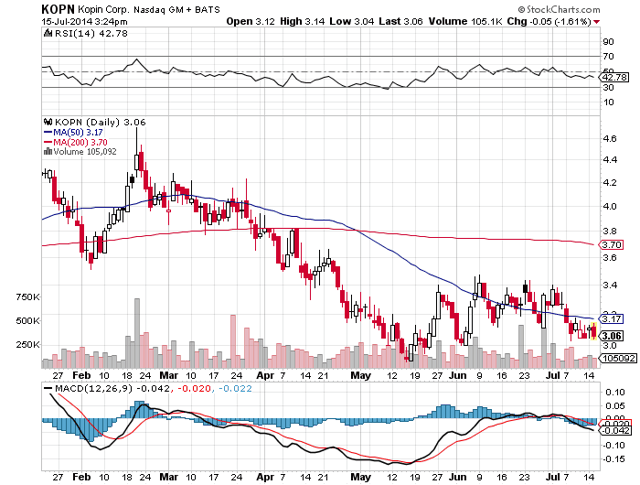 Click to enlarge
This stock has also had some volatility, but it now appears to have bottomed out. As the chart above shows, this stock was trading around $4 to $4.50 not long ago. In mid-May, this stock bottomed out at around $3 and has been trending up slightly. It recently touched the 50-day moving average of around $3.19 per share. This stock could next be poised to test the 200-day moving average, which is right around $3.72 per share. However, the upside is far more significant in the long term, as the company continues to win new orders and develop a wider customer base. With a cash-rich balance sheet, a low valuation, and a valuable patent portfolio, the potential downside risks in this stock appear relatively low, while the upside remains significant as the wearables industry grows and even sees IPOs and potential M&A deals.
Here are some key points for Kopin Corporation:
Current share price: $3.13
The 52-week range is $2.90 to $4.75
Annual dividend: n/a
Data is sourced from Yahoo Finance. No guarantees or representations are made. Hawkinvest is not a registered investment advisor and does not provide specific investment advice. The information is for informational purposes only. You should always consult a financial advisor.
Disclosure: The author is long SSYS, KOPN. The author wrote this article themselves, and it expresses their own opinions. The author is not receiving compensation for it (other than from Seeking Alpha). The author has no business relationship with any company whose stock is mentioned in this article.