3-D printing, or additive manufacturing, has been around since the 80s. However, this technology gained the attention of the masses quite recently, thanks to improving print speeds, decreasing costs and the expanded material-base of 3-D printing. Because of these improvements, it can be observed that industry projections are moving in a favorable direction. Wohlers' report estimated that 3-D printing sales will reach $6 billion by 2017. Wohlers (2013) estimates were an improvement when compared to the 2011 estimates. On the other hand, Canaly projected that 3-D printing will reach $16.2 billion by 2018. All in all, 3-D printing is set to grow, and I have several reasons to believe that 3D Systems (NYSE: DDD) is the company that is well-positioned to benefit from the growth prospects of the industry. The reasons are as follows:
3D Systems covers all the bases: Industries, materials and business-models.
The company is making headway in the printing-speed department.
The financial performance of 3D Systems, along with Stratasys (NASDAQ: SSYS), is better than the rest of its industry players, and the company is showing consistent growth in revenue and earnings.
All bases covered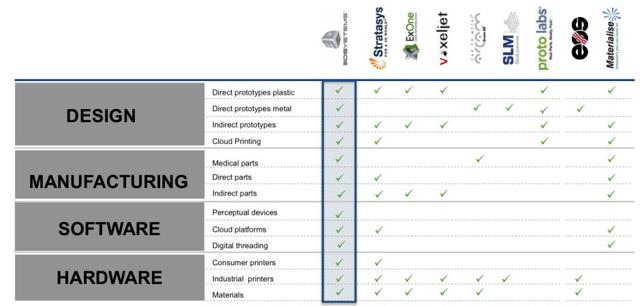 Click to enlarge
(Source: 3D Systems Investor Presentation)
The industry will grow, but it is not fully clear where this growth will come from. Well, let me rephrase the question. Which industry, material or business-model will drive the growth of 3-D printing? The answer is unclear for now, and hence 3D Systems is covering all the bases to capitalize on the growth, wherever it arises.
3-D printing is proving to be useful in pre-op surgery planning, personalized surgery and patient specific implants.
"The combination of being able to use the patient's own data from CT scans, being able to 'feel' bone fragments in the virtual world, model implants, and manufacture custom-designed devices and implants is changing the way we approach surgery and is significantly reducing surgery times," - said Adrian Sugar, Consultant Cleft and Maxillofacial Surgeon at Morriston Hospital.
Moreover, Transparency Market Research projects that 3-D printing for patient-specific medical devices will reach $965.5 million by 2019, translating to a CAGR of 15.4% (2013-2019).
Aerospace also holds promise for 3-D printing. According to MarketsandMarkets, "The stringent requirements such as light weight and accurate and precise design requirements for airplanes parts are the major driving factors behind the growth of 3D printing in the aerospace industry, over traditional manufacturing methods." According to Lockheed Martin, 3-D printing can result in cost savings of around 48%. Aerospace parts are complex, and 3-D printing is a favorable solution because of the flat costs of 3-D printing, irrelevant to the complexity of the manufactured part. See the graph below to clear things up.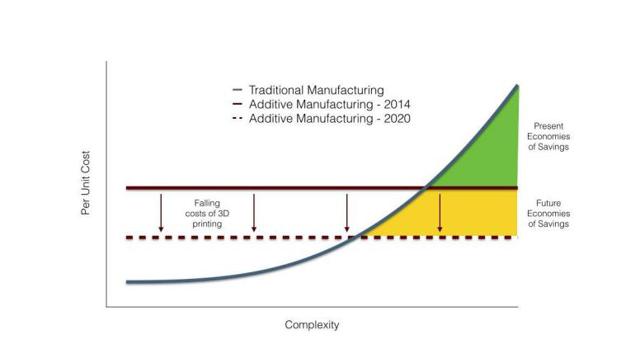 (Source: 3D Systems Investor Presentation)
As 3D Systems is engaged with the high-growth industries (from a 3-D printing perspective) of medical and aerospace, it will benefit from the growth in these industries.
3D Systems also has a breadth of materials ranging from plastics to metals. Plastics can be used in consumer-oriented printers, while metals can be used for manufacturing industrial-grade parts. 3D Systems is positioned to grow in either the case of wide adoption of the plastics or that of the metals for 3-D printing applications.
Moreover, the company doesn't build printers only. It also provides parts-printing services. Lux Research believes that most of the 3-D printing revenue will come from parts-printing by 2025. A $7 billion part-production opportunity by 2025 is projected by the research firm.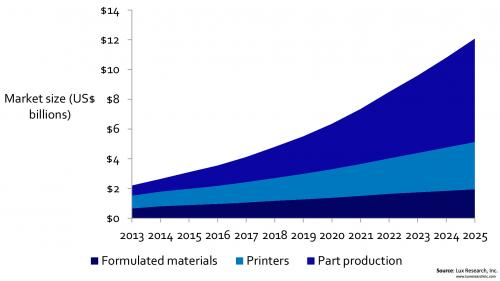 (Source: Lux Research, Inc.)
Moreover, if parts-printing develops to be a high-margin business model, 3D Systems can capitalize on that.
Overall, there are varying projections, and hence, there is uncertainty about where most of the growth will come from. Unlike others, 3D Systems has covered all the bases, and it will benefit the most from the growth of the industry, due to its extended exposure to almost all the aspects of 3-D printing.
Printing speed: A key to success
The opponents of production scale 3-D printing argue that 3-D printers are too slow to replace conventional manufacturing techniques. These arguments were true to some extent until now. However, the speed of 3-D printing has been improving lately. 3D Systems claims that its new fab-grade 3-D printer exceeds the productivity of traditional injection molding in direct manufacturing of functional parts. Speed was one of the two reasons (cost is the other reason) that 3-D printing was not successful against injection molding. 3D Systems resolved this problem, and now the company is set to take its share of the $8 billion functional prototyping industry.


(Source: orcinternational.com)
Moreover, if material costs drop in the future, 3D Systems will also have a shot on the global injection-molded plastics market, which is set to reach $252 billion in 2018, according to Transparency Market Research. Capturing a mere 2% share of this market will be huge for 3D Systems. To review, the improvement in printing speed brought about by the fab-grade 3-D printer is opening new avenues of growth for 3D Systems.
Financial performance and the future outlook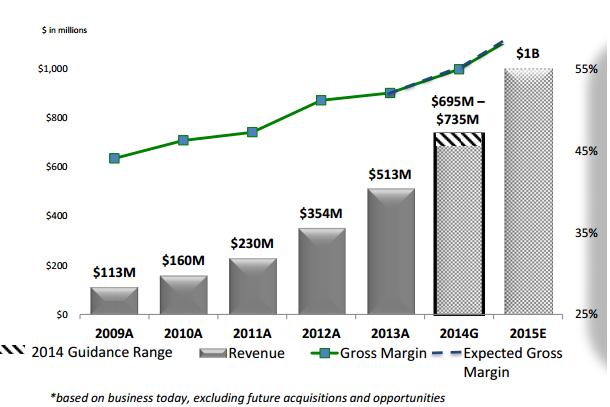 (Source: 3D Systems Investor Presentation)
3D Systems has been showing consistent growth in its revenue and earnings, indicating stable growth in the market, along with the company's ability to execute. The revenue guidance for 2014 is raised by $15 million, and management is confident about achieving $1 billion in annual revenue in 2015. The margin is also healthy, which is very important for a company operating in this high-growth industry. It is because positive margin eventually adds to the cash flow of the company. And the cash flows are used to satisfy the CAPEX needs of a growing company. All in all, a healthy margin is a positive aspect as far as 3D Systems is concerned.
Bottom line
Analysts and researchers are frequently upgrading their forecasts about the industry. 3-D printing is all set to grow. 3D Systems will be the primary beneficiary because of its wide 3-D printing presence. In fact, the record-breaking print speed of its fab-grade printer will lead the growth of the 3-D printing industry. The financials also look good, and it seems that 3D Systems is the best bet if someone wants to hop on the 3-D printing bandwagon.
Disclosure: The author has no positions in any stocks mentioned, and no plans to initiate any positions within the next 72 hours. The author wrote this article themselves, and it expresses their own opinions. The author is not receiving compensation for it (other than from Seeking Alpha). The author has no business relationship with any company whose stock is mentioned in this article.