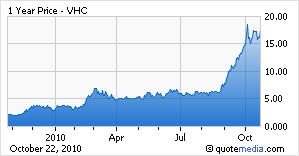 VirnetX (NYSEMKT:VHC) jumped back into the limelight Friday by surging 9% and closing at $17.61. This impressive close, still under its 52 week high, highlights an impressive run over the last six months. As everyone knows, the reason for its incredible move higher was its litigation victory against and patent settlement with Microsoft (NASDAQ:MSFT). Friday's move is rumored to be about two current litigants possibly in licensing discussions. My guess is all current litigants are in some type of discussions so these rumors may or may not be significant going forward.
Before going into that, let's go back and see where this little former OTCBB graduate came from. Sometimes knowing this can help determine where it is really going. Going back to just 2006 they were a company called Pacific Softworks and traded around a mere $0.50 on the OTCBB under the symbol PASW. In early 2007 they merged with a VirnetX and along with patents they had acquired, they filed suit against Microsoft. By the end of 2007 they were an AMEX stock with the symbol VHC. Over the next four years starting in 2006, they went from zero revenues to $75K(2007), $133K(2008) and $26K(2009) in revenues. Not exactly numbers to make any shareholder excited but that was not what the company was about. This little OTCBB stock with a market cap of around $50M was taking on Microsoft in what would turn out to be an epic battle of foundational intellectual property.
Back in 1985 Qualcomm (QCOM_was formed by seven industry veterans who were looking for a product idea built around the communication market. After working for the next four years as primarily a contractor doing research and development for other people, they introduced Code Division Multiple Access (CDMA), a superior technology for wireless and data products that changed the global face of wireless communications forever. This eventually led to an extensive licensing strategy after years of litigation that today's gives Qualcomm over $900M/quarter in licensing revenue and what I would suspect is a large part of their $936M in earnings last quarter.
Fast forward to 2010 and after over three years of litigation, VirnetX was victorious in its suit against Microsoft. This led to a $200M settlement between the two companies. What this really did besides making sure VirnetX did not just become some type of question in a "who were they" in a IP trivial pursuit game, it validated their Intellectual Property claims. This validation is obviously the key going forward, and after taking over litigation in 2009 on contingency and winning, McKool Smith will handle future litigation as they start trying to run the table on other infringers. Many may know McKool Smith from their victory over Microsoft in the i4i case, another bad beat down of Microsoft.
Of course before anyone gets too teary eyed for these companies having to pay for stealing others intellectual property, keep in mind with literally billions in cash on hand, these losses are less than the interest they are making on it. Now McKool Smith did exactly what you would expect it to do after validation through litigation. After I am sure multiple infringement studies they picked the next easiest or logical targets to go after. Apple (NASDAQ:AAPL), Aastra (OTC:AATSF), Cisco (NASDAQ:CSCO), and NEC are the lucky recipients of VirnetX most recent infringement allegations in the form of recently filed suits. Keep in mind besides using just the original patents to sue, any new subsequent patents can also be asserted considering many of them are based on the original foundational IP, this typically just makes infringement easier to prove. Often times, a company will license a family or portfolio of specific IP as opposed to a single patent.
The VirnetX technology has some interesting comparisons to Qualcomm in the early days. It is also very heavily involved in communications. VirnetX involves secure real time communication over the internet. Sound like any other mega licensing giant mentioned earlier? It can be built into hardware via silicon or part of a company's network. Secure communication only becomes more important as the world evolves more and more towards a wireless society and VirnetX has already declared a vast majority of their IP is made for the 4G domain. As Microsoft proved over the last three years they are using the VirnetX technology and they appear to not be able to have found a way to around it. This is like a two-fer in the IP world: Validation plus no way to circumvent the IP - that's a very strong position to launch your licensing strategy.
There are a few other interesting cases I have been keeping my eye on. The first is NTP, the Don Stout Company who after beating RIMM out of $612 million has now turned their attention to the following companies: Apple, Google (NASDAQ:GOOG), HTC. LG, Microsoft and Motorola (MOT). Then there is also Microsoft co-founder Billionaire Paul Allen who has sued in alphabetical order AOL (NYSE:AOL), Apple, eBay (NASDAQ:EBAY), Facebook, Google, Netflix (NASDAQ:NFLX), Office Depot (NYSE:ODP), Officemax (NYSE:OMX), Staples (NASDAQ:SPLS), Yahoo (NASDAQ:YHOO) and YouTube. Last but not least, there is also Augme Technologies (AUGT.OB) who is going after AOL, Time Warner (NYSE:TWX) and Yahoo. Keep in mind all of these companies are basing their cases on early internet patents just like VirnetX did.
Disclosure: Long AUGT.OB