CONSOL Energy (NYSE:CNX) is a large natural gas producer that began life as a coal company. On April 30, 2010 it acquired the Appalachian exploration and production business of Dominion Resources inc. (NYSE:D). This acquisition along with others gives CNX approximately 790,000 net acres in the prolific Marcellus Shale in Pennsylvania and West Virginia as of May 26, 2014. This includes about 8,000 gross prospective unproved drilling locations. CNX is producing over 300 MMcfe/d net from about 3% of its net Marcellus acreage. CNX also has about 581,000 net acres in the Utica in Ohio, Pennsylvania, and West Virginia. CNX has about 345,000 net acres of Upper Devonian potential in the best part of the Burkett fairway. In many cases these plays are stacked one on top of the other. The Upper Devonian is the shallowest. The Marcellus is below it; and the Utica is below that. CNX has 350,000 net acres of Virginia Coal Bed Methane. CNX has 243,000 net acres in the Chattanooga Shale, the Monteagle SOG, and the Conasauga Shale. It has 277,000 net acres in the Illinois Basin in Kentucky. Finally it has 2,294,000 net acres of conventional natural gas wells that were acquired mostly with the Dominion Resources acquisition. CNX has 5.7 Tcfe of proved natural gas reserves.
Aside from all of the above CNX has significant coal mine holdings and midstream assets. The Bailey Complex has reserves of 625 million tons (mostly thermal coal). It has a production capacity of 28 MMT. The Buchanan has reserves of 98 million tons (mostly met coal). It has production capacity of 5.2 MMT. The Miller Creek Complex has reserves of 33 million tons (mostly thermal coal). It has production capacity of 4 MMT.
CNX's guidance for 2014 is to grow natural gas production by 30% year over year. It had Marcellus Shale production growth of 94% year over year in Q1 2014. It saw all-in margins increase by 145% to $1.89/Mcfe year over year in Q1 2014. CNX also plans to develop its liquids profile. In coal it plans to manage coal margins and maintenance capital for its retained mines. Its new BMX mine is now operational. After this milestone nearly all of CNX's production growth will occur in natural gas. The growth of the last year bodes well for further progress in the natural gas area.
CNX has guided for a 30% natural gas production CAGR rate through 2016E. The specific guidance at the end of Q1 2014 was for natural gas production of 215.0-235.0 Bcfe for FY2014. In the news today, July 15, 2014, CNX revised its FY2014 guidance higher to 225-235 Bcfe. To some this may seem like no change; but it effectively raises the midpoint of the guidance by +5 Bcfe, which is a considerable amount. This is very positive news from CNX.
In Q1 2014 CNX had $969 million in revenues compared to $825 million in Q4 2013 and $843 million in Q1 2013. It had EBITDA of $310 million in Q1 2014 compared to $193 million in Q4 2013 and $268 million in Q1 2013. The Net Income comparison of Q1 2014 to Q4 2013 seems terrible as they were respectively $116 million and $738 million. However, $591 million of the Q4 2013 total was from discontinued operations. Further, CNX received an income tax benefit of $131 million in Q4 2013 that it did not get in Q1 2014. These two total up to $722 million (most of the Q4 2013 net income). Therefore, CNX's Q1 2014 result still amounted to "adjusted" good growth sequentially. The net income growth year over year was great as CNX lost -$2 million in Q1 2013. Earnings and revenues are improving in spite of the low coal prices. CNX is executing; and its large natural gas holdings indicate it has a lot of upside potential.
The pie charts below show how CNX's EBITDA data is shifting away from coal and into E & P.

Click to enlarge
As investors can see the shift is away from coal, which will go from 68% of EBITDA in FY2013 to 37% of EBITDA in FY2015. I should mention that E & P includes liquids too. It is perhaps too early to draw conclusions from the liquids production; but the table below of CNX's FY2014 CapEx shows clearly that CNX has plans for liquids to be a significant part of future production.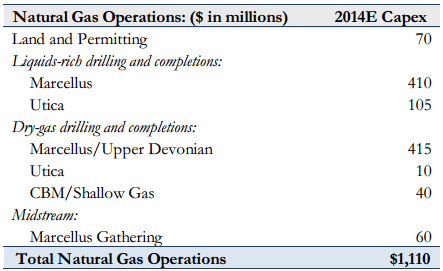 The chart of CNX's main dry and wet gas areas in Pennsylvania, Ohio, and West Virginia shows CNX does have considerable Wet gas holdings. These usually hold such things as oil, condensates, and NGLS. CNX should be able to earn considerably more from their development than from pure natural gas development. The liquids production guidance for 2014 is for 5%-8% of the total Bcfe's. For FY2016 CNX is guiding for liquids of 10%-15% of the total Bcfe's. This trend should increase profits over time.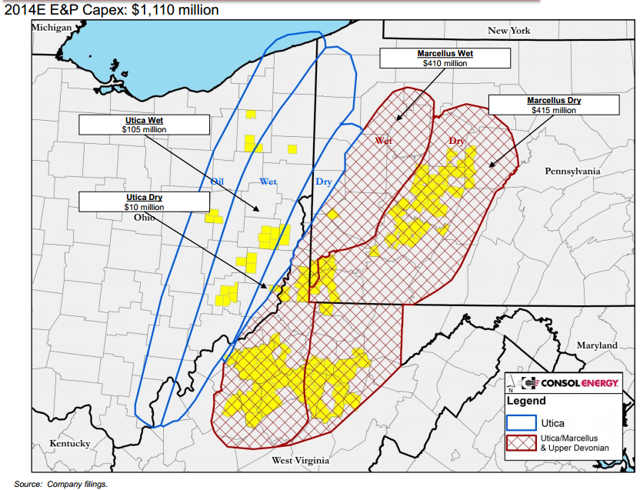 Click to enlarge
The monetary amounts in the map insets are the 2014 CapEx amounts that CNX plans to spend in the areas designated.
CNX has about 581,000 net acres in the Utica. The map below of the Utica holdings shows CNX has a good amount of acreage in a variety of liquids producing regions.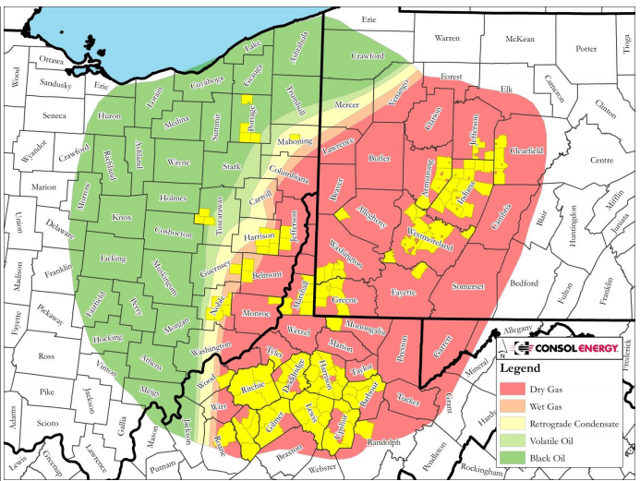 Click to enlarge
The growth chart for the Utica shows CNX is expecting to grow production there quickly too.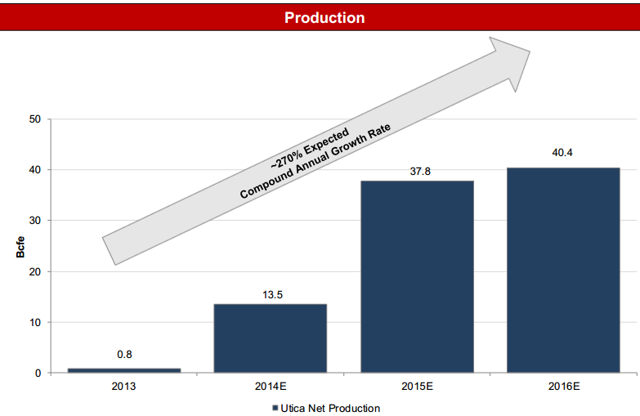 Click to enlarge
It is hard to do better than a CAGR of about 270%.
CNX also has significant midstream assets that it has developed to support its natural gas activities. It announced on June 12, 2014 that it plans to form a master limited partnership joint venture with Noble Energy (NYSE:NBL). This should unlock more value in CNX. Such assets tend to be undervalued when they are part of an E&P company. CNX and NBL will control the general partner of the MLP, which will own the incentive distribution rights. The initial public offering is expected to be completed in late Q3 or early Q4 2014. Investors should get a lift in their overall holdings at that time.
Everyone knows coal has not been doing well; but CNX currently has 89% firm tonnage for FY2014. This should be highly profitable, especially since CNX is not doing any further development in the coal area in FY2014.
Natural gas prices have fallen a lot since the end of Q1 2014. However, they are still much higher than last year at this time. Plus a moderate to harsh El Nino year is expected for the end of summer and the coming winter. This will likely mean a hotter than normal summer in the U.S. It will mean more drastic weather in the winter. It is hard to say exactly what that weather will be at this time. The biggest influence is expected at this time to be big snow and ice storms in the South. The West Coast and Southwest are also expected to be cooler than normal. It "uncertainly" sounds like the overall winter weather may be cooler than normal. This should help natural gas prices in the coming winter.
Longer term there seem to be more drivers for demand in the US than for supply. The article, "U.S. Natural Gas Stores Are Dangerously Low, That's Good For Pipeline And Storage Companies", does a more thorough job of describing the likely increases in demand over the coming years. More will go to Mexico via pipeline. More will be exported as LNG. Cheniere's (NYSEMKT:LNG) first U.S. LNG plant is scheduled to come online at the end of 2015. It is expected to be followed closely by many more. Canadian LNG plants are also expected. More use of CNG (compressed natural gas) is expected for transportation. I could go on; but if you are interested, please read the referenced article.
All of this along with low all-in prices for natural gas production should make CNX a successful company going forward. The expected increase in liquids production by CNX should only add to that success. CNX is a legitimate turnaround story. It is a buy in its currently oversold state.
The two year chart of CNX provides some technical direction for this trade.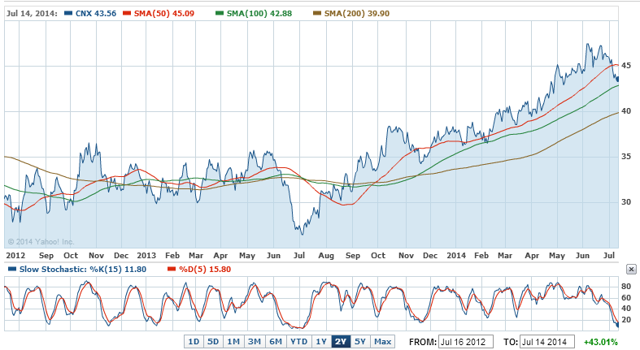 Click to enlarge
The slow stochastic sub chart shows that CNX is oversold. The main chart shows that CNX is in the midst of a pullback. This pullback was likely mediated by the recent fall in natural gas prices and in oil prices. It could fall further, but many think oil prices are done falling for the near term; and CNX is oversold technically. Since the fundamentals for CNX are still excellent, it seems most likely that the strong uptrend that has been in place for the last year will continue; and now is a decent time to buy CNX.
CNX is expected to grow EPS by 48.40% in FY2015; and it has an average analysts' next 5 years EPS Growth Estimate per annum of 32.81%. CNX may bounce higher off its 100-day SMA (the green line). In fact, Brean Capital on June 17, 2014 raised its price target on CNX to $57 from $48. With the current price at $42.63 as of the close on July 16, 2014, CNX has a lot of room to move upward. The mean analysts' price target is $51.44 per share. The Brean Capital upgrade shows increasing support for CNX, not decreasing support. Brean Capital has a Buy rating on CNX. The mean analysts' rating is also a Buy (2.0).
Note: Some of the fundamental fiscal data above is from Yahoo Finance.
Good Luck Trading.
Disclosure: The author has no positions in any stocks mentioned, but may initiate a long position in CNX over the next 72 hours. The author wrote this article themselves, and it expresses their own opinions. The author is not receiving compensation for it (other than from Seeking Alpha). The author has no business relationship with any company whose stock is mentioned in this article.