Could a change in capital allocation increase the value of Coca-Cola (NYSE:KO) and reward investors? I think so and will provide the rationale and details below.
First, the compensation plan will be reviewed to determine if management is rewarded for increasing the value of the entire firm, measured by its market capitalization, or by increasing the stock price.
Then the allocation of capital will be examined. Has more capital been allocated for plant property and equipment or to repurchase shares? What percentage of revenue has been used to repurchase stock?
Finally, I'll examine what could happen to the market value by shifting the allocation of capital. There would be no change in the amount of capital deployed, just the composition.
Coca-Cola's Compensation Plan:
Additional materials to Coca-Cola's proxy statement say:
Here is how the equity plan works. A portion of the compensation for a large group of managers is provided in the form of stock options and "performance units" that are linked to the company's performance. The value of that compensation depends on the increase in the value of the company. If the actions taken by the people running our business result in growth, then the stock price goes up and they benefit. Similarly, if the business doesn't perform as well, it is likely that the stock price will reflect that and those managers will receive less compensation. We call that "pay for performance." The goal is to promote the success of The Coca-Cola Company by linking the personal interests of employees to those of shareowners. If the company doesn't perform, managers don't benefit.
The wording goes from "compensation depends on the increase in the value of the company" to talking about the "stock price going up." The stock price can increase with poor earnings per share with an expansion of the price-earnings ratio. Conversely, the stock price can decrease with great earnings and a contracting price-earnings ratio. Management can leverage up the balance sheet by adding debt that is used to repurchase shares; that might give a temporary boost to the stock price, but result in a decline in the market value of the firm.
Stock Price versus Market Value
The chart below compares the change in the stock price and the market capitalization of Coca-Cola from July 1, 1998 to present. The stock performance has outpaced the change in market capitalization.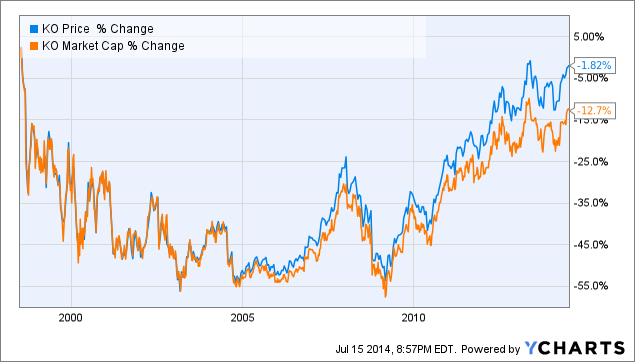 KO data by YCharts
The market value of Coca-Cola in 2014, some 16 years later, remains over 12% below the 1998 market capitalization with the stock price a tad under 2% lower. The market seems to have suggested that the paper versus hard asset allocation combined with the increased debt load was a misguided allocation of capital.
Shares outstanding and Treasury Stock per employee for the past decade.
Shares outstanding went from 4,890,528,806 on February 23, 2004 adjusted for 2-1 stock split to 4,405,983,150 shares outstanding on February 24, 2014. The amount of cash spent repurchasing shares totaled $27.6 billion to limit dilution. The share count dropped by roughly 485 million shares.
For each of the 130,600 employees at 2013 year-end, there was $211,692 worth of Treasury Stock purchased during the past decade.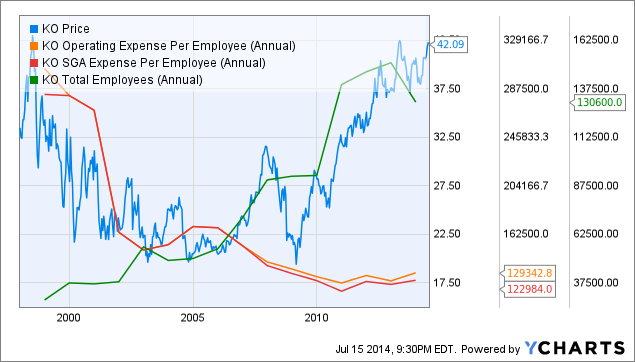 Treasury Stock cost $39.091 billion at year-end 2013. This exceeded total current asset of $31.304 billion. The cost of Treasury Stock exceeds net property, plant and equipment of $14.967 billion, plus goodwill of $12.312 billion, plus inventories of $3.277 billion.
Long-Term debt and Interest Expense on the Rise.
Current and future owners have $19.154 billion of long-term debt to service, up from $1.15 billion. Interest expense was $196 million during 2004 and increased to $733 million in 2010 before declining to $463 million for 2013. Each 100 basis points or 1.00% increase to interest rates will increase interest expense by $191 million for a ten-year cost increase of $1.91 billion.
Interest Expense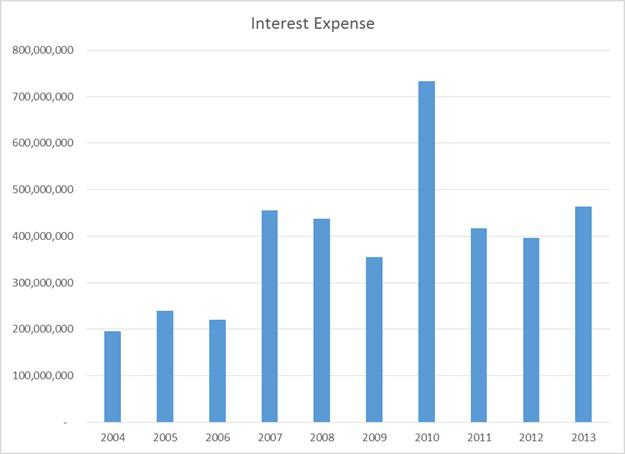 Long-term Debt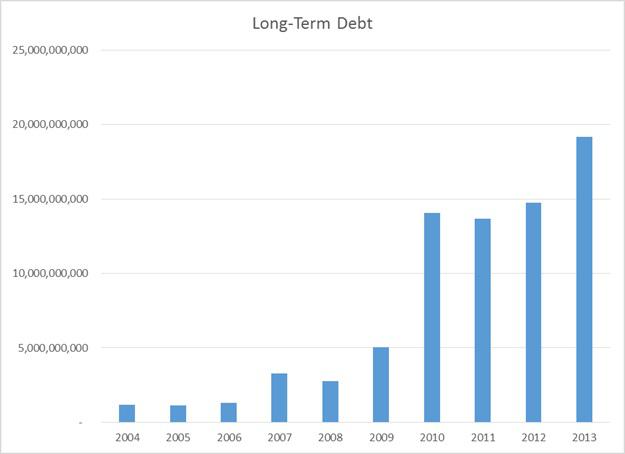 Share Repurchase as a percentage of revenue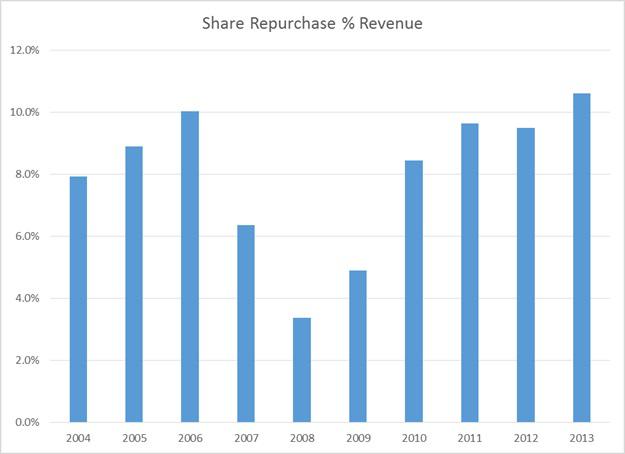 8.2 cents of each $1.00 of revenue went to repurchase shares. The $27.6 billion spent to repurchase shares exceeded the $19.1 billion invested in the purchase of property, plant and equipment the past decade.
Share Repurchase as a Percentage of Net Income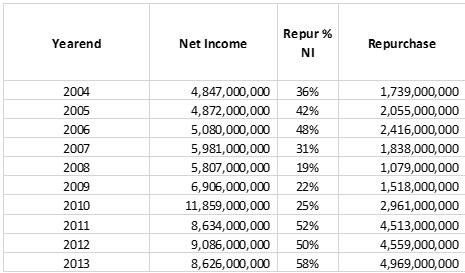 Capital Allocation Share Repurchase versus Plant, Property and Equipment
The chart below compares the allocation of capital for hard assets; plant, property and equipment to that used to repurchase paper assets; share repurchases. The capital allocation has favored paper assets over hard assets.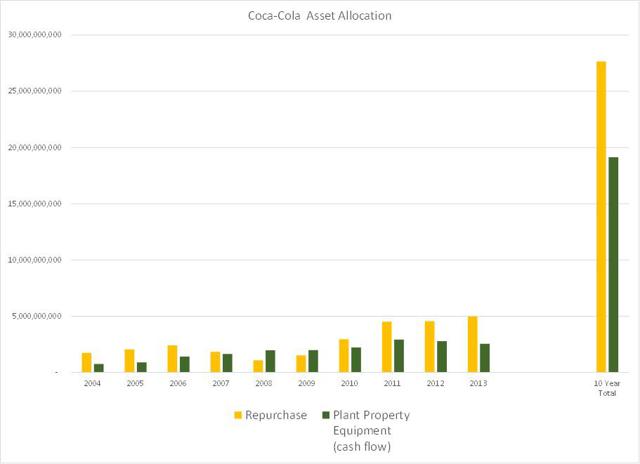 Source data 10-K s
10-Year U.S. Treasury at 4.00% outperformed Coca-Cola's increase in the market value of 3.4%.
The market value of Coca-Cola stood at $123 billion on February 23, 2004 and increased to $165 billion on February 24, 2014 for an increase of $42 billion. That works out to 34.2%, or a simple 3.4% per year. In contrast, the 10-year U.S. Treasury note yielded 4.00% during February 2004.
Management and employees have consistently produced net income of $4 billion or greater. The total net income for year-end 2004 to 2013 has totaled $71.698 billion. Share repurchases totaled $27.647 billion. For a decade, 39% of net income went to repurchase shares.
Time will tell if Coca-Cola has under-invested in hard assets and its employees. Going forward, shareholders and employees may be disappointed as cash-flow is allocated for interest and principal payments rather than increase dividends and or increase compensation for the majority of employees. Maybe the answer to executive compensation is for the board to tie it to the gain of the average employee and to the change in market capitalization rather than the stock price.
What if the capital used for share repurchases was used for dividends?
Since 2009 Coca-Cola has generated net income of roughly $7 billion or greater. The past three years have seen share repurchase plus dividends exceed $8 billion. If $7 billion was paid to owners in the form of a dividend and the market demanded a dividend yield of 2.90% (current market demand), then the market capitalization would be $241 billion verses the current $185 billion. That's a $56 billion increase by making one change - that being returning owners funds to owners.
On May 6, 2014, I wrote to Coca-Cola's investor relations asking a simple question -- see below. To date, there has been no reply.
What percentage of revenue does management feel is a fair or appropriate to be used to repurchase shares? Should this allocation of capital exceed the amount invested in plant, property and equipment?
What do you think should Coca-Cola revise its capital allocation, or announce what metrics are used to repurchase shares?
Disclosure: The author is long KO. The author wrote this article themselves, and it expresses their own opinions. The author is not receiving compensation for it (other than from Seeking Alpha). The author has no business relationship with any company whose stock is mentioned in this article.