Tuesday afternoon, it was announced that IBM (NYSE:IBM) and Apple (NASDAQ:AAPL) had agreed to an enterprise mobility partnership. Both companies appear to be strengthened by the deal, although Wednesday's reaction was a bit mixed. I do believe that IBM is the clear winner here, more so than Apple. Today, I'll detail why I think that is the case, who the losers here are, and discuss other names impacted by this big news.
The key details:
Here are the key points of the deal, taken from the SA market current linked above.
As part of a comprehensive enterprise mobility partnership, Apple and IBM plan to develop 100+ "industry-specific enterprise solutions," including new iPhone/iPad apps.
The apps will begin to arrive this fall, and IBM will resell iPhones/iPads containing them to clients worldwide.
The companies also plan to develop IBM cloud services optimized for iOS. Targeted markets include security, mobile device management, and big data/analytics. New enterprise-focused AppleCare services will be offered, as will "new packaged offerings from IBM for device activation, supply and management."
Apple, which maintains an outsized share of enterprise mobile hardware activations, has tried hard to grow its business footprint during the Tim Cook era. Aside from any value provided by the new apps/services, Big Blue's credibility and relationships with Global 2000 firms should provide a shot in the arm for Apple's efforts.
As for IBM, the deal adds to a mobile software/services push that has already resulted in a string of acquisitions and product launches.
There has been a ton of praise for this deal, and rightly so. Forrester's Frank Gillett says the deal gives Apple "enterprise capabilities and credibility at one stroke." Apple CEO Tim Cook highlighted the value of IBM's 100K+ consultants/sales workers, and stated the following:
We're good at building a simple experience and in building devices ... The kind of deep industry expertise you would need to really transform the enterprise isn't in our DNA. But it is in IBM's.
IBM - the clear winner:
I'm not the only one who seems to believe this, especially if you look at the street's reaction to the deal. IBM shares rallied nearly $4, more than 2%. This kind of deal may be just what was needed to get this stock going again. IBM shares have greatly underperformed the market in recent years, as you can see in the chart below.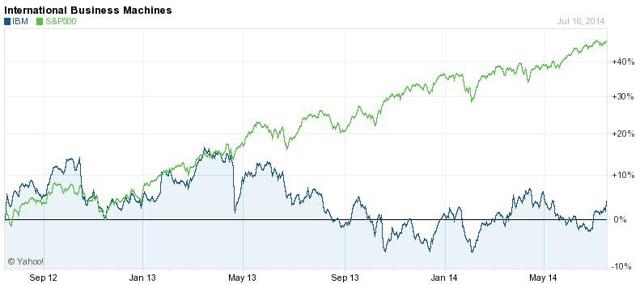 (Source: Yahoo! Finance)
Also, IBM has had a tough time with revenue growth lately. After nearly $107 billion in revenues during 2011, the company was under $100 billion last year. Current estimates call for another $2 billion plus decline this year, more than 2%. It will be interesting to see how these estimates change on news of the deal. Of course, IBM is scheduled to report Q2 earnings on Thursday afternoon, so that report may have a larger impact on estimates. Of the two companies, IBM has a smaller revenue base and market cap than Apple, so an argument could be made that the smaller company will be impacted more.
Apple - good job, but plenty of other positives:
Let me be clear here. Apple is a winner in this deal. I just don't think that Apple is as big of a winner as IBM, and the street seemed to agree with that notion. Apple was up for most of Wednesday, but a late pullback caused shares to end down a little more than one half of one percent. Goldman Sachs increased its price target by $4 to $107 after the deal, and I think that's a fair reaction.
I just don't think Apple is a tremendous winner here because the company already has enough going for it. Apple has the most powerful buyback on the street right now. Apple shares are getting close to their all-time highs again, and shares have done quite well in recent years, performing a lot better than IBM. Apple is already projected to see a decent level of growth, especially once new products come later this year. I just think that IBM needed this deal a little more than Apple did. I am not at all saying Apple is a loser, I just think IBM is a bigger winner.
Discussing the losers:
There were two names that the street saw as obvious losers in the deal. They were BlackBerry (NASDAQ:BBRY) and MobileIron (NASDAQ:MOBL), two names I chose as stocks to watch on the short side for Wednesday. MobileIron, which only went public about a month ago, is now below its IPO price and hit a new low on Wednesday. MobileIron shares lost nearly 5.5% yesterday, but did recover half of their losses from the day's low.
The biggest loser according to the street, at least yesterday, was BlackBerry. Shares lost almost 12% on Wednesday, closing below $10. BlackBerry shares had recently broken out to the upside, and this was the kind of news the bear camp was waiting for to knock the stock back down. Analysts at both UBS and Baird think this deal is a negative for BlackBerry, and that makes sense given how much larger IBM and Apple are.
An interesting counter argument was provided by fellow SA contributor Quoth the Raven, who believes that BlackBerry could now be an obvious takeover target. The article discusses, among other items, how another player in the market like Microsoft (NASDAQ:MSFT) or Google (NASDAQ:GOOG) (NASDAQ:GOOGL) might see this as a wake-up call. We know that Google wants to make more acquisitions, and a BlackBerry acquisition would not require a tremendous amount of capital. While I partially agree with the takeover premise, I would caution investors that the most recent news might knock down a potential takeover price. So if you were a BlackBerry bull that maybe thought $18 or $20 was a good purchase price, maybe your expectation should be $15 now. BlackBerry is in the midst of a turnaround, and this deal has struck down some of the recent optimism.
Who else is truly impacted?
While reading some other opinions on the deal, I came across SA contributor Dana Blankenhorn, who said that chip giant Intel (NASDAQ:INTC) was a loser in this IBM/Apple deal. Here was his premise on why this was the case:
How is Intel going to increase its market share when it's locked out of iOS by Samsung (and now Taiwan Semiconductor (TSM), which now makes chips for Apple)? Intel is a chip supplier to Apple, but only in the Mac space, not in the phones and tablets that are part of the IBM deal. How is WinTel going to grow against Android, with IBM and Apple teaming up to lead enterprises away from PCs entirely?
Additionally, he pointed out that Intel trades at a higher valuation than Apple, IBM, Microsoft, and even HP (NYSE:HPQ). I don't want to classify Intel as a loser just yet, although that may eventually turn out to be the case down the road. Intel is not in Apple's phones or tablets yet, but Intel is making a big push into tablets this year. Right now, Intel is mostly about the PC space, which is doing quite well. The company just had an impressive Q2 beat and issued Q3 and full year guidance well above expectations. Intel also increased its buyback by $20 billion, and has started to accelerate the repurchase of shares. Intel shares hit a new multi-year high on Wednesday, so investors seem to be focusing on the good news and not the potential for Intel to be a loser in the IBM/Apple deal.
Final thoughts:
IBM and Apple struck a key deal, which has been applauded on many fronts. I believe that IBM is the clear winner here, as the company needed a boost to offset revenue weakness and a stagnant stock. The deal is good for Apple as well, but Apple has plenty of positives going for it already, and shares are close to their all-time highs. MobileIron and BlackBerry appear to be the losers here, but that changes if BlackBerry is acquired. Only time will tell if Intel is a loser, but for the short-term, the chip giant's future looks bright. In the table below, I've detailed how the five major names discussed today traded on Wednesday to this news. Outside of Intel's earnings jump, IBM was the clear winner.

Disclosure: The author has no positions in any stocks mentioned, and no plans to initiate any positions within the next 72 hours. The author wrote this article themselves, and it expresses their own opinions. The author is not receiving compensation for it (other than from Seeking Alpha). The author has no business relationship with any company whose stock is mentioned in this article.
Additional disclosure: Investors are always reminded that before making any investment, you should do your own proper due diligence on any name directly or indirectly mentioned in this article. Investors should also consider seeking advice from a broker or financial adviser before making any investment decisions. Any material in this article should be considered general information, and not relied on as a formal investment recommendation.