About a month ago, I detailed how Tesla Motors (NASDAQ:TSLA) shares were stuck in neutral. At the time, the stock had been flat since breaking below a key moving average. For the second time this year, one of my Tesla articles marked a short-term bottom, as shares spiked higher from $206 to nearly $245.
As shares approached $240 again, I did put out a note of caution, as one analyst thought Tesla's Q2 might be in trouble. I was a little skeptical of the recent rally, and with short interest still declining, short-term upside seemed limited. I detailed how Q2 could be a make or break quarter for Tesla's 2014 growth story. Since that $244 plus high, Tesla shares have pulled back, and there seems to be a little more concern out there. Today, I'll detail why there is some nervousness regarding Tesla, and what investors should do.
EPS estimates being reduced:
The worries over Q2 seemed to increase a bit after sales in Norway during June showed a steep drop. Only 536 Model S vehicles were sold during the month, down from the more than 1,400 sold in March in that country. Additionally, US numbers seemed to be flat, with Europe flat to down. So perhaps it is not a surprise that we've seen analyst estimates for Q2 head lower, as seen in the table below. The "last update" is from my stuck in neutral article above.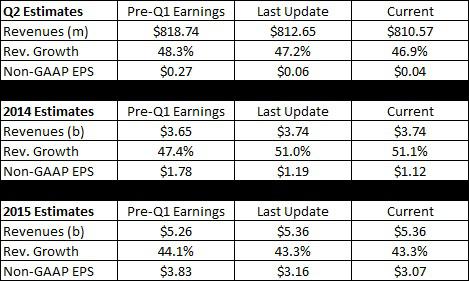 Since my last full estimates update, the Q2 revenue average has come down by a little more than $2 million. In the grand scheme of things, that's not much. I'm much more interested in the fact that the non-GAAP EPS number was cut even further. Remember, Tesla said to expect minimal non-GAAP profitability this quarter. I do find it interesting though that estimates have come down again, considering how much they fell already. Either Tesla is going to be barely profitable in Q2, or the company low-balled its guidance to set up a very large beat.
When it comes to the full year numbers, revenue estimates are mostly the same. Like Q2, however, non-GAAP EPS estimates have been cut again. Another 7 cents was hacked off for this year, as well as 9 cents for next year. The 2014 number has come down by more than 37% since the Q1 report. Tesla is still expected to show an improvement in non-GAAP EPS this year, even with a rising share count. However, Tesla bulls want to see these estimates going up. Further cuts may put into question Tesla's long-term profitability, and with a very expensive stock, that would be troublesome.
Model 3 coming in 2017:
While the latest set of news was mostly expected, Tesla did announce on Wednesday that its lower priced successor will be named the Model 3. It is expected to go on sale in 2017, with a start price of $35,000. This new model will compete with the BMW 3 Series, and will be about the same size as the 3 Series. The Model 3 will have a range of about 200 miles on a full charge. Following the Model S and the Model X, the Model 3 is expected to play a large part in Tesla's growth story over the next 5-10 years. Jack Nerad, an analyst for Kelley Blue Book, had this to say in the linked article above:
"A versatile, usable all-electric car at $35,000 would be a hit in the marketplace, but an important key to versatility and usability is range. If Tesla Motors can figure out the range issue and the associated charging time/charging station issue, they will strike gold."
An update on short interest:
Anyone that has read my series of Tesla articles knows that I've discussed short interest quite a lot. With a high short interest, Tesla has the potential for short squeezes, and those can be very rewarding for those long the stock. I recently discussed Tesla's short interest in another article, but for those that missed it, let me update you. Here's how the short interest chart looked at the end of June.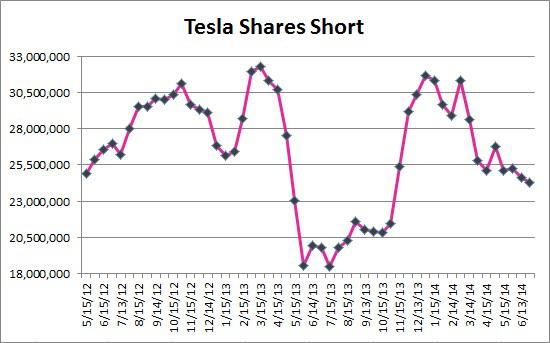 At the latest update, which was the end of June one, we saw a decline of about 325 thousand shares. While that isn't a large decline, it has put short interest at its lowest level since October 2013. Considering that Tesla's float and outstanding share count rise by the quarter, that is an important item to consider.
Tesla's short interest is still high, with more than 27% of the float short at the end of June. That still does leave the potential for more squeezes, but short interest is down by more than 7.35 million shares so far in 2014, a drop of more than 23%. As short interest continues to decline, it does take a little bit out of the bull case.
An update on the technicals:
Now that shares have pulled back, the technical side of things for Tesla is looking better. As you can see in the chart below, Tesla is reaching two key levels that hopefully will provide support. The first is the 50-day moving average, and the second is the lower Bollinger band. If Tesla were to break below these two technical levels, the next major level of support would be the 200-day moving average. That line is currently around $190 and rising by the day, so you would be looking at another $25 of downside there.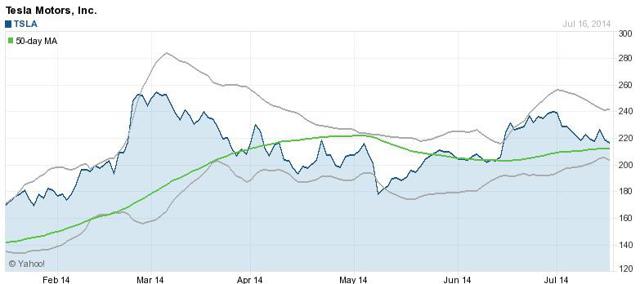 (Source: Yahoo! Finance)
Final thoughts:
Tesla shares have come down more than $25 from their recent high, and that may be an opportunity for investors who believe in the long-term future of this company. Analyst estimates for Q2 have continued to come down, so there is a bit of nervousness building over the quarter. With the second half of the year expected to be much larger in terms of deliveries, revenues, and profits, a weak Q2 could take a chunk out of the 2014 growth story. The Model 3 will be coming in 2017, and that's a big part of Tesla's future. Short interest continues to come down, and at these lower levels, the technicals are looking better. Long-term investors might want to take advantage of the recent pullback, but there also should be a little caution shown in regards to the Q2 report, just in case. I don't think it is panic time just yet, but in recent weeks shares have gone lower, and some investors seem to be a little spooked.
Disclosure: The author has no positions in any stocks mentioned, and no plans to initiate any positions within the next 72 hours. The author wrote this article themselves, and it expresses their own opinions. The author is not receiving compensation for it (other than from Seeking Alpha). The author has no business relationship with any company whose stock is mentioned in this article.
Additional disclosure: Investors are always reminded that before making any investment, you should do your own proper due diligence on any name directly or indirectly mentioned in this article. Investors should also consider seeking advice from a broker or financial adviser before making any investment decisions. Any material in this article should be considered general information, and not relied on as a formal investment recommendation.