My best investment ideas are generated from poring through the conference calls and subsequent SEC documents generated by various companies. I often find outstanding opportunities outlined by management for those who are willing to put the time and effort in. CBS Corp (NYSE:CBS) is the latest example, offering the patient long term investor an opportunity for outsized gains with below average risk. In the article below, I will detail the bullish case for this fine broadcaster.
CBS is a broadcast and content provider with major media properties that include the CBS networks and the Showtime network. I find the media companies to be recession proof as the demand for their products doesn't wane during an economic contraction. The easy of predictability in CBS revenue stream allows me to make a reasonably accurate prediction of their future revenue and profit which adds to the appeal of the company. The media companies such as CBS and its former parent company Viacom (NASDAQ:VIAB) tend to generate a large amount of free cash flow, which allows the skilled management team to further reward shareholders through a combination of dividends and share repurchases. For a more in depth discussion on VIAB, please clik here.
CBS is looking to become a more content driven company while divesting assets that aren't strategically important. CBS has begun its transformation process by recently completing a tender offer of its outdoor billboard division CBS Outdoors (NYSE:CBSO). CBS allowed existing shareholders the right to tender each share of CBS for 2.1689 shares of CBSO. CBSO will operate as a REIT with a current yield of 4.5%. The tender offer was oversubscribed, with 97 million shares of CBSO being issued in lieu of approximately 44.7 million shares of CBS. CBSO is heavily dependent on the more cyclical advertising cycle which made the division expendable.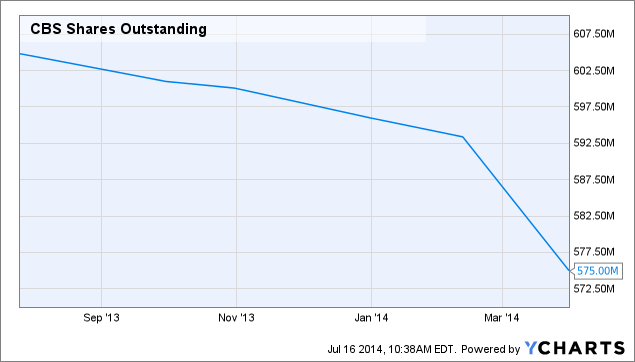 CBS Shares Outstanding data by YCharts
Here is where the transaction becomes very interesting. CBS has approximately 585 million basic shares outstanding as of its last earnings report. The tender offer therefore reduced the amount of shares outstanding to roughly 540 million shares outstanding. The logic here is pretty straightforward, let's examine the revenue and profit loss by divesting the billboard division.
CBSO is projected to generate revenue of approximately 1.34 billion for an EBITDA of 420.6 million in 2014. The outdoor division is the slowest growing division of all, by divesting the asset and lowering the share count I fully expect CBS to trade at a much higher multiple going forward. CBS is currently projected to generate 14.96 billion in revenue with an EBITDA of 3.82 billion while generating a free cash flow of roughly 2 billion. CBS is trading at an EV/EBITDA ratio of roughly 10 with a free cash flow yield of roughly 7%. These are certainly attractive numbers yet the story gets better.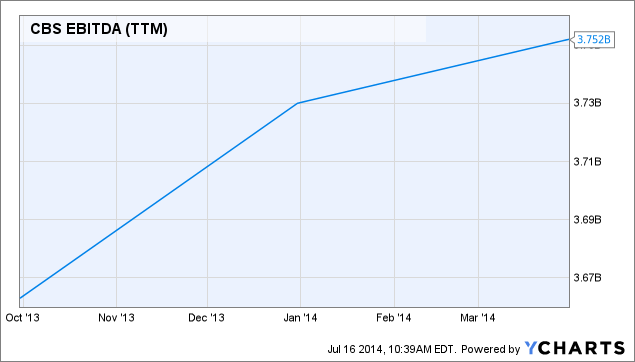 CBS EBITDA (NYSE:TTM) data by YCharts
CBS has already committed $2 billion in the first quarter to reduce the amount of outstanding shares. With the recently completed CBSO deal, CBS will have used roughly $6 billion to reduce roughly 17% of all its shares outstanding. This is quite a reduction which in my opinion will lead to outsized capital gains over the next few years. I expect CBS to trade for a much higher multiple, especially in light of the recent tender offer for Time Warner (NYSE:TWX). TWX currently trades at a FCF yield of 6% and an EV/EBITDA of 11.1 with a P/E of roughly 20 for 2014. Using the same valuations for CBS, the shares would be worth at minimum $66 per share, a 10% increase from its current level. The real value will be derived over the next couple of years as management continues to reduce the shares outstanding.
CBS currently pays a dividend of 12 cents per share which works out to a yield of 0.8%. I realize the yield is hardly inspiring for most, however the real story is by how much the yield will grow over the next few years. The simple act of reducing the share count by 17% allows the company to earmark the same dollar amount towards dividends to be paid out to shareholders. CBS could easily bump the dividend by 10% and actually save money. I anticipate management will look to reward shareholders further with a double digit dividend bump before the year is out.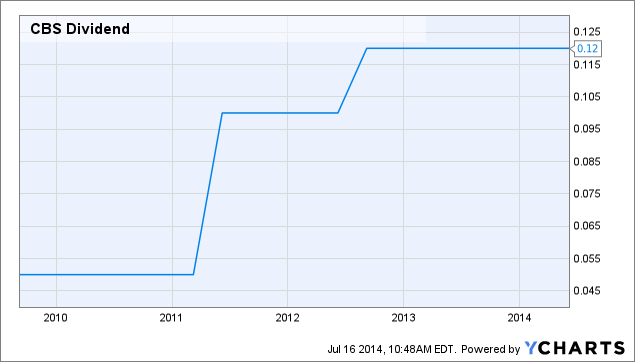 CBS Dividend data by YCharts
In summary, the management team of CBS needs to be applauded for its excellent transaction which I have no doubt will significantly add to shareholder value going forward. By divesting a non-core asset in CBSO, the management team has sped up the process where CBS transforms itself into a content company. Content companies are afforded higher multiples due to their greater profit margin which should begin to manifest itself at CBS over the coming quarters. I expect management will continue to return excess capital to shareholders via a hike in dividends and additional share repurchases. Thanks for reading and I look forward to your comments.
Disclosure: The author is long CBS, VIAB. The author wrote this article themselves, and it expresses their own opinions. The author is not receiving compensation for it (other than from Seeking Alpha). The author has no business relationship with any company whose stock is mentioned in this article.
Additional disclosure: Investors are always reminded that before making any investment, you should do your own proper due diligence on any name directly or indirectly mentioned in this article. Investors should also consider seeking advice from a broker or financial adviser before making any investment decisions. Any material in this article should be considered general information, and not relied on as a formal investment recommendation.
Disclosure: The author is long CBS, VIAB.
The author wrote this article themselves, and it expresses their own opinions. The author is not receiving compensation for it (other than from Seeking Alpha). The author has no business relationship with any company whose stock is mentioned in this article.