Recently, with the increased pace of M&A activity in the consumer staples sector, Goldman Sachs (NYSE:GS) reported that Hansen Natural (HANS) is among the top candidates for takeover. The talk about potential acquisition of HANS is not new. Rumors about a possible takeover of HANS by Coke (NYSE:KO) began as early as in 2006. Other rumors involving PepsiCo (NYSE:PEP) and Anheuser-Busch (NYSE:BUD) as likely bidders were also heard.
KO and HANS do make a good team. Hansen Natural entered into a distribution agreement with Coca-Cola Enterprises (NYSE:CCE) in Q3 2008. With Coke's acquisition of CCE's North American operations , analysts estimate that KO could potentially save millions in marketing, SG&A and other expenses by acquiring HANS. Additionally, since KO's Full Throttle is losing ground to Monster and Red Bull in the energy drink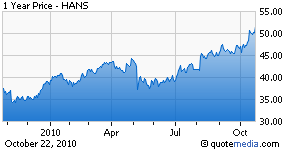 category, the fastest growing segment in the beverages industry, the HANS takeover by KO makes sense.
However, in my opinion, investors should invest in HANS not as speculative takeover play, but because HANS is a long term growth story with considerable room to grow. Although the company has been increasing its market share in the US on a consistent basis, I am most excited about the opportunities that lie in rest of the world. Sales of Monster grew by 14% in Mexico far outpacing the leading energy drink Red Bull which grew by 4% indicating an increasing market share. Similar gains in market share were also seen in Canada and several locations in Europe. Going forward, the company is in the process of expanding the brand in Slovakia, Czech Republic, Germany, Norway, Lebanon, Jordan and United Arab Emirates. These and other European and Asian markets should offer significant opportunities for growth. However, it should be noted that Red Bull dominates most of these markets and has an established brand. Making a serious dent in these markets would require careful execution by the HANS management team.
In the past three months, Hansen Natural (HANS) has seen its price appreciate from substantially from $42.94 to $51.68 (a gain of over 20%), easily outpacing the rise in the broader markets.

According to the latest available information, the company had approximately $471 Million in cash, short term investments and tradable assets, and had no long term debt.
Fundamentals & Valuation

Market Cap = $4.56 Billion
Sales (NYSE:TTM) = $1.202 Billion
Net Profit Margin = 17.2%
LT Debt to Equity ratio = 0.0
Return on Equity (TTM) = 33.6%
Return on Equity (Last 5 Yrs) = 47.3%
Return on Assets (TTM) = 23.6%
Return on Assets (Last 5 Yrs) = 34.2%
Current Ratio = 4.84
TTM EPS = $2.19

Discounted Cash Flow Valuation
DCF valuation of HANS was performed by employing a two-stage model with a high growth period of 10 years. The major inputs and the valuation results are presented below.
HANS

High Growth Period

Bottom-Up Beta for High Growth

0.85

Equity Risk Premium

6.5%

Cost of Capital (Years 1 to 5)

8.02%

Average Cost of Capital (Years 6 to 10)

7.82%

Average Growth Rate (Years 1-5)

8.7%

Average Growth Rate (Years 6-10)

5.0%

Stable Growth Period

Bottom-Up Beta for Stable Growth

0.80

Equity Risk Premium

6.5%

Cost of Capital

7.7%

Growth Rate

2.5%

Valuation

Present Value of FCFF in High Growth Period (Billions)

$1.80

Present Value of Terminal Value of Firm (Billions)

$2.80

Cash, Marketable Assets and Non-Operating Assets (Billions)

$0.53

Total Firm Value (Billions)

$5.14

Outstanding Debt

$0.0

Market Value of Equity

$5.14

Market Value of Equity/Share

$58.3
Fair Value
By combining the fair value estimates from my DCF and relative valuation, I am raising my price target for HANS from $54 to $58 a share. As of October 22, 2010, the stock was trading at $51.68 implying a return potential of about 12%.


Disclosure: Long HANS