The following is a list of stocks seeing excessive optimism, as defined by analyst ratings, institutional ownership trends and options market activity.

All of these stocks have analyst ratings of "Buy" or better. Analyst ratings are presented on a linear scale, with ratings close to 1 indicating a "Strong Buy" analyst recommendation. Analyst ratings sourced from Finviz.

All of these stocks have seen institutional inflows over the last three months. Institutional data sourced from Reuters, based on holdings as of Friday, October 22.

All of these stocks have a large number of open call option positions relative to put option positions, i.e. bullish options market sentiment. Options data sourced from Schaeffer's.

Is this extreme optimism justified? If you're a contrarian, this bullishness might raise a flag. Full analysis below.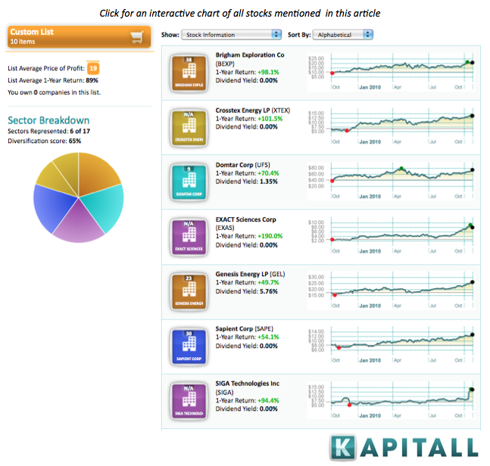 The list has been sorted by change in institutional ownership over the last three months.

1. TriQuint Semiconductor, Inc. (TQNT): Semiconductor Industry. Market cap of $1.47B. Analyst rating at 2.3. Call open interest at 44,168 vs. put open interest at 6,628 (Put/Call ratio at 0.15). Institutional investors currently own 128,789,232 vs. 109,269,790 shares held 3 months ago (+17.86% change). The stock has gained 61.64% over the last year.

2. SIGA Technologies, Inc. (NASDAQ:SIGA): Drug Manufacturers Industry. Market cap of $630M. Analyst rating at 1.8. Call open interest at 19,352 vs. put open interest at 3,885 (Put/Call ratio at 0.2). Institutional investors currently own 14,089,556 vs. 12,973,442 shares held 3 months ago (+8.6% change). The stock has gained 94.36% over the last year.

3. Exact Sciences Corporation (NASDAQ:EXAS): Biotechnology Industry. Market cap of $315M. Analyst rating at 1.4. Call open interest at 56,393 vs. put open interest at 19,089 (Put/Call ratio at 0.34). Institutional investors currently own 18,182,294 vs. 17,472,989 shares held 3 months ago (+4.06% change). The stock has gained 190.0% over the last year.

4. Genesis Energy LP (NYSE:GEL): Oil & Gas Pipelines Industry. Market cap of $1.03B. Analyst rating at 1.8. Call open interest at 1,831 vs. put open interest at 794 (Put/Call ratio at 0.43). Institutional investors currently own 10,755,163 vs. 10,425,765 shares held 3 months ago (+3.16% change). The stock has gained 61.6% over the last year.

5. Crosstex Energy LP (XTEX): Independent Oil & Gas Industry. Market cap of $691M. Analyst rating at 2.4. Call open interest at 630 vs. put open interest at 137 (Put/Call ratio at 0.22). Institutional investors currently own 16,457,137 vs. 16,134,580 shares held 3 months ago (+2.0% change). The stock has gained 101.46% over the last year.

6. Taseko Mines Ltd. (NYSEMKT:TGB): Copper Industry. Market cap of $1.16B. Analyst rating at 2. Call open interest at 40,939 vs. put open interest at 11,834 (Put/Call ratio at 0.29). Institutional investors currently own 40,863,311 vs. 40,295,009 shares held 3 months ago (+1.41% change). The stock has gained 101.94% over the last year.

7. Domtar Corporation (NYSE:UFS): Paper & Paper Products Industry. Market cap of $3.18B. Analyst rating at 2.2. Call open interest at 13,476 vs. put open interest at 1,588 (Put/Call ratio at 0.12). Institutional investors currently own 41,652,097 vs. 41,109,465 shares held 3 months ago (+1.32% change). The stock has gained 71.78% over the last year.

8. Sinclair Broadcast Group Inc. (NASDAQ:SBGI): Broadcasting Industry. Market cap of $654M. Analyst rating at 2.4. Call open interest at 242 vs. put open interest at 60 (Put/Call ratio at 0.25). Institutional investors currently own 36,870,127 vs. 36,515,821 shares held 3 months ago (+0.97% change). The stock has gained 63.45% over the last year.

9. Sapient Corp. (NASDAQ:SAPE): Business Software & Services Industry. Market cap of $1.73B. Analyst rating at 2. Call open interest at 666 vs. put open interest at 114 (Put/Call ratio at 0.17). Institutional investors currently own 100,426,902 vs. 99,518,187 shares held 3 months ago (+0.91% change). The stock has gained 54.09% over the last year.

10. Brigham Exploration Co. (BEXP): Independent Oil & Gas Industry. Market cap of $2.44B. Analyst rating at 2. Call open interest at 39,058 vs. put open interest at 13,891 (Put/Call ratio at 0.36). Institutional investors currently own 94,462,047 vs. 93,753,596 shares held 3 months ago (+0.76% change). The stock has gained 98.11% over the last year.

Disclosure: No positions