Readers, I'm going to throw you a curve ball.
On June 10, I wrote Part 1 of this series. It identified Intel Corporation (NASDAQ:INTC) as one of a trio of overpriced stocks. I covered Union Pacific (NYSE:UNP) in that first installment, and General Mills (NYSE:GIS) subsequently. Purposely, I postponed covering Intel, preferring to wait until the 2Q earnings release. Now published, my verdict is in:
I've changed my mind.
For the record, on January 21, 2014 Seeking Alpha editors published my piece on INTC stock entitled, "2014 Strategies and Stocks: Part 3, Intel Corp." It was an essay asserting Intel was a 2013 "most hated" name, and the shares were undervalued. On July 7, in conjunction with that series, I wrote, "Strategies and Stocks: Mid-Year Review," summarizing the performance of 4 stocks identified previously as contrarian values, including Intel. For the first half of 2014, the shares rose 21.6%, effectively tripling the total return of the benchmark S&P 500.
So, one may ask, "How can you like the stock in January, declare it overpriced in June, then watch it run up another 7% a little over a month later, and now decide it's no longer overpriced?"
"Are you flapping in the breeze?"
I think not. Perhaps my best reply paraphrases the words of legendary economist John Maynard Keynes:
"When the facts change, I change my mind. What do you do, sir?"
Let's get to business.
A Template for Identifying an Investable Business
Understanding and identifying great businesses involves evaluating several foundation activities. In general, I submit companies that exhibit the following characteristics are good investment candidates:
Straightforward business model
Strong management
Sound balance sheet and returns
Profits are generated in cash
Excellent franchise
Shareholder-friendly
Once a premier corporation is identified, the share price requires careful valuation. While the company may remain a premier performer, traders may have taken the stock price too high; thereby placing the investor at risk of "paying up" too much.
There are myriad ways to evaluate the fair value of most common stocks. These include Price-to-Earnings, Price-to-Sales, Price-to-Book and Price-to-Cash Flow. In the majority of situations, I have long held the opinion that the best way to value common equities is to compare forward operating earnings per share (GAAP earnings adjusted by one-time or extraordinary gains/losses) with the expected or assigned long-term P/E ratio.
Intel: Premier Fundamentals
Intel is the world's premier microprocessor and chipset manufacturer. The company's products are found in ~80% of worldwide PCs, and over 90% of the data center, or server computers.
Over the past 10 years, investors have re-assigned the corporate perception from a "go-go tech" name, to a slow-grow "old tech" value play. This has not come without pain. For the past decade, the returns on the shares lagged the S&P 500 significantly. However, more recent times has seen Intel stock beat the benchmark, with dividends reinvested, on a total return basis. A F.A.S.T. graph, courtesy of fellow Seeking Alpha contributor Chuck Carnevale, highlights this: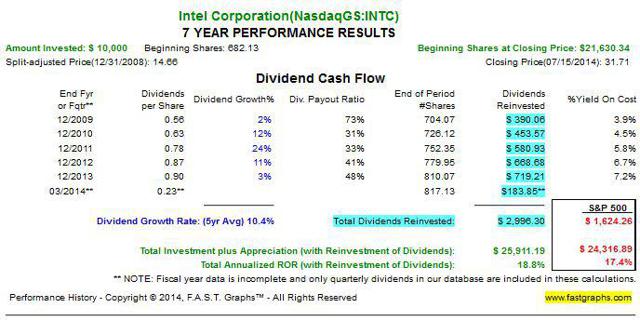 Intel possesses outstanding fundamentals. The balance sheet is pristine. It contains $17.3 billion in cash and investments. The long-term debt-to-equity ratio is 22%, and much of this is a result of the company deciding to borrow cash at historically low interest rates. The Equity/Asset ratio is 0.65, a slick way to screen for well-capitalized businesses. A mark above 50% signals a very strong company. There's no looming underfunded pension liabilities, nor excessive goodwill or intangibles.
Intel generates prolific levels of operating cash. The year-end 2013 cash conversion ratio was 214%. This means that for every $1.00 of earnings, Intel generated $2.14 of operating cash flow. Enormous capital expenditures offset much of these recent cash flows; however, the current capex level run rate won't remain this high indefinitely. When it abates, lagging depreciation expense will result in large net income boosts. Free cash flow will skyrocket, releasing greater funds for share repurchase or higher dividends.
INTC has a strong franchise. By this, I mean Intel has a brand strong enough to exert pricing power. Certainly it's true in the PC and server market, whereas Intel commands outstanding gross margins. Currently, much less so in the tablet and handset markets.
Finally, Intel Corporation management has long been shareholder-friendly. It's been amply demonstrated by a good dividend record. Management has stated about 40% of free cash flow is targeted for cash dividends to shareholders. The payout is somewhat above that now, so dividend growth may be curtailed in the short run. I expect this will change soon enough. In addition, aggressive stock repurchase programs have reduced the number of shares outstanding over an extended period of years. Another F.A.S.T. graph outlines the effectiveness of these plans.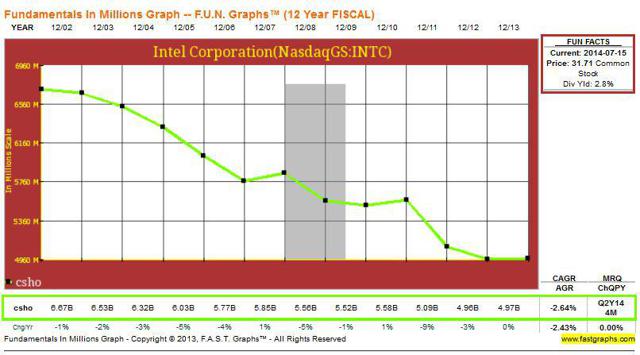 Great Numbers, but the Stock's Run Up 40% in a Year
"Ray, if you labeled the stock overpriced back in June at $28.24. Now it's $33.30. Why aren't you pounding the table that it's even more overvalued today?"
The valuation exercise, or back end of an investment analysis process, requires considerable diligence. It's by no means a precise science, nor one that deals in absolutes. Investing is about probabilities; rarely certainties. I contend, and Intel stock is a textbook example, why a considerable measure of flexibility may also be advised.
About 4 years ago, Intel's price-to-earnings ratio rolled off a cliff, before stabilizing at 11.5x. Since that time, rarely has the P/E risen above 13x; generally it's been lower. This was a result of the slow process to transition from a growth to value stock, coupled with the general perception the core business was in secular decline. Poor investor sentiment compounded the issue. More recently, a string of lackluster flat to declining earnings reports (both top and bottom lines) added facts to an already negative narrative.
I submit the worm has turned.
Revenue growth is back in play. The PC isn't dead. Hybrid consumer computing products are paving the way for Intel to regain top-line improvements. The company remains dominant in the growing server market. The "Internet of Things" has a great runway ahead of it.
Gross margins blew out. If I had to pick one metric by which to gauge Intel business, I would select gross margin. The absolute value and trajectory of this figure does a pretty good job of evaluating the business. Intel management just reported 2Q margin of 64.5%, a whopping 620 bps quarterly improvement from a year earlier. What's more, Intel margins continue to carry "contra revenue," effectively a manufacturer rebate designed to force inroads to the tablet market. As contra-revenue shrinks (which it will) margins will go one way: up.
CEO Brian Krzanich is the real deal. I had great respect for his predecessor, Paul Otellini. This doesn't diminish my current zeal for Mr. Krzanich. I like his approach to the business, improved capex discipline, and focus. Management makes a difference.
With respect to capex spending, I expect Intel to continue relatively high levels of capital expenditures until the company has "sweat out" the bulk of its foundry-to-supplier competitors. This is an unique Intel advantage. It has an unparalleled balance sheet and cash flow muscle. Intel wins wars of attrition. Afterwards, capex eases; cash flow rises, and shareholders win.
So where's the stock heading? Based upon INTC guidance released yesterday, I see 2014 EPS between $2.20 and $2.30. I submit 2015 will tack on mid-single-digit gains. Furthermore, I submit the P/E multiple should settle in about 16x. A F.A.S.T. graph highlights these points: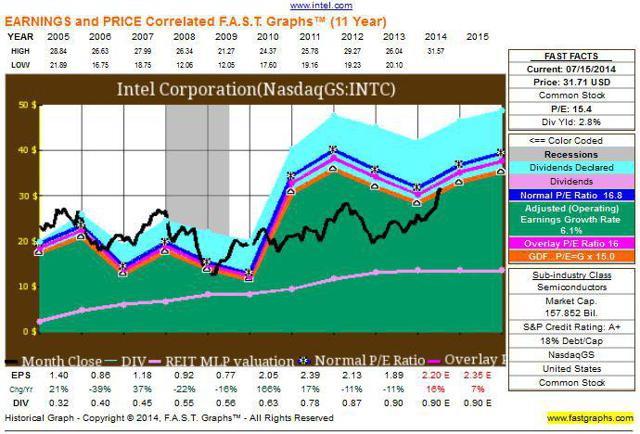 The black line is price. The blue line represents the average normalized 16.8x P/E ratio for the past 10 years. The pink line is my 16x go-forward multiple expectation. Operating earnings are shown as the green shaded area. Dividends are shown by the aqua shaded area. I've inserted my EPS forecasts for $2.20 and $2.35.
These earnings updates, coupled with a slightly better P/E combine to suggest a $37.60 stock, off 2015 earnings. Since Intel may be resurrecting a modest growth mantra, I believe it's reasonable to set a price target on 18-month out earnings.
The $0.90 dividend is gravy.
Post-earnings report, the trading price kicked off about $33.50. The 16x multiple on FY 2015 $2.35 estimated earnings indicates a $37-38 target. That's a 12% upside plus dividends. Such a prospective near-term reward isn't overly exciting, but the renewed forward prospects are. I take a long view: wanting to be around when the contra revenue and foundry capex wanes.
Another lens through which to view Intel stock is price-to-sales.
Historically, P/S topped out ~4x back in 2005 and 2007. After cratering during the Great Recession, it's been climbing slowly and now rests at 3x. A return to the top of the cycle, and the associated benchmark, spells a $50 stock.
Am I expecting Intel shares to reach $50 a share anytime soon? No. However, examining P/S indicates that in a world where INTC grows revenues by MSD per year, a corresponding price target ranging from $38 (P/S ratio 3x) to $50 (P/S 4x) is plausible. That's asymmetric upside reward versus risk.
Once ignited, I believe market momentum for chips is unlikely to reverse itself quickly. Intel is the biggest, strongest, and best microprocessor / chipset manufacturing company on the planet.
I'm staying long Intel. Even wish I hadn't shaved a few shares at $28.50.
Please do your own careful due diligence before making any investment. This article is not a recommendation to buy or sell any stock. Good luck with all your 2014 investments.
Disclosure: The author is long INTC. The author wrote this article themselves, and it expresses their own opinions. The author is not receiving compensation for it (other than from Seeking Alpha). The author has no business relationship with any company whose stock is mentioned in this article.