IBM (NYSE:IBM) announced a blockbuster partnership with Apple this week to bring IBM's enterprise software to Apple devices. Shares of both companies advanced on news of the deal, while competitors Microsoft (NASDAQ:MSFT) and BlackBerry (NASDAQ:BBRY) saw their stocks pull back. IBM has been working through a slow transition. Back in January, the tech giant announced that it will spend $1.2 billion on 15 data centers to expand its cloud service offerings. IBM has a reputation for moving on its own pace, and over the past 2 years the company has not posted year over year revenue growth in a single quarter. Contributing analysts on Estimize.com don't quite expect IBM to turn the corner on revenue growth this quarter, but the light at the end of the tunnel may finally be coming into view.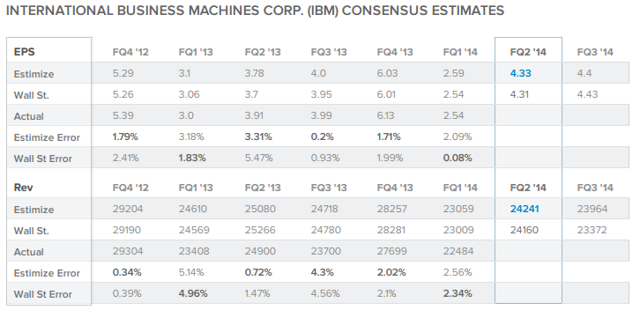 Source: Estimize.com
IBM is set to report FQ2 2014 earnings after the market closes on Thursday, July 17th. This quarter 40 contributing analysts on Estimize.com have come to a consensus earnings expectation of $4.33 EPS and $24.241B in revenue compared to a consensus of $4.31 EPS and $24.160B from Wall Street. Over the previous 6 quarters Estimize.com has been more accurate than Wall Street in forecasting IBM's earnings per share and revenue 4 times each.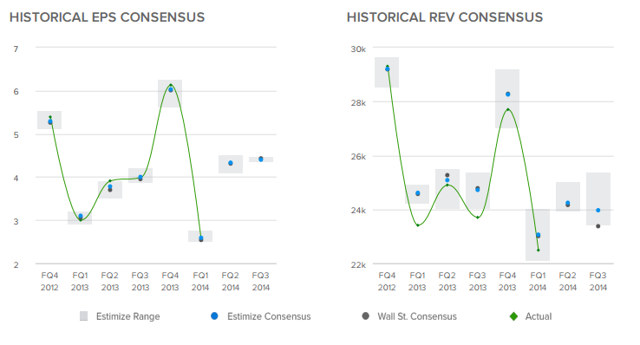 Source: Estimize.com
Last quarter IBM posted a 4% decline in year-over-year revenue. This period the Estimize community expects sales to fall by 3% compared to the same quarter of last year. However, for next quarter which is expected to be reported in November, contributing analysts on Estimize.com are finally forecasting 1% year-over-year sales growth from IBM. That number is certainly subject to change, but revenue growth may finally be on the horizon.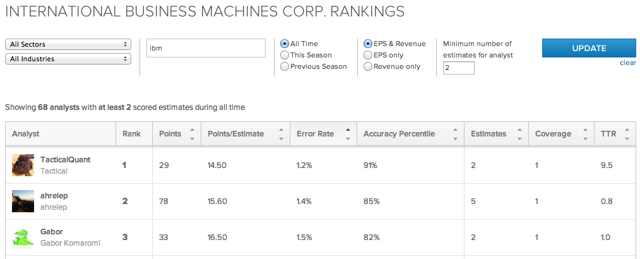 Source: Estimize.com
Estimize.com ranks and allows the sorting of analysts by accuracy, the analyst with the lowest error rate on IBM with at least 2 estimates scored is a financial professional who goes by the username TacticalQuant. Over 2 previously scored estimates, TacticalQuant has averaged an impressively low error rate of 1.2%. Estimize is completely open and free for anyone to contribute, and the base of contributing analysts on the platform includes hedge fund analysts, asset managers, independent research shops, non professional investors, and students.
The Estimize consensus was more accurate than the Wall Street consensus 65% of the time last quarter on the coverage of nearly 1000 stocks. A combination of algorithms ensures that the data is not only clean and free from people attempting to game the system, but also weighs past performance and many other factors to gauge future accuracy.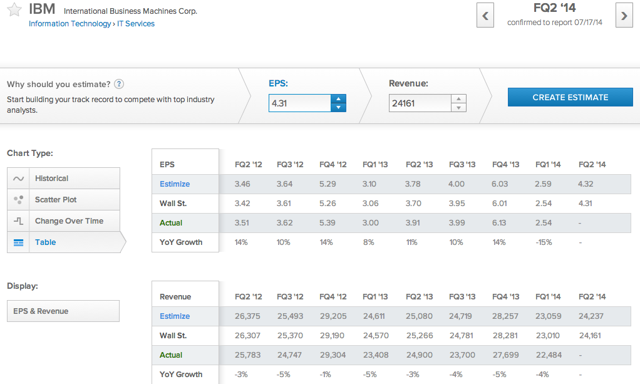 Source: Estimize.com
Contributing analysts on the Estimize.com platform are forecasting that IBM will report earnings a penny (<1%) ahead Wall Street's EPS forecast and beat the Street's revenue consensus by $76 million (<1%). The Estimize community also expects earnings to grow by 41c (10%) per share from $3.91 in FQ2 of last year to $4.32 this quarter. On Thursday afternoon look for IBM to report roughly in-line with the Wall Street consensus. Going forward, keep an eye on IBM to push its business and analytic apps on more consumer devices following up on the deal announced this week to bring their software to Apple's iPhones and iPads.
Disclosure: None.