Railways are as important to the economy as blood circulation is important for the body. Railways transport almost everything, from harvested produce to chemicals to automobiles to industrial machinery. The economy will choke with a disruption in railways.
Union Pacific Corporation (NYSE:UNP) was recently included in "The World's Most Respected Companies" list compiled by Barron's. UNP was placed in the 19th position among the world's 100 largest publicly traded companies. UNP has the distinction as the only North American railway company to be included in the list.
UNP is one of the most prominent companies in the USA, and is connected to the lives of a large number of American families. It helps bring breakfast to the tables of American families and transports products that are important to everyday life in America.
UNP Beats the Indices
UNP is an efficiently run business that has produced superior returns for investors for many years. In the last two years, UNP's stock produced a 72.78% price return and outperformed the Dow Jones, Nasdaq and S&P 500 indices (see exhibit below). The index that is nearest to UNP in terms of returns is the Nasdaq, which produced a return of a little more than 50%. However, there is still a big gap between UNP and the best-performing index.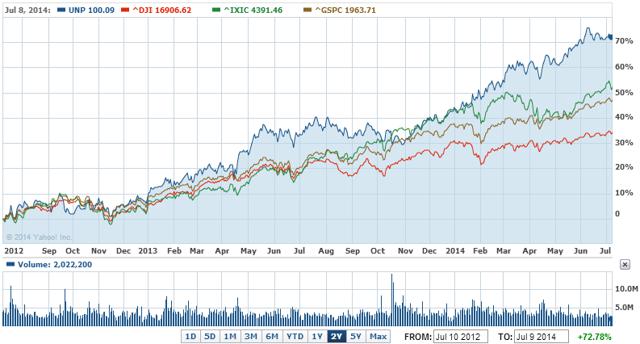 Click to enlarge
UNP produced a splendid return of 250% for its investors in the last five years, and its one-year price return is 27.65%. This superb performance from a stable railway business is what investors dream of.
Moat Investment Strategy
A very unique feature of the railway business is that it faces little competition from other railway companies and alternative modes of transportation. Railway lines were laid decades back, when there was a large supply of vacant land. Railway companies that own the rights of certain railway lines enjoy the comfort that there is a very insignificant probability that new railway lines can be built to pose a threat to their existing lines. Especially since it's very expensive to acquire land and gain permission to build lines in present days.
Railway transport enjoys another innate advantage over alternative modes of transportation: it is the least expensive mode of transportation after sea transport. Sea transport cannot be used inland, so railways rule the land as the most cost-effective mode of transportation. Truck transportation is expensive given the short supply of truck drivers and the traffic congestion problem, making it a less efficient mode of transportation. The wide moat UNP has built makes it a stable and long-term investment candidate.
Forecasted Growth in Earnings
Average EPS estimates made by analysts for the quarter ended June 14 is $1.43, which offers 20% growth compared to the EPS of the same quarter last year. The highest EPS estimate expects a growth of 23% compared to last year's EPS. The lowest estimate for the EPS expects a growth of 14%.

The average EPS estimate for the full year ending December 14 is $5.51, reflecting an EPS 17% higher than last year's full-year EPS of $4.71. The most optimistic earnings estimate expects 19% growth in EPS, while the most conservative estimate forecasts a 13% growth in EPS. This decent earnings growth is expected to give UNP's stock a decent rise in the coming months.
We don't expect a significant earnings surprise for the stable and quite predictable business of UNP. In the last four quarters, UNP produced little or no earnings surprise, as shown in the table below.

(Source: Yahoo Finance)
Relative valuation of UNP
UNP's P/E ratio is currently 18.26. It is above the sector, but below the S&P 500 and the industry. If we also introduce growth in our analysis, using the PEG ratio, the picture becomes clearer. UNP's PEG ratio is 1.2 times, which is well below the PEG of the industry and the sector but a little above the PEG ratio of the sector, which stands at 1.63 times. This is an indication that UNP seems undervalued and should be considered for investment at its current price.

(Source: Yahoo Finance)
Target Price Estimates
If we look at the target price estimates of 21 brokers covering UNP, we see that analysts are bullish regarding the stock performance. The average target price, if realized, gives a price return of nearly 10% on its current price. The most optimistic valuation forecasts a return of about 20%, and the most bearish target estimate forecasts an approximate 2% loss in UNP's stock price.

History of strong financial performance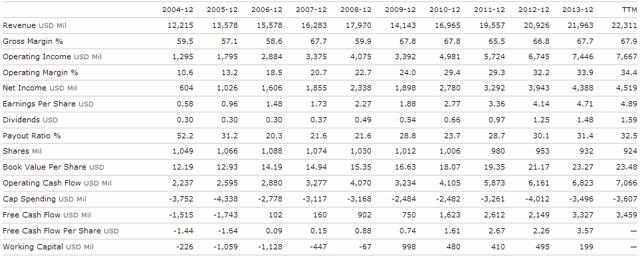 Click to enlarge
UNP has improved its gross and net operating margins over the last decade, as shown in the table above. Net operating margin improved from 10.6% to 34.4%. This is clear evidence that this wide-moat business has brought more efficiency to its business. UNP has rewarded its investors through consistent dividends and share buybacks. The dividend has grown at a CAGR of 19% over the past nine years. With strong and growing cash flow in the past decade, UNP stands as a sure-footed company that is a very good investment for medium and long-term investors.
Conclusion
UNP is a very good investment opportunity for long-term investors looking for moat investing. It has delivered strong financial results, and it outperformed the indices. It is relatively undervalued, and its history of strong financial performance is expected to continue.
Disclosure: The author has no positions in any stocks mentioned, and no plans to initiate any positions within the next 72 hours. The author wrote this article themselves, and it expresses their own opinions. The author is not receiving compensation for it (other than from Seeking Alpha). The author has no business relationship with any company whose stock is mentioned in this article.