LinkedIn (NYSE:LNKD) is not like any other social media network, as it is especially designed to cater to the networking needs of professionals. Its focus on professionals is its strength, and it has set out to change the way job hunting and recruitment is carried out.
The following is the comparison of LNKD to other social media networks on the basis of market share each network has in Net US digital ad revenue. LNKD is presently a very small player in the social media industry, with less than a one percent share. LNKD has shown progress in increasing its percentage of the net ad market. In 2012, LNKD had a 0.4% share that grew to 0.5% in 2013. According to eMarketers.com, LNKD's share is expected to be 0.7% in 2014, and in 2015, it is expected to rise further to 0.8%. The ad market is expected to grow in the coming years, and LNKD's growing share is an indication of good prospects.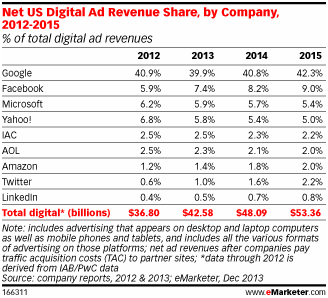 An Exploding Top Line
LNKD's top line has shown explosive growth in the past few years after it went public. In 2012, it grew 86% YOY and reached $972.3 million. In 2013, it grew by 57% YOY to $1.53 billion.
If we look at the average analyst estimate for the current year ending December 14th, we see that analysts expect 39.10% growth in the top line, on average, and expect the top line to reach $2.13 billion. For the next year, the average estimate of revenues is $2.82 billion, that reflects 32.40% of growth compared to this year's average forecast.

Source: Yahoo Finance
For the quarter ending June 14th, analysts expected revenue growth of 40.50% compared to the same period last year, and in the quarter ending September 14th, analysts expect on average 37.7% growth compared to the same period last year. The revenue growth rate is decreasing with passing time, as expected.
Bottom Line Explosion Expected Next Year
LNKD is in its rapid growth phase, so we should have low expectations from the bottom line. Average EPS estimate for the current year ending December 14 is $1.65, with only 2.5% growth YOY. But if we look at the analysts' average EPS estimate for the next year ending December 15th, a growth of 50% is expected. Analysts, on average, expect the EPS to reach $2.49 from this year's expected level of$1.65. LNKD creates value for its users, and it is expected that LNKD will be able to create meaningful value for its shareholders by the end of the next year.

Share Price: The Landslide Appears to be Over
The ride is over for short-term speculative investors. At the beginning of 2014, LNKD's share price hovered around the $220 mark, but the share price has fallen by 24.72%in 2014. LNKD's stock grew by too much too quick without producing earnings, and this YTD fall in price is a logical outcome. Now it appears that the correction is complete, and long-term investors that want to invest in LNKD for a longer time period and realize the value created by LNKD should consider taking a position on its current price. Long-term investors should take a position before the retail herd causes the share price to rise again by too much too quick.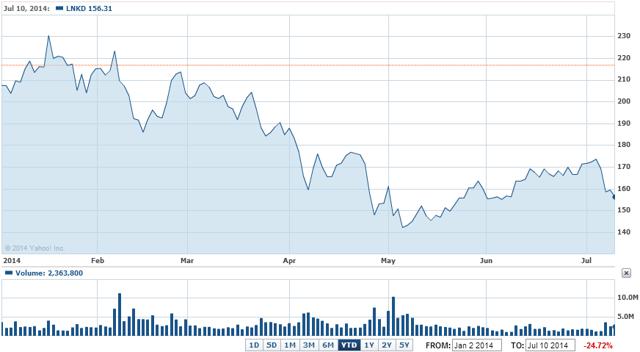 Target price
The average price estimate of 34 brokers offers a price return of around 40% on the current price. This is a good return for those who want to invest in LNKD for its business model, service, and future growth prospects. It is not for investors who only want to take a ride when the share price starts to brew once again.

(Source: Yahoo Finance)
The most optimistic target price estimate expects a return of nearly 78% on the current price. The most conservative target price estimate expects a 10% fall in price from the current price.
Relative Valuation
The P/E ratio is not an appropriate measure to estimate the value of a rapidly growing company such as LNKD. LinkedIn is not presently focusing on earnings growth. The PEG ratio that builds growth into P/E measure seems to be meaningful. LNKD's PEG ratio shows that it is currently overvalued compared to the industry and sector, but it is undervalued compared to the S&P 500. This relative valuation analysis will be more meaningful next year, when LNKD is expected to boost its EPS.

Another Surprise Expected
In the quarters ending June 13th and September 13th, LNKD managed to produce large earnings surprise. But in the next two quarters ended December 13 and Mar 14, LNKD became relatively more predictable and earnings surprise decreased. We expect that LNKD is likely to produce a positive surprise, but this is not likely to be large enough to make the share price take flight.

Let's look at LNKD's income statement to see which major expenses are stopping the explosive top line growth from translating to the bottom line. In financial year 2013, cost of revenue made up about 13% of the revenue; research and development made up 26% of the revenue; and selling, general, and administrative expenses formed the major chunk, and made up 49% of the revenues. We expect LNKD to become more efficient and reduce its expenses once this explosive growth phase ends. This would allow the net margin to grow and EPS to become much more appealing to investors.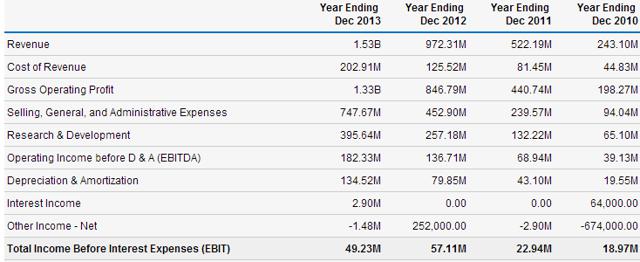 Cost of finance
LNKD's main source of finance is equity. LinkedIn's cost of equity is presently 13.16%, and can be reduced by adding debt in the future once LNKD produces meaningful earnings. LNKD's equity valuation would increase with optimum leverage.
Conclusion
LNKD is a focused social media network with an expanding user base. It is changing the job hunting and recruitment processes. Its top line is expected to continue its explosive growth, but at a decreasing rate. Its bottom line is expected to produce much-needed growth next year. After a correction in the first half of the current year, its share price is attractive for long-term investors.
Disclosure: The author has no positions in any stocks mentioned, and no plans to initiate any positions within the next 72 hours. The author wrote this article themselves, and it expresses their own opinions. The author is not receiving compensation for it (other than from Seeking Alpha). The author has no business relationship with any company whose stock is mentioned in this article.