In June of last year I wrote an article setting out the bull case for Intel (NASDAQ:INTC) and backed that up by buying calls on several hundred thousand shares. Last month I wrote again about Intel and told investors to watch Intel start to move. Today Intel started to move after reporting sales and earnings that beat the street and painting a stronger than expected outlook. Expect that picture to bet brighter.
Last October I wrote about Microsoft's (NASDAQ:MSFT) powerful plans and my expectation that stock would reward investors. In April I wrote about Microsoft again pointing out that it might break $100 billion in revenues this year. As disclosed, I held a mitt full of call options on the company.
Both Intel and Microsoft have rewarded me handsomely. So what now?
In my view, expect more of the same. Both companies have replaced strong leaders with even stronger leaders. Both companies have thrown off the albatross of past criticisms for "missing mobile" and embraced not just mobile but also cloud computing; big data; and, the need for smaller, faster and more powerful devices.
The marriage of Intel and Microsoft is an old one but a good one. It is more a common law marriage than a traditional one with each party forging their own destiny while benefitting from the relationship with the other.
In Intel's case the 40% year over year rise in net income to $0.55 per share from $0.39 per share may have surprised the street but is line ball with my expectations. The money is still being made in data centers and personal computers but Intel says it is also on track to meet its goal of having Intel inside 40 million tablets this year. CEO Brian Krzanich is demonstrating strong leadership and deep competence in a characteristically understated way. The path for Intel to reach $40 a share over the next two or three years.
A quick summary of the quarter shows nothing but solid progress. Sales up 8%; margins up over 6 percentage points; and, net income up 40%.

Click to enlarge
Source: Intel earnings release
The stellar results were obtained despite a 6 month loss in the mobile segment of over $2 billion, up from a loss of $1.5 billion last year. A lot of people have criticized Intel for "missing mobile" but at least some observers think Intel might have done well to "miss mobile" completely and turn in a few billion dollars more income each year. I am not one of them.
Intel's willingness to eat a $2 billion loss in 6 months is neither foolish nor thoughtless. The company sees the opportunity and need to put Intel processors into every computing device category that exists and over time to establish Intel as the leading chip maker in each segment. I am confident Intel will do just that.
Those critics who thought Moore's Law was dead and that sustained shrinking of process geometry was going to become counterproductive simply did not appreciate the technical strengths of Intel. Adding over six percentage points of gross margin despite relatively flat prices and substantial losses in mobile points to dramatically lower chip costs as Intel continues to advance its processes. Intel's bet - and it is a good one - is that other semiconductor companies simply lack the depth of R&D and in some cases financial resources to keep up with Intel in world where "good enough" computing is rapidly becoming not good enough.
Intel's guidance for the rest of 2014 had a positive tone and is likely to be conservative.
I remain bullish on Intel and like fellow SA Author David Trainer see no major obstacles to the company turning in results that could support a $40 share price in the next year or so. David is one of my favorite authors because he is able to call a spade a spade and not afraid to endure criticism just because he sees the world differently than the conventional wisdom.
In the case of Microsoft, we will see how this "old tech" juggernaut is performing when it reports Q2 results in the near future. Like Intel, Microsoft has been lampooned by many authors on SA despite a formidable grip on the enterprise world and a solid if challenging plan to integrate its operating systems and software across all form factors with a common interface. New CEO Satya Nadella already looks good in the job and the recent moves to build Office for the iPad; release a major upgrade to the Surface Pro tablet line; sell Nokia (NYSE:NOK) X smartphones running Android OS but with a definitely Windows look and feel; and, continued rapid growth in Cloud services suggest the Microsoft of the next few years will demonstrate a lot of the characteristics that made it such a success in the past.
To some extent, both Intel and Microsoft have seemed to part company with Intel designing chips that support Android devices and Microsoft choosing ARM Holdings (ARM) based applications processors for its Windows RT tablets and smartphones. It would be easy to conclude that "Wintel" is breaking down, but nothing could be farther from the truth.
In reality, the quite visionary leadership of both companies understands that in the computing environment of 2014, enterprise and personal users want openness, flexibility and choice. Intel wants to be sure its processors designed for all users regardless of whether they choose OS X; Windows; Android; Tizen; Unix; or any other operating system. Microsoft wants to make sure users can benefit from its powerful enterprise software and cloud infrastructure whether they use devices made by Apple (NASDAQ:AAPL); traditional Windows assemblers; or the growing number of OEM's who choose Android.
Microsoft's decision to provide Android based smartphones using ARM based processors is not a slight to Intel but an effort to ensure the users of these devices are introduced to the massive Microsoft ecosystem. Intel has yet to provide a competitive alternative for these devices either for their processors or radios. If and when it does, I have no doubt Microsoft will consider using Intel for mobile devices.
Intel's decision to provide AP support for Android is not a slight to Microsoft or to the traditional Windows based OEM's. Rather, it gives OEM's the ability to design one device for both Android and Windows with the users benefiting from lower costs and greater flexibility.
With strong leadership and vision in both companies, the Wintel partnership will emerge stronger with each partner reinforcing the other's strengths while maintaining their own identities and computer users gaining the benefits of what each can deliver. The days of proprietary systems may come to an end except in truly niche areas. Companies that try to control or limit what users can choose or do with their computing devices may find themselves sidelined in a world where interoperability, flexibility, choice and cost-effectiveness are key to purchasing decisions. The recent moves by each has put the "win" back in Wintel.
I look for a Microsoft share price in the high $40's next year with further growth to come as Nadella steadily improves the culture and presence of Microsoft in all areas.
As many readers know, I have been long Intel and Microsoft while short Apple since the fall of 2012. During that period, both Intel and Microsoft have performed very well while Apple has been relatively flat. I have taken a lot of flak on all three names from SA commentators who seem to have a love affair with Apple and a disdain for Intel and Microsoft. All three are great companies but for my money, the best results were to be had in the Wintel arena and I don't see that dynamic changing any time soon.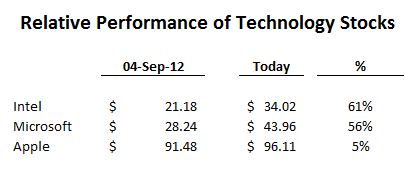 I have cashed in my long positions in Intel and Microsoft and hold a short position in Apple, not because I am not bullish on Intel and Microsoft but because I expect a meaningful sell off in the market sooner rather than later and it is key to be in cash when a sell-off occurs.
Disclosure: The author is short AAPL. The author wrote this article themselves, and it expresses their own opinions. The author is not receiving compensation for it (other than from Seeking Alpha). The author has no business relationship with any company whose stock is mentioned in this article.