General Motors (NYSE:GM) is on a recall spree and has recalled more cars year to date than the entire US industry did in 2013. The company's sales results have been decent despite the recalls. The recall woes for General Motors have not ended and investors should expect more to come. The company seems to have learned a lesson from the ignition switch controversy and now aims to remedy any default as soon as it is identified.
The auto manufacturer has most recently recalled 27,000 Spark cars in South Korea due to defective transmission mount. Although the same cars are also exported to the US and Europe, according to the company's spokesman, those exported to the US are least likely to be affected and the company has not yet determined its action regarding the vehicles sold in Europe. This has brought the total count for GM recalls to 29 million vehicles.
Sales Results for GM This Year
General Motors delivered 267,461 vehicles in the United States in June increasing its total sales by 1% year over year. Retail sales went up by 1% while fleet sales were up by 2%. According to the company, its US market share in June was 18.8%, up from 16.9% in January before the massive recall. The company's sales during the month of June escalated due to high demand for its newer model trucks and SUVs. Since General Motors began recalling some of its recent vehicle models like the Cruze, Malibu and Impala over some quality concerns, their sales have been negatively impacted by the recalls. During June, Cruze deliveries declined 20.9%, Malibu deliveries declined 24.2% and Impala deliveries declined 16.7%. Total Chevrolet brand sales were up 1% for the first half of the year but fell 2.5% for June 2014 compared to sales in June 2013. GM's trucks and SUVs continued to lure customers which resulted in a 1% sales rise year over year otherwise the inflection point may occur when the company sees the drastic results of recalls on its top line.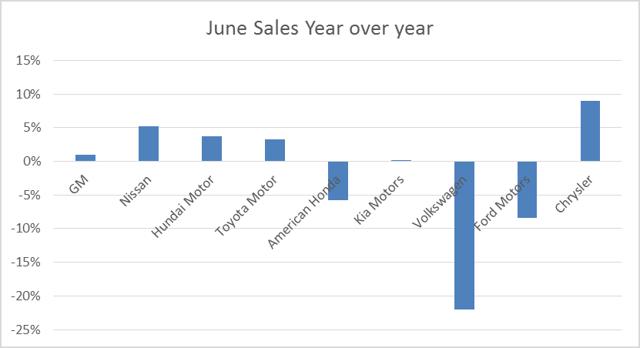 Source: Ibtimes
In the first half of the year, General Motors was outsold by Volkswagen AG (OTCPK:VLKAY) in China. Volkswagen sold 1.8 million vehicles, an uptick of 18%, while GM sold 1.73 million units registering an increase of 11% year over year. Both the competitors are working on raising their production capacity in China. GM is aiming to invest $12 billion through 2017 in five new plants while Volkswagen plans to increase its total investment in China to $27 billion by installing two more plants. However, both the companies are struggling in their own ways to garner majority market share in the Chinese auto market. According to analysts' expectations and the performance registered so far, it may be easy to believe that Volkswagen is more likely to wear the crown.
Production Halted in South Africa
The labor strike in South Africa has also put a question mark on the company's ability to attain optimum production level. General Motors has halted its production in South Africa after a strike by more than 220,000 metal workers disrupted the production process. Wage talks collapsed due to incidents of attacks and vandalism by strikers. The manufacturing halt has made almost one third of South Africa's manufacturing output uncertain and has put the nation's credit rating at risk. The automaker ended the month of June with a 72 day supply equivalent to 798,532 units in stock. If the matter isn't resolved within 72 days the company will be out of stock and will lose approximately $377 million per day based on the average transaction price of $34000.
The two week long strike has not ended yet and it is expected to continue until the employers agree to offer a double digit increase in wages. GM's labor costs pertaining to South Africa are not accessible and could have helped us in assessing the impact of a double digit wage increase on the company's bottom line. Nevertheless, the impact is likely to be significant as the company has mentioned South African manufacturing plants as its key producers of car parts.
The longer the delay between the union and the state wage agreement, the company will use all car parts in stock and ultimately, may run out of stock. The company has reduced its vehicle output in order to match the cars with the deficient car parts. The automaker ended the month of June with a 72 day supply equivalent of 798,532 units remaining in its stock. We can assume that on July 5 when the company halted its production, it will have the same number of units in its stock. If the matter does not get resolved in 72 days, the company will be out of stock and will lose production output with realizable value of approximately $377 million per day based on the average transaction price of $34000.
GM Restraining its Operating Costs
The company is also actively working on controlling its operating costs. General Motors is going to close its Opel Bochum factory in Germany, in pursuit of curbing its high operating costs in Europe. It is believed that the shutdown costs will be around $866 million. The automaker has already booked $381 million of the costs and the remaining $485 million will be deducted from results over the course of this year. General Motors has been finding it difficult to turn its losses into profits in the European region and to curb further losses GM is restructuring its operations in Europe. The Opel Bochum factory helped the company's European market share to increase after a long history of losses across over 14 years. This closure is considered an integral for GM's restructuring and will thwart rising operating losses.
GM Striving to Compete with Ford
Despite the massive recalls, General Motors has seen strong sales results this year and to keep its sales robust the company is looking to stay ahead of the technology curve in order to match its offerings with competitors like Ford (NYSE:F). General Motors is including a Wi-Fi option for every 2015 model purchase. The new high speed internet service will allow up to 7 devices to connect to a vehicle. This offering will allow the passengers to enjoy a diversified experience in their own car from road trips to daily commutes.
Bottom Line
The unprecedented recalls by GM may cost the company billions and the no-cap compensation policy for compensating the injured and family members of those who were killed in road accidents because of the ignition switch fiasco will exacerbate the costs for the automaker. The additional costs can be estimated to range in between $8 to $8.5 billion. For the first half of this year, the write down for the automaker is expected to increase to $2.5 billion.
Apart from the continued recall woes, GM has been striving to become a quality automaker with the best vehicles in the market. In J.D. Power & Associates' closely watched new-car quality survey, GM had more best-in-category models than any other automaker. General Motors has high hopes from the incoming Cadillac chief, Johan De Nysschen, that he will revive the company's market image as the premium brand and a true competitor of BMW and Mercedes-Benz. In the USA, Cadillac is facing cut-throat competition from the German Luxury car models. Cadillac's sales have fallen by 50% compared to its German rivals, partially due to the numerous safety recalls issued by GM during the current year.
In short, GM has been surrounded by an unending air of problems and controversies that are hurting its top and bottom lines and will continue to do so for some time in future. The negative effects of the recalls on the company's top line are expected to become apparent over time; therefore, I will give this stock a hold rating.
Disclosure: The author has no positions in any stocks mentioned, and no plans to initiate any positions within the next 72 hours.
Business relationship disclosure: The article has been written by a Gemstone Equity Research research analyst. Gemstone Equity Research is not receiving compensation for it (other than from Seeking Alpha). Gemstone Equity Research has no business relationship with any company whose stock is mentioned in this article.