It's been nearly a year since I started diving into small commercial banks, yet this is still the most attractive sector to invest in. My initial strategy was to buy a "basket of banks" in order to gain the upside from the winners and be protected somewhat from the losers; with the philosophy that the gains from the winners would greatly exceed the losses from the losers.
Thus far, that strategy has worked out well. I have scored some big gains Western Alliance (NYSE:WAL), Huntington Bancshares (NASDAQ:HBAN), and Webster Financial (NYSE:WBS). I have also logged my share of losses with banks like Hampton Roads (NASDAQ:HMPR) and Seacoast Bank of Florida (NASDAQ:SBCF).
Overall, what I've learned from my bank investments over the past year is that this is a sector you have to watch like an eagle in order to make high returns in the current environment, because there is too much economic and regulatory uncertainty not to.
While nearly all the banks I have invested in will survive, the bigger issue is dilution --- you have to make sure these banks are not destroying all shareholder value with dilutive offerings. Some banks are forced to dilute (e.g. HMPR); others seem to do so for no good reason; except perhaps the desire of management to grow, even at the expense of shareholder value.
Luckily, I was able to spot the warning signs of trouble with HMPR, SBCF, and a few others before losing very much.
With all that said, I believe the environment is changing still. We are heading towards more certainty and that's a good thing. While I do have a few reservations, I believe Tennessee Commerce Bancorp (OTC:TNCC) is one of the most attractive "high reward" potential bank stocks on the market right now.
Background
It's not OK to steal merchandise from a store; nor is it OK to steal a patented technology from a company. Thankfully, though, it is perfectly OK to steal investment ideas. In fact, if you aren't occasionally "stealing" an idea from someone else, you're probably not maximizing your returns. On that note, I will unabashedly admit that I stole the idea to buy into Tennessee Commerce from Tom Brown of Second Curve Capital, who has initiated a fairly substantial stake in the bank.
Tennessee Commerce Bancorp is the holding company for Tennessee Commerce Bank (surprise, surprise!). The bank was founded in 2000 and is a "Business Bank" serving small and mid-size companies. It is headquartered in Franklin, TN; just outside of Nashville. The Franklin branch is the bank's only brick-and-mortar location; this is part of their low-cost strategy. TNCC's management targets a loan ratio of 60% consumer loans and 40% real estate loans. The company also issues Visa (NYSE:V) credit cards
According to the bank, their primary competitive advantage is efficiency. TNCC targets the non-retails segment of the commercial market, which typically has lower transaction and processing costs. TNCC's average assets per employee are $15 million, which is impressive compared to the peer group average of $5.1 million.
Tennessee Commerce recently conducted a dilutive offering. While my outlook on TNCC is generally very positive, I admit a bit of frustration on this issue. TNCC is using the dilutive offering for growth purposes, but given the stock's deeply discounted price, it seems highly unlikely that this move will create value for shareholders. All the same, even after the offering, I find TNCC very attractive.
Below is regulatory capital and some vital stats: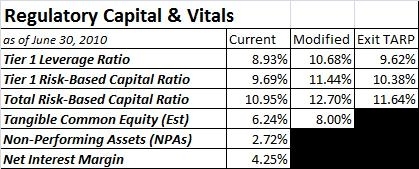 Note that the first column is actual results. The second column is modified based on my own projections after the dilutive offering. The third column gives some projections for the bank if they were to repay their TARP obligations today. From this, we can see that TNCC has healthy capital ratios and should not have to raise any further capital. Nonperforming assets are on the low end and net interest margins are very strong.
Attributes, Balance Sheet, and Earnings
Perhaps the first thing that really stuck out to me in regards to Tennessee Commerce Bank was their deposit growth over the past several years. It is been otherworldly! TNCC has increased deposits nearly six-fold in the past six years!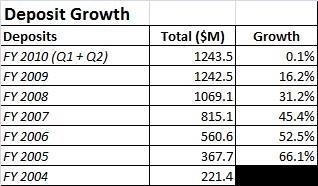 Even during the heart of the recession, they managed to increase deposits by 31.2% in FY '08 and 16.2% in FY '09. Deposit growth, however, has leveled off over the past two quarters, so this is something to keep an eye on.
If you want me to sum up why TNCC is so attractive in one chart, then take a look below (click to enlarge):

Notice this chart is an extension of the prior chart; except this time, I added stock price, total interest income, and shares outstanding to the deposit growth. In 2006, TNCC traded at $30 per share! Now it trades at around $4.25. Yet, total deposits were $560 million in '06 and are $1.24 billion now. Until the recent dilutive offering, the number of shares had not increased dramatically between the two periods. Also take a look at "Total Interest Income" and you can see that it doubled from '06 to '09; in spite of a bad loan market in '09.
If it weren't for the dilution, this would be look like a bit of a no-brainer. The dilutive offering throws a wrench into the equation, though, and limits the upside to some degree; but not as much as it might seem. Given earnings potential, growth, and assets, TNCC still looks very attractive (and even a bit safer) post-dilution.
Below is the balance sheet for TNCC as of the end of Q2 '10 (pre-offering).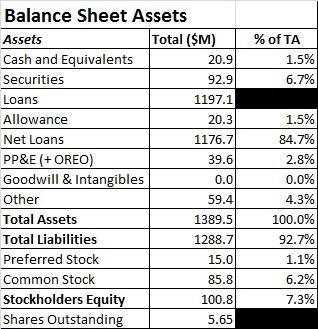 I took figures from the offering and create a "post-dilution" projection balance sheet, as well: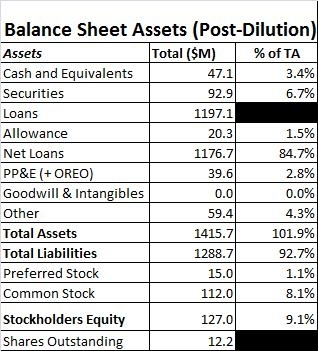 While the dilutive offering does limit TNCC's upside some, it does at least have the benefit of making it safer. This is important for bankwatchers, given how quickly things can go downhill for some banks. From the figures above, we can calculate TNCC's Net Tangible Assets to be around $9.18 per share; the stock currently sells at about a 50% discount to this.
But it gets better once we take a look at earnings. First off, unlike most banks I have been analyzing, TNCC actually earns enough now that the stock would be attractive even if we didn't look at "normalized earnings". The chart below is historical earnings; note that these figures are based on historical number of shares outstanding, so the dilution changes things a bit (click to enlarge):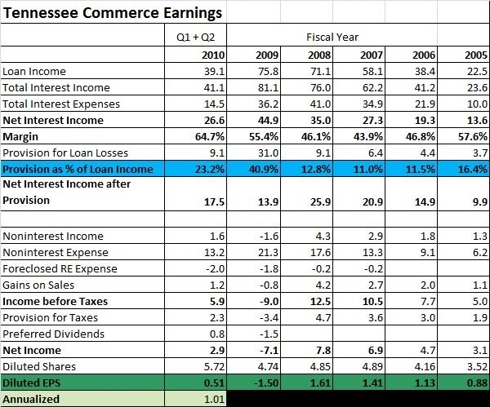 Note that before the dilutive offering, they were earning about $1.01 on an annualized basis, if we use the first two quarters of '10 as our guide. Even if you factor in the dilution, that puts them around 40 - 50 cents per share if things were to hold up. Once again, the stock sells at about $4.
Of course, we are faced with a new post-dilution reality, so the next chart examines "normalized earnings" given the post-dilution outstanding number of shares (click to enlarge):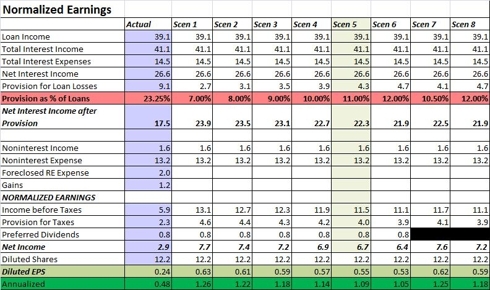 I created 8 different scenarios, with the primary difference being the amount of the provision for bad loans. The last two scenarios are a bit different, as well, as I assumed they had paid back TARP and hence, no longer needed to make the preferred dividend payments. Scenarios 4 and 5, as well as 7 and 8, should give reasonably good estimates of normalized earnings. From this, I would peg 'normalized earnings' in the $1.00 - $1.25 per share range on an annual basis.
Once again, we have a book value around $9.18 and we are looking at earnings over $1.00 per share. Yet, the stock price is at $4.25. Are investors conservative, much? Or just ignoring this bank because it flies under their radar?
There's also the kicker that the bank (a) has a very good business model that creates more efficiencies and (b) it has grown rapidly over the past few years. Based on all of this, it may not be a stretch to say that TNCC should be selling closer to the $20 - $25 range.
Risks
There are, of course, risks with TNCC. The most notable of which I have alluded to numerous times in this article --- dilution! I cannot see a reason why TNCC would need to conduct another dilutive offering; but then again, I'm not totally convinced that they needed the last one. Too many banks have started doing dilutive offerings in order to continue their "growth", but this growth is not beneficial for shareholders when it is bought with an expensive currency. And undervalued shares are an expensive currency; and the more undervalued, the more "expensive."
Another risk with TNCC is the small market cap of $25 million. While I have found the stock to be much more liquid than other banks in this range, it's still far enough 'below the radar' that liquidity could potentially be an issue. With that said, TNCC probably should have a $125 million market cap, so there is the potential here for the 'liquidity risk premium' to shrink as investors re-discover this bank.
Finally, there's the obvious risk that the quality of TNCC's loan portfolio deteriorates. One benefit here, however, is that by virtue of being a "business bank", TNCC's exposure to the housing market is minimal. Commercial real estate would be the bigger worry for TNCC. Macroeconomic risks are also present risks for virtually every bank.
Make no mistake about it --- if you're buying into banks, you're taking on a lot of risk no matter how you slice things right now. But this is also why the sector has some of the highest reward potential.
Conclusions
In spite of some frustration over the recent dilution, TNCC is still a fantastic buy. This is a well-run bank that is growing quickly, has positive earnings, with healthy capital ratios, that seems to be selling at a major discount to book value and is available at a very low multiple of normalized earnings --- or even current earnings in a down environment.
I'd give TNCC a valuation of about $20. Upside potential over the next five years could be in the $30 range. Downside risks include further dilution, which could keep the stock in neutral for a long time.
TNCC is now one of the largest positions for my personal portfolio and a client portfolio I manage.