Company Overview
Liberty Global PLC (NASDAQ:LBTYA) is an international cable company with operations in 14 countries. Liberty Global has approximately 25 million customers subscribing to over 47 million television, broadband internet and telephony services. LBTY's consumer brands include Virgin Media, UPC, Unitymedia, Kabel BW, Telenet and VTR.
Company Analysis
As an international cable company, LBTY has a strong presence in its markets and benefits from pricing power due to their dominance and superior products. This leads me to believe the business risk of LBTY is medium. However, the high financial risk stems from the high amount of debt that LBTY has on its balance sheet.
Using value-based concepts, I found an after-tax cost of debt of 6.08%, a cost of equity of 13.50% and a WACC of 7.94% due to the high amount of D/V. Consistent with many value-based teachings, I used target capital structure rather than solely market values, at which, I approximated it to be 75%. This is higher than the market value suggests, but lower than the book value suggests. Management is focused on keeping levered returns to shareholders through stock buybacks and a very large amount of long-term debt. LBTY should command a higher equity risk premium (ERP), of 5.9%. This ERP is consistent for a company with medium business risk and high financial risk. The cost of equity is therefore 5.9% above the pre-tax cost of debt. The cost of equity is calculated in this fashion, without beta, as I try to take a value investing approach to my analyses - I do not believe that beta is a valuable indicator of risk. Instead, we will eventually look at a sufficient margin of safety.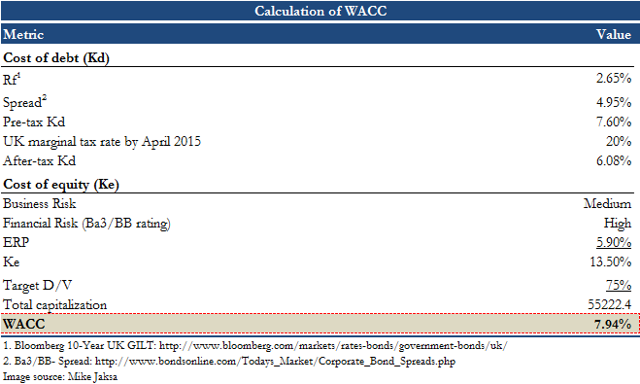 Return on Invested Capital
From the book, Valuation: Measuring and Managing the Value of Companies, Tim Koller explains that one should analyze ROIC with and without goodwill and acquired intangibles. ROIC without goodwill and acquired intangibles measures the competitiveness and barriers to entry of the underlying business, whereas, including goodwill and acquired intangibles measures LBTY's ability to create value after paying acquisition premiums. This is particularly important in this scenario due to the goodwill created from the acquisition premium of the Virgin Media acquisition.
From a first look, investors see the 2014E ROIC of 5.5% for LBTY. This ROIC is lower than LBTY's WACC, suggesting no barriers to entry and suggesting that further growth will diminish value. However, when looking further, we see that LBTY's underlying business has a sustainable franchise of 13.7% ROIC, nearly double its WACC. This implies that LBTY indeed has a strong competitive advantage. The expected benefits of overpaying for Virgin Media should be Virgin's existing advanced broadband communications network which will allow immediate access to potential customers along with synergies expected from broadband communications operations in Europe. Given John Malone's track-record of creating exceptional cost-saving synergies, we can be assured that LBTY is prepared and levered enough to create some serious upside for shareholders.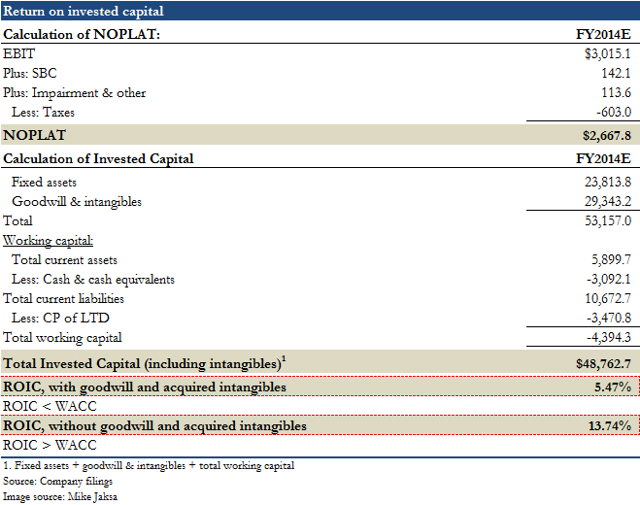 Earnings Power Valuation
When looking at earnings power value using normalized FCF, including assumptions for decreasing capital intensity and reductions in shares outstanding due to the $3.8Bn remaining in their share buyback plan, I arrived at an EPV of $60.45/share.
Probability of franchise sustainability is very high, as seen through the pre-goodwill ROIC and the strong record of above-average operating margins. Due to LBTY's strong management team, stable market share and ability to operate with barriers to entry, they are likely to sustain this franchise for many years to come. Mainly, LBTY is associated with higher switching costs and also by raising search costs; which, are typical strategies used within this industry. I assigned a franchise sustainability ratio of 0.9.

Given my base assumptions for NAV, not including items that would add to this value like LBTY's significant customer relations and replacement values of property, plant and equipment, I arrived at an intrinsic value of $56/share. Normally, I would not enter above $37.40, the 33% margin of safety mark; however, due to the conservative nature of the valuation, I believe a 23.4% margin of safety offers enough downside protection to purchase this investment.
Levered Share Price Valuation
LBTY offers a great benefit of having PE-like returns through their highly leveraged capital structure. To add, LBTY's cash flows are highly predictable and non-cyclical. As displayed below, given coverage analyst estimates for adjusted EBITDA for FYE 2016, using 5% revenue growth estimates and a 17.5% operating margin, we arrive at future share price values: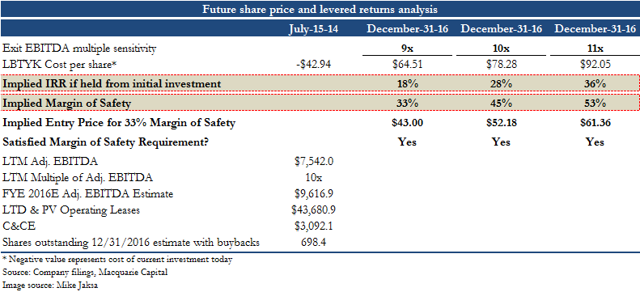 Using the current adjusted EBITDA multiple of ~10x, and conservative assumptions, one can achieve an IRR of 28% with a 45% margin of safety to the price target of $78, implying a base-case scenario entry price below $52 for safe investing.
Why Is It Undervalued
Firstly, investors see high current capex and low ROIC; I see management making it a goal to cut capex and we previously discussed the ROIC of the actual LBTY operations being in the mid-teens (13.74% vs. the visible 5.47%). A second reason is that investors see a complex company structure with operations in 14 countries; I see regional dominance. Another reason why investors do not see the value is that they are focused on the high-level of debt and the Ba3/BB- rating. However, I see predictable cash flows available to service this debt, barriers to entry to ensure those cash flows remain steady, and ultimately, levered returns to equity.
Future Catalysts
One future catalyst is Netflix entering European markets. This should strengthen demand for LBTY's broadband offering due to their superior product, and higher download speeds. Also, the planned spin-off of the Latin American business can add strategic value. This would realign Malone's interests on focusing on Europe for regional dominance / local economies of scale. Being "big where it counts" was highlighted as one of Bruce Greenwald's keys to superior competitive performance. Lastly, continual share buyback plans will continue to allow for tax-efficient distributions, boosting the share price.
Recommendation
Buy the class C (NASDAQ:LBTYK) shares that come without votes as they are the cheaper of the bunch. Because Malone owns more than 25% of the voting power and 75% of the class B shares (NASDAQ:LBTYB), owning the class A will not give you any benefit above class C as Malone has supervoting power.
Disclosure: The author is long LBTYK. The author wrote this article themselves, and it expresses their own opinions. The author is not receiving compensation for it (other than from Seeking Alpha). The author has no business relationship with any company whose stock is mentioned in this article.