Introduction
AMD's (NYSE:AMD) earnings release follows the closing bell today, and there seems to be a lot of anticipation for earnings day tomorrow, as volume was extremely high this week. When the IDC recently reported that PC sales performed much better than expected, it made sense that Intel (NASDAQ:INTC) adjusted its outlook several weeks ago, as it posted spectacular results on Tuesday. In fact, Intel's report was so strong that Seeking Alpha contributor Justin Jaynes published a great write-up on why it could be a cause for hedging.
Earnings will be announced shortly after the closing bell, with the conference call commencing at 5:30 PM EDT. You can listen to it here or read the transcript later here, courtesy of SA Transcripts. This article will focus on some figures to expect, as well as some potential factors that could arise and have an unexpected effect on earnings or projections that we will see later on today.
Projections, Revenue, and Profits
For Q2 2014, AMD projected revenue to be between $1.4 and $1.49 billion, and according to Yahoo Finance, analysts are expecting an average of $1.44 billion, with the high end being $1.45B. For the first quarter, AMD projected its revenue to be between $1.3B and $1.38B, but posted a clear beat by generating an unexpected $1.4 billion. AMD has a solid record of either meeting or exceeding its high-end projection, and if it continues to do so, AMD will be far ahead of analysts' expectations. My chart below of AMD's historical performance in this area supports this trend. The red line is AMD's actual revenue, and the grey area is its revenue range of projection.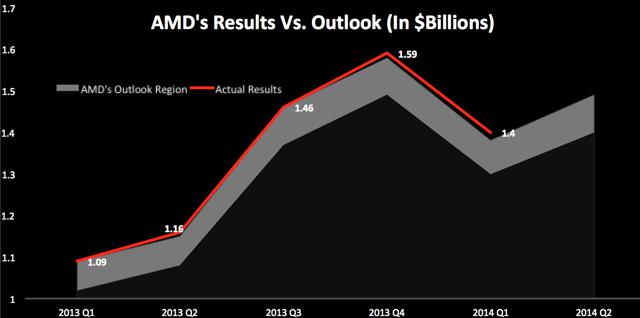 For net income, AMD earned $12 million last quarter, or .02 center per share, which turned out being its second quarter of consistent profitability after years of losses. During that quarter, which is the slower season of the year for AMD, analysts were only expecting zero cents per share. For the second quarter, there is a consensus estimate of .03 cents per share, with the whisper number being .04 cents. This could be a tough goal to reach, but there are some factors that leave me with a little optimism.

(Source: Yahoo)

(Source: Yahoo)
Console sales were strong and included an unforeseen boost
The gaming consoles have had a remarkable launch, and together, Sony (NYSE:SNE) and Microsoft (NASDAQ:MSFT) have already launched over 14 million units. Some driving factors that weren't expected came from a small ramp provided by the release of Mario Kart 8 for Wii U and a price drop of Microsoft's Xbox One. As a reminder, AMD's footprint is in all of the major gaming consoles.
During an interview by Venture Beat, Nintendo (OTCPK:NTDOY) mentioned that it was selling four times as many units two weeks after the launch of Mario Kart 8 than in the two weeks before its launch. In addition, Microsoft announced that it would (finally) start selling the Xbox One without the Kinect at a nice discount starting in June. By removing the commonly unwanted but including Kinect, Microsoft was able to shed $100 off of the Xbox One's price tag and put it at the same price as Sony's PS4. Price was a huge determinant in customers' gaming console decisions, and thanks to the price drop, Microsoft said that it more than doubled its Xbox One sales for the month of June.
One thing to note is that the ramp in sales by Microsoft and Nintendo do not imply that the figures will be reflected during AMD's Q2 earnings. If they're not, they will likely be included as a part of the third quarter's projections.
Nintendo may be one of AMD's upcoming semi-custom wins
While I've mentioned before that AMD is at the mercy of its customers when announcing semi-custom wins, it's been rumored that Nintendo may be one of the upcoming wins that AMD is eagerly waiting to announce. According to Metro, AMD's vice president of its semi-custom unit, Saeid Moshkelani, mentioned that another interest for the semi-custom unit is hand-held gaming, while also mentioning that the 3DS is still selling very well despite its lack of attention. The VP also added that AMD's semi-custom business will not pursue anything that won't generate at least $100M in annual revenue. That being said, Sony's PS Vita and Nintendo's 3DS are the only handhelds that meet this requirement, and with the PS Vita being relatively new, a new handheld by Nintendo could be possible.
Please note that there is no confirmation on this rumor and that it is purely speculative. Questions about it will likely surface during the conference call tomorrow, but there may not be any answers or coverage on it at all. I would like to believe that an announcement or confirmation on this scale would positively affect AMD's stock, so I figured I would throw the idea out there, just in case.
Conclusion
In the long run, I believe AMD is a lining itself up to be a very promising long-term investment, but the future is still a very gray area. Just to give you an idea of the unknown, analysts are expecting net incomes to be between .26 cents and .55 cents per share for the year. This is a very wide range, and is basically guessing at this point. We just don't know, as AMD is in the midst of a very intricate turnaround.
To summarize for earnings today:
AMD projected $1.4-1.49 billion in revenue
Analysts are expecting $1.44 billion
Analysts are expecting an income of .03 cents per share, with a whisper of .04 cents
Disclosure: The author is long AMD. The author wrote this article themselves, and it expresses their own opinions. The author is not receiving compensation for it (other than from Seeking Alpha). The author has no business relationship with any company whose stock is mentioned in this article.