Delivering Alpha yesterday on CNBC was fantastic.
It was a day full of special guests and interviews of some of the most successful fund managers of our generation. It was a full day of fantastic content - so, first, hats off to CNBC.
We found out tons of interesting information - like the fact that Ken Moelis is a good personal friend of Michael O. Johnson's.
"That's f****** interesting, man. That's f******* interesting," as the Dude would say.
(click to enlarge - movieclips.com)

Aside from Preet Bharara looking like he had passed a kidney stone the size of a coconut when he was asked about whether or not he was probing Carl Icahn, the best moment of the conference came at the end - when Mr. Icahn was greeted on stage by Mr. Ackman, and the two of them rekindled their friendship in front of a live television audience - the same way they showed the world that they loathed each others' existence just 18 months ago.
I had predicted this was going to be the case - for those of you that follow QTR on Twitter (@QuoththeRavenSA), you would have seen this Tweet go out hours before Icahn's interview:

In other "QTR sniffing things out" news, it certainly would have appeared to me last night that Bill Ackman was more than ready to talk about Herbalife (NYSE:HLF), but Mr. Icahn wasn't. When he was first poked about it by Scott Wapner (who did a fantastic job), he claimed that he really couldn't talk about it, that they were in a quiet period, and that he hasn't sold a single share.
Surely, this doesn't mean he doesn't want to sell a single share, it just means that he hasn't. And, from the lawyerly tone he took with Wapner when asked about it, I'd bet his lawyers are advising against it while working to get him out legally, with a profit.
It doesn't even matter if their friendship is now real, or is being fabricated for the purposes of TV. Sam Antar said to me on Sunday that he thinks the whole thing is being made up and the two of them don't trust each other still. While I disagree with Sam, it certainly is simply progress just to get the two of them on the same stage together. I mean, after all, what were they going to do - have a fist fight?
One of the first tweets I read this morning, as I was waking up, said "watch Herbalife closely. Ackman and Icahn reunited is not coincidence. One of them has capitulated."

If he's right, that capitulator is definitely Carl Icahn.
How do we know that Bill Ackman maintains his position on Herbalife? Easy.
1. We know that Ackman is like a rabid dog with his positions when he takes one.
2. Ackman has released new distributor evidence just this week, in addition to an invitation to a webcast where he plans on disclosing 2 years worth of probes into the farce that is Herbalife nutrition clubs.
So, he's not quite looking like he's ready to give up just yet.
Not to try and steal Bill's thunder - but he has, in the past alluded to the fact that nutrition clubs are no more than recruitment venues in disguise, and that they're not abiding by the rules necessary for a place that serves food and beverage. It's not a cafe, per se - it's a place where you pay a daily "membership fee" to consume Herbalife products and have people pitch you the business opportunity.
What a crock.
Ackman continues his systematic dismantling of the company - and there's no doubt that the FTC, SEC, DOJ and FBI will all be paying attention to what he has to say in his upcoming webinar. It was just days after his "Herbalife in China" webcast that we saw regulators finally announce a formal probe into the company. Since then, we've heard testimonials about distributors that have lost, cumulatively hundreds of thousands "investing" in the "business opportunity."
Nutrition clubs are the small venues that litter lower income neighborhoods. They allow Herbalife distributors a forum to try and 1) get their products consumed somehow and 2) recruit new members. After all, we all don't have the luxury of using our Herbalife products as shotgun targets, like President's team member Steve Combs:
(click to enlarge - h/t Matt Stewart, source)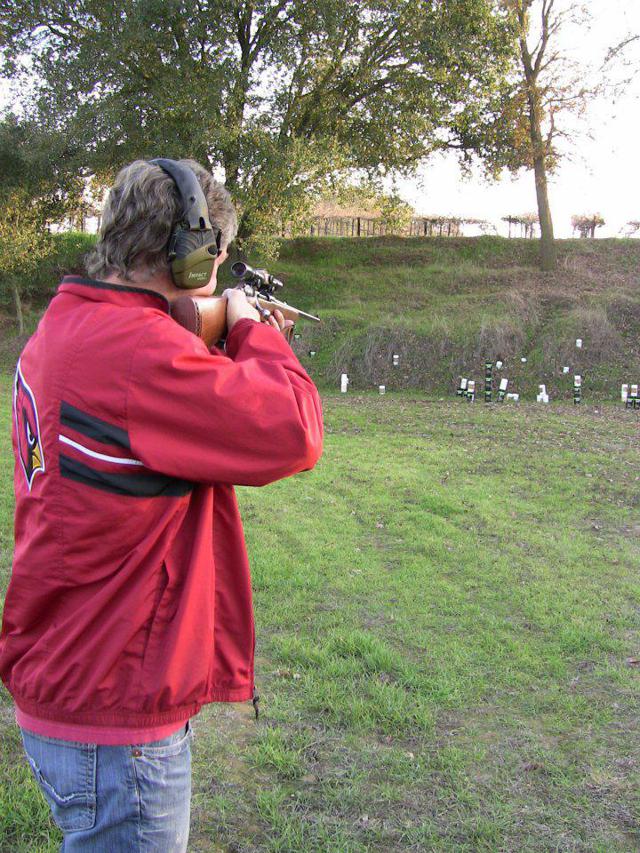 Yes, if you're a distributor, it's almost a duty to consume product when you're at these places - they have to show it's going somewhere, so what better venue for a meet, greet and eat than a nutrition club? Force down another shake, Jose - are you having fun yet?
It's like the anti-Willy Wonka factory. Except with tens of thousands of words as a distributor agreement, instead of the simple contract used in the film: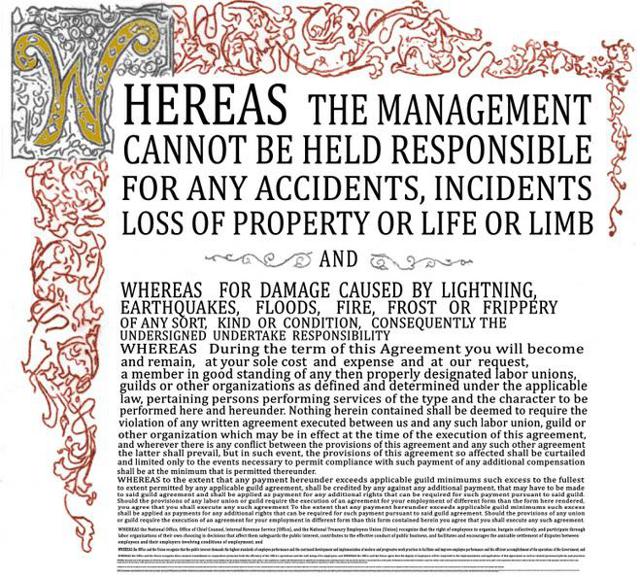 Back to the clubs themselves. The company pins these places as the equivalent of 4 star resorts in the healthy cafe niche. Meet with friends! Count your millions together! Exchange recipes for shakes!
Here's how the company thinks that nutrition clubs do, and should, look: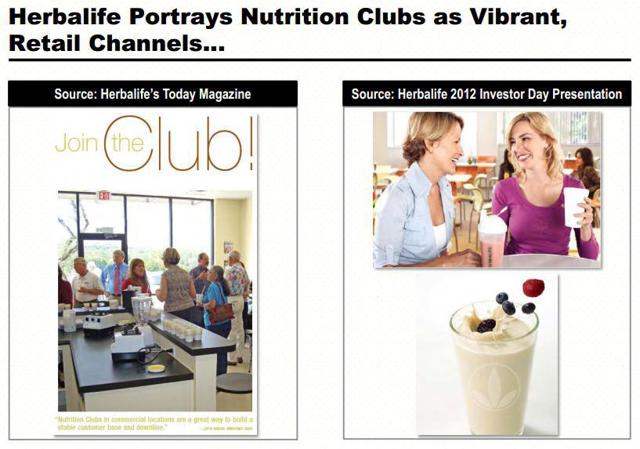 And here's an example of what Pershing Square found when they sent one of their own out to check out what nutrition clubs really look like: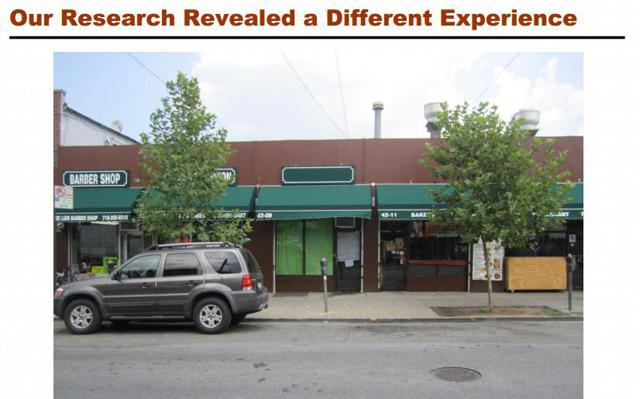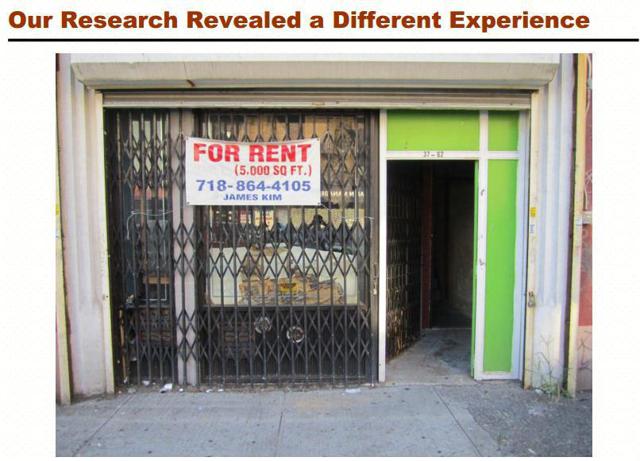 Even the closest nutrition club to QTR (yes, I looked it up and went there) looks eerily similar to these examples. Front door behind a gated entrance, painted split pea green, with a very small sign on the door in Spanish asking people to "knock hard." It didn't look very welcoming, nor was there any indication of Herbalife from the outside looking in. John DeSimone, former CFO, explains some of the ridiculous nuances involved in running a nutrition club: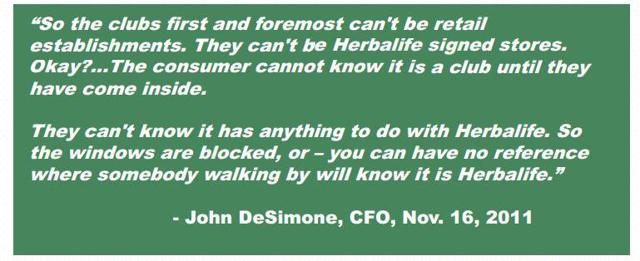 Which then, of course, Mr. Ackman puts into the context of reality and a real world example: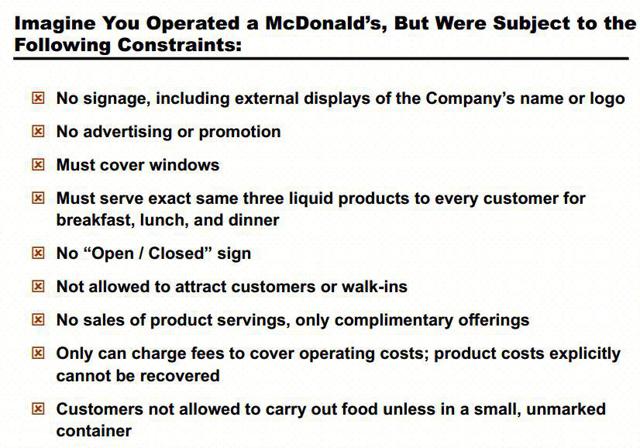 Where it then, of course, looks absolutely ridiculous.
As a matter of fact, it sounded like Aaron Smith Levin wanted to get into nutrition clubs a bit at the end of the Herbalife in China conference call - but he was called off, suggesting they not "blow their evidence" just yet. I'm licking my chops already for this new information.
Now, let's perform and exercise. Take a minute and ask yourself how Michael O. Johnson must feel. His company's savior, sitting on stage yesterday just inches from the guy that's out to destroy the pyramid.
(click to enlarge - h/t NickDunnCNBC on Twitter)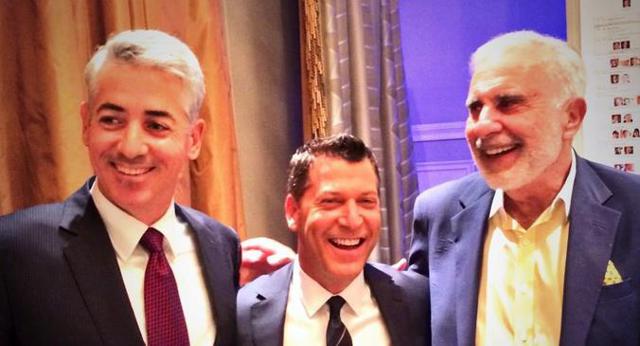 Scott Wapner hands out a t-shirt that says, "Bill and Carl reunited - and it feels so good!"
The staff at Herbalife are likely not too happy with Uncle Carl. What does Johnson think when Ackman makes the only comment on Herbalife with the two of them on stage and it amounts to: "I'd love to find a way to get Carl out of this stock."
And you know what? I genuinely believe Ackman. I think he knows that Icahn has backed himself into a corner and that Icahn himself knows the same thing. His reluctant mood to discuss Herbalife was dripping of him having his tail between his legs. It's the last thing for these two to bury before they go on to take over the world.
Months ago, I suggested that Carl Icahn was in a room with no exits.
And, as my Twitter friend said this morning, "someone has capitulated."
It's not Ackman, trust me.
If you watched yesterday's trading, you'd know that the NY Post headline that hit about Ackman's upcoming presentation sent the stock off almost as much as 5%. I've been watching Herbalife trade nearly every day, and this event is not something that, over the last 2 months, would have moved the needle.
Perhaps the end of the Herbalife buyback now means that true downward pressure can be seen on the stock when it happens.
I have to respectfully disagree with the conclusions that Mr. Antar drew in his interview with me earlier this week. I do think that the Fed and the FTC have the balls to shut down Herbalife - as a matter of fact, with the evidence presented, I think they don't have much of a choice. I know that if they only impose fines, Ackman is likely going to make good on his stance to lobby congress.
I also penned an article a couple of months ago predicting that the budding friendship between Icahn and Ackman would lead to Carl Icahn selling his stake.
It's more important now than ever for the FTC, SEC, DOJ, or FBI to step up here and shut the Herbalife pyramid scheme down. How many more people need to be duped into a rigged business opportunity under another roof before the regulators can put an end to this money transfer scheme?
If you're in Herbalife as a long, you're likely sitting at a profit of some sort. Think of this: if they are shut down, the company is not going to have any equity left on its balance sheet to give back to shareholders. Thus, my advice is to do what Herbalife executives and insiders have been doing - sell your stock while you can still get $60/share for it.
I remain bearish and short on Herbalife.
Best of luck to all investors.
All slides sourced from Mr. Ackman's original thesis on Herbalife which can be found at factsaboutherbalife.com. Used pursuant to PSQ's disclaimer on the same website.
Disclosure: The author is short HLF. The author wrote this article themselves, and it expresses their own opinions. The author is not receiving compensation for it (other than from Seeking Alpha). The author has no business relationship with any company whose stock is mentioned in this article.