KKR & Co. Continues To Evolve
Large leveraged buyouts of publicly traded companies, in order to break them up and sell them off in pieces for a profit, have declined in popularity. Private equity company KKR & Co. (NYSE:KKR) has changed with the times, and, as any good entrepreneurial organization does, follows the money.
These days, that means hedge funds, international expansion, direct lending, and direct investment of companies.
Expansion Into Hedge Funds
Like its industry brethren Blackstone Group LP (NYSE:BX) and Carlyle Group LP (NASDAQ:CG), KKR is seeking to diversify its revenue stream to more fee-based businesses, letting investors and limited partners (LPs) take most of the investment risk, while it receives management, incentive, and syndication fees.
This is evident through KKR's recent announcement of its acquisition of a 24.9%[1] interest in BlackGold Capital Management, a hedge fund that focuses on investments in the energy sector, and is on top of a similarly structured deal with Nephila Capital Ltd. that was announced in January 2013[2].
The trend of taking minority stakes in alternative investment managers, as opposed to developing its own series of hedge funds appears to be a key on-going strategy for KKR. In June, KKR liquidated its $510 AUM KKR Equity Strategies fund, due to what is believed to be low return on equity, given the size of the fund[3].KKR also holds a strong foothold in the fund of hedge funds business through KKR Prisma, a $10 billion AUM alternative asset manager it acquired in 2012.
Global Footprint
The need to source deals and access new investors on a global scale has been noted as critical for the modern investment manager, and as KKR seeks to diversify, its international expansion is something that will no doubt be a focus.
In October 2013, KKR announced its acquisition of Avoca Capital that closed in the first quarter of 2014. Avoca Capital is a European credit investment manager with over $8 billion in AUM. This acquisition does two things: it propels KKR's total AUM to over $100 billion and fee-paying AUM to over $84 billion[4].
Although European banks have not had to contend with the Volcker rule, and therefore shed valuable trading assets in the European theater (at least not yet), they are reallocating asset to ensure compliance with Basel III's capital and leverage requirements. This has allowed alternative investment providers like Avoca Capital to step in and both provide financing to European companies and also higher returns to institutional investors.
Focus On The Core
KKR's diversification has not meant that its interest in its core business of direct investment in high-quality business through direct investment and private equity funds is waning. To the contrary, KKR just completed the acquisition of KKR Financial Holdings in the second quarter of 2014[5], a specialty finance company that was managed by KKR & Co. This acquisition expands KKR's balance sheet to over $10 billion, and will help to enhance the company's liquidity and asset yield.
In its managed funds, KKR is increasingly investing in technology-focused business, long the realm of only venture capital firms. As many technology businesses have grown, weeding out the weaker players in a given market, the strong ones have demonstrated successful business models that can produce long-term profits. For example, early in July, KKR announced a $175 million investment in Scout24 Schweiz AG, a European car and real estate website, and Omnimedia AG, an online advertising agency that markets websites.
Risks
With risk comes the potential for loss, and KKR is no stranger to losses and will most likely have to manage through more in the future. In 2012, KKR had to take a 95% loss of its combined $8 billion investment in Dallas-based utility TXU Corporation, along with partner TPG Capital, as energy prices did not meet expectations[6].
Good Net AUM Growth, Known Investment Exits, Steady Dividend
YTD, KKR stock price has been trading in the low 20s and has remained relatively flat since the beginning of the year, but is up over 50% since the beginning of 2013.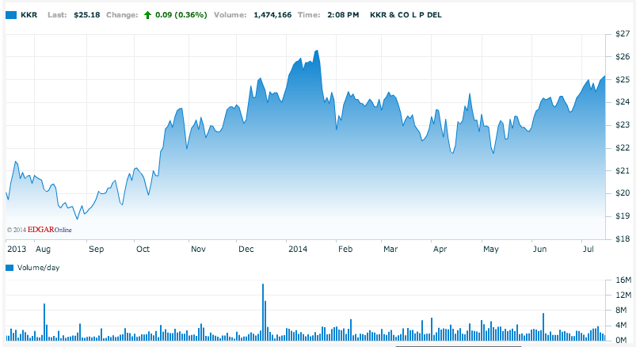 Click to enlarge
(Nasdaq.com)
The stock currently has an analyst mean price target of $28.85 and a yield of over 7%. Analyst opinions remain mostly positive, with 13 recommending a buy or strong buy and 3 recommending a hold. The company has also announced the exit of several investments planned for later this year, including Ipreo, Sunrise Senior Living, and US Foods[7].
Positive Conclusion for KKR Investors
Given KKR's steady expansion into diverse areas of finance, and a favorable size, compared with some mega-banks, struggling in a tough regulatory environment, we are positive on KKR and suggest investors consider buying into the company in the second half of 2014.
KKR also boasts a diverse investor base by both type and geography -- showing strong global interest.

(Source)
Revenues in 2013 grew by 34%, compared with 2012. In Q1 2014, net income was $210.0 million, up from $193.4 million for the quarter prior.
While distributions have varied in recent years, overall KKR has consistently made solid payments to shareholders. First quarter of 2014 distribution was of $0.43 per common unit, up from $0.27 in the first quarter of 2013.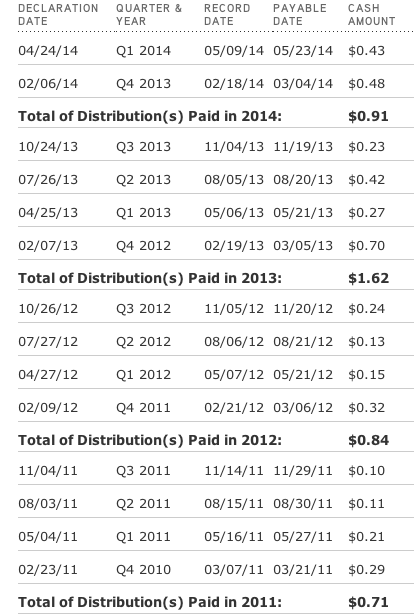 (Source)
KKR reports earnings July 24th, before-market. The company has beat estimates for earnings eight out of the past nine quarters, and has a strong likelihood of doing so again.
We invite readers wishing to join the discussion on KKR and other private equity firms to click the +Follow button above the title of this article, and those looking for the latest updates to click +Get real-time alerts.
---
[1] BlackGold Capital Management and KKR Form Strategic Partnership
[2] Nephila Capital and KKR Announce Strategic Partnership
[3] KKR liquidates former Goldman Sachs traders-run hedge fund
[4] See Value Line's most recent commentary - paid subscription is required.
[5] KKR & Co. L.P. Completes Acquisition of KKR Financial Holdings LLC
[7] See Value Line report from Footnote 4
Disclosure: The author has no positions in any stocks mentioned, and no plans to initiate any positions within the next 72 hours. The author wrote this article themselves, and it expresses their own opinions. The author is not receiving compensation for it (other than from Seeking Alpha). The author has no business relationship with any company whose stock is mentioned in this article.