One of my faults as an investor is I have a tendency to not ride my winners. I focus on finding undervalued equities and holding them until they get to what I consider "fairly valued" territory. I then sell just out of the money covered calls on the position.
This often leads to some regrets when the position is eventually called from me and I realize I was too pessimistic on the company or did not fully appreciate how catalysts were going to power the shares higher still. Pride has no place in the market and I have frequently moved back into the stock after acknowledging I missed some powerful drivers of future capital appreciation.
I have made this mistake recently on Microsoft (NASDAQ:MSFT), which I acquired in the mid-$20s early in 2013 and had called from me recently in the low $40s. The reason I was willing to part with this long time value holding is that I thought it had run up too fast as a result of the departure of its leader Steven Ballmer who was replaced by a long time insider after 13 years as CEO.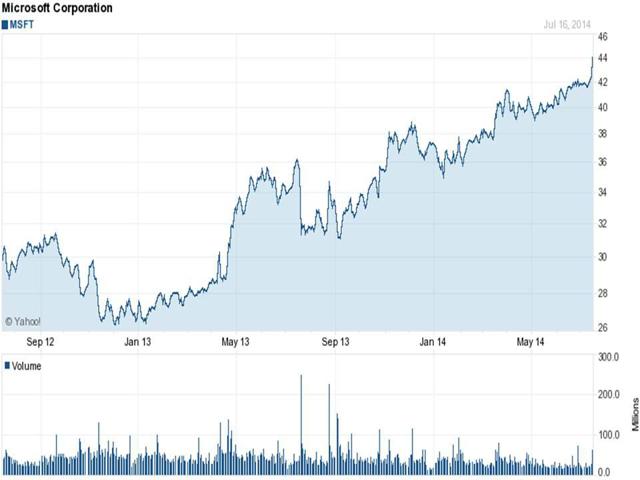 To be honest, I thought this optimism was a little misplaced as the replacement was an insider and kind of looks like an accountant or doctor rather than a take charge, visionary tech leader. Looks can be deceiving. The new leader, Satya Nadella, is showing there is a new sheriff in charge during his five months at the helm and there is steel resolve behind his calm demeanor. The man who looks so non-confrontational is acting more like Walter White by the week.
Microsoft has suffered from two major problems in my opinion over the past decade. First, it had a soft message on what the company was and wanted to become. Was it a software company? A mobile phone company? A search company? A consumer device company? A cloud company? Second, the company was too slow in making moves that were way overdue like exiting existing areas it had no business being in or in rationalizing the overall enterprise. The company truly deserved its moniker "Mr. Softie".
That is changing under Mr. Nadella. It is becoming quite clear Microsoft's two major strategic directions are in mobile and in the cloud. These two initiatives are emphasized in every conference call, investor presentation and other media events. Both make sense. The whole world is moving to mobile devices & software and the cloud.
In addition, the company already has two exponentially growing cloud offerings (Azure & Microsoft 365) that already have over $1B in annual revenues a piece and showing over 100% annual revenue growth. The company also bet big on mobile by acquiring Nokia's (NYSE:NOK) handset business, the last major act of Mr. Ballmer as CEO.
Microsoft is also no longer the slow moving behemoth it has been for over the decade. This morning Mr. Nadella announced layoffs of some 18,000 people, a good portion from the recently acquired Finnish assets from Nokia. This vastly exceeded the 6,000-10,000 layoffs the Street was expecting and was more than triple the biggest layoff in the company's history (5,800 in 2009 in the aftermath of financial crisis). Although painful for the people involved, it also shows the company will no longer be involved in "Half Measures".
Almost every successful tech giant has had a strong and merciless leader at the helm such as Apple (NASDAQ:AAPL) (Steven Jobs), Oracle (NASDAQ:ORCL) (Larry Ellison), Salesforce (NYSE:CRM) (Marc Benioff), and even Microsoft (Bill Gates) in the 90s. Mr. Nadella's early moves point that he could yet be cut from the same cloth. With Microsoft selling just at the overall market multiple, showing significant momentum, pays a 2.7% dividend yield and has over $70B in net cash on the balance sheet; I will be rectifying my mistake by either buying the next dip or selling just out of the money puts against the stock to gain a slightly lower entry point - I do have some pride after all. All I know is the days of "Mr. Softie" seem to have come to a close. ACCUMULATE
Disclosure: The author has no positions in any stocks mentioned, but may initiate a long position in MSFT over the next 72 hours. The author wrote this article themselves, and it expresses their own opinions. The author is not receiving compensation for it (other than from Seeking Alpha). The author has no business relationship with any company whose stock is mentioned in this article.