Yesterday SanDisk Corporation (NASDAQ:SNDK) had its Q2 2014 earnings release and shot the lights out just like we predicted. Second quarter revenue of $1.63 billion increased 11 percent on a year-over-year basis and increased 8 percent sequentially. On a non-GAAP basis, net income was $329 million, or $1.41 per share, compared to net income of $262 million or $1.06 per share for Q2 2013. SanDisk exceeded analysts' expectations of $1.39 per share.
However, on a non-GAAP basis, the company's gross margin of 48% for Q2 2014 declined from the 51% achieve in Q2 2013. According to management, the margin decline was caused by the following, [i] increased mix of custom embedded solution and [ii] blended price per gigabyte decline was 16%, but cost per gigabyte decline was only 12%. Earnings per share was also aided by a decline of 2.7 million shares outstanding due to share buybacks. The market reacted negatively to the gross margin compression, as a sell off after-hours drove the stock down $9.02 (8.4%) to $98.81 per share. Below is the company's historical performance on a GAAP basis: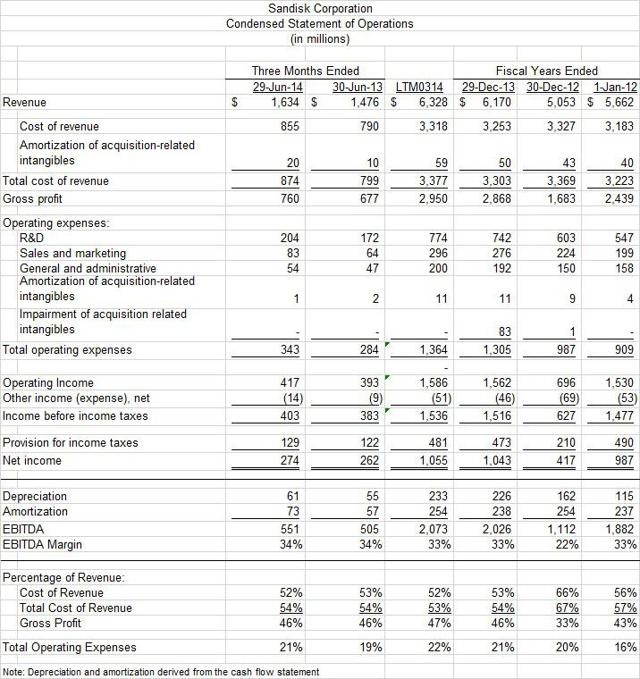 On a GAAP basis:
Revenue grew 11% to $1.63 billion in Q2 2014 from $1.48 billion in Q2 2013.
Gross margin and EBITDA margin were flat at 46% and 34%, respectively.
Net income grew about 5% annually to $274 million during the quarter.
The after-hours share price of $98.81 equates to a market capitalization of about $22.4 billion. That said, the company trades at about 21.2x net income for last 12 months ended through June 29 2014 ("LTM0614").
The "Micron Conundrum?"
SanDisk's competitor, Micron Technology (NASDAQ:MU) also shot the lights out on its Q3 earnings report in late June. Revenue for Q3 2014 was up 72% versus Q3 2013. The company earned $0.79 per share during the quarter, beating analysts' expectation of $0.70 per share. However, the stock traded down after-hours. Since the company's results were flat versus Q2 2014, the market questioned Micron's outlook going forward. In my previous article, I explained the "Micron conundrum":
Micron's Q3 earnings were impressive. However, results were lower in comparison to Q2 financial results which may have caused the stock to fall in the after-market. I expect furious trading today as investors decide how to value the company going forward. I rate the stock a hold.
Conclusion
SanDisk's Q2 earnings exceeded analysts' expectations. However, its gross margin on a non-GAAP basis declined year-over-year. On a GAAP basis, its gross profit margin and EBITDA margin were flat - unbecoming for a growth stock. The market has high expectations for semiconductor manufacturers like SanDisk and Micron. However, if these companies are not firing on all pistons the market can be unforgiving. I rate SanDisk a hold.
Disclosure: The author is long SNDK. The author wrote this article themselves, and it expresses their own opinions. The author is not receiving compensation for it (other than from Seeking Alpha). The author has no business relationship with any company whose stock is mentioned in this article. I own straddles on the company