The time has come for Mr. Jonathan Bush's athenahealth (NASDAQ:ATHN) to once again put up or shut up. As the subject of David Einhorn's short thesis just months ago, the company has been one of the lesser known battleground stocks in the marketplace. Bulls love athenahealth because of the newly created medical landscape that's being rolled out with an emphasis on technology. Bears are quick to point out that the company has a wicked history of missing analyst estimates and that the CEO is a "quirky" fellow.
After a sharp rise in February of this year, the stock has since returned to the levels that it started the year at. The technicals are leading traders to try and figure out which direction is next for ATHN. As you can see the stock has been condensing and coiling in the same range since late May. I'm guessing that earnings today is likely going to catalyze the stock's next long-term trend.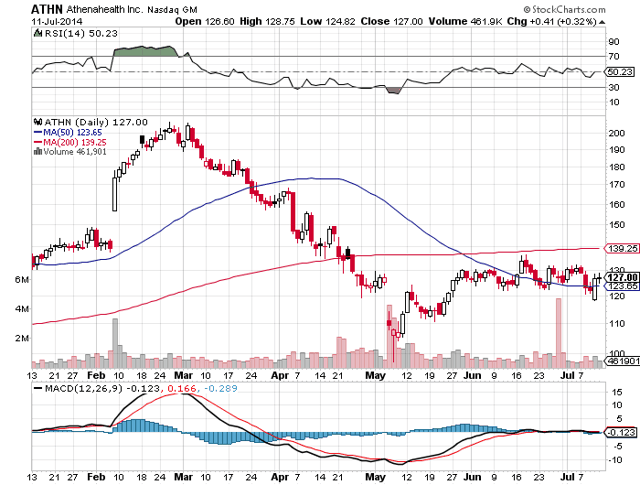 Earnings are going to hinge on whether or not the company can continue to effectively migrate patient records online while making the billing process far more efficient for both patients and medical institutions. They are looking to capitalize on the aberrations caused by recent healthcare reform initiatives as an opportunity to build business. The story for athenahealth, like many other momentum stocks, is going to revolve around whether it can meet big expectations for aggressive growth.
Analysts are expecting $0.22/share EPS on revenues of $182 million for the current quarter.
(source - Yahoo Finance)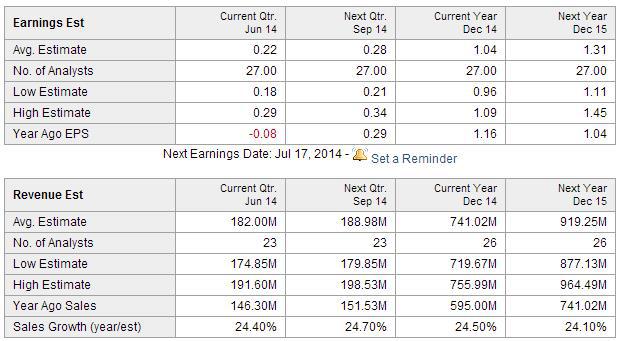 The company's cloud based solutions in patient records are one of the major drivers of the company's revenue. While the company's revenue has grown significantly, the question has been whether or not it's growing quick enough to support the stock's multiple.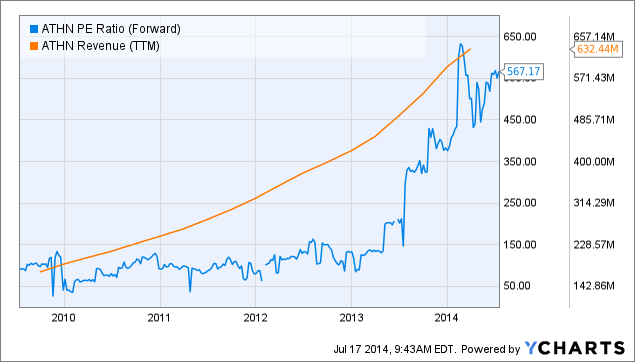 ATHN PE Ratio (Forward) data by YCharts
And, on the other hand, what do you say about a CEO that goes on live television and claims his stock is worth eight times what its currently priced at - and then goes on to admit he has no idea how public companies are valued? Such was the case with CEO Jonathan Bush, who despite expectations of earning $0.22/share in EPS this quarter, claimed his company was "absolutely a $1,000 a share stock". That's eight times the already ridiculous multiple that athenahealth trades at. From CNBC.com:
Athenahealth Chairman and CEO Jonathan Bush told CNBC on Thursday that hedge fund manager David Einhorn's disclosure of a short case against his company allows him to get out and educate investors about the company's value.

"I'm absolutely sure this is a $1,000 a share stock," Bush said in a "Squawk Box" interview. "I have no idea when it gets there."

But he admitted: "I don't know anything about valuations, so for all I know [Einhorn] is right."
Unsure of which way this highly volatile name was going to go after earnings, I bought a long straddle. For this experiment, I bought the $126 long straddle a couple of days ago. It cost $12.96 at the time and puts my breakeven at $113.04 and $138.96.

Trying to time the outcome and the results behind a company that is likely going to be volatile in trade post-earnings isn't something that I'm interested in. I see a long straddle as a "safe trade" here and bought options that expire a week and a day out from when earnings are announced - that gives us more time for the stock to make its move - or perhaps correct and add value to our OTM side of our position by them.
Risk in this trade lies in a case where ATHN continues to trade in the same range its in now, even after earnings. I contend this risk is limited and that, again, this earnings announcement will serve as the beginning of a larger trend move for ATHN stock.
Best of luck to all investors here.
Disclosure: The author is short ATHN. The author wrote this article themselves, and it expresses their own opinions. The author is not receiving compensation for it (other than from Seeking Alpha). The author has no business relationship with any company whose stock is mentioned in this article.
Additional disclosure: I hold a long straddle.