The market tends to view stocks through a myopic lens and this provides investors with the opportunity to generate alpha by viewing investments in the long term. Investors that kept a level head and bought up companies at discounted levels a few years ago are reaping the rewards of their far-sighted approach. The recent pullback in Rite Aid (NYSE:RAD) due to short-term headwinds provides such an opportunity once again.
Recent History
Rite Aid was a victim of the recent Great Recession. The company faced a reduction in sales with margins shrinking and eventually bottomed out in 2009 at $0.22 a share. Since that time, management executed a successful turnaround and has been growing the top line, improving profitability, deleveraging, and positioning the company to prosper for years to come.
The stock has since traded up substantially and reached a 52-week high of $8.61 in June. However, in the most recent quarter, profitability slipped and the stock took a beating. It currently trades at $7.08 a share. This pullback was unwarranted, as the profitability decline was a temporary negative.
For a more in depth analysis of the quarterly results, please refer to this article.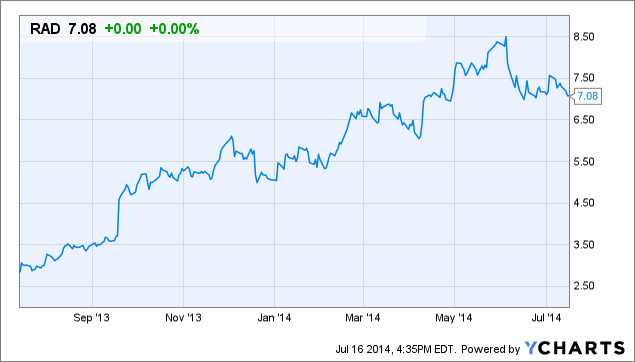 Reason For Reduction In Profitability
The reduction in gross profit was a result of lower reimbursement rates that were not offset with reductions in generic costs. Management miscalculated when the cost savings from its new partnership with the drug distributor, McKesson would go into effect. However, management did reiterate in the conference call that after Q2, its profitability will once again rise.
McKesson Agreement
Rite Aid's recently signed agreement with Mckesson, which lasts through 2019, will allow RAD to receive drug deliveries 5 days a week and reduce inventories, thus improving working capital. The company has already seen an improvement in the last quarter:
"We increased our expected working capital benefit to $250 million from $150 million as a result of the McKesson agreement. "
Source: Earnings Conference Call
The transition to this new pharmacy distribution model is the crux of the reason for the reduced gross profit. Overall, gross margins in the quarter contracted 95 basis points to 27.9%. Mckesson is the largest buyer in the market so RAD will benefit from their purchasing power and will see margin improvement in Q2, but the full effect will take place in Q3.
Tailwinds To RAD
Legislative & Demographic Positives
There are many reasons to be optimistic about a further resurgence in RAD. All of the companies in the industry such as Walgreens (NYSE:WAG) and CVS Caremark (NYSE:CVS) will see revenue expansion, as the passage of the Affordable Care Act will be a boon to the industry. Millions of Americans that were previously unable to obtain health insurance will now have the ability to afford it. The result will be an influx in prescriptions. RAD discussed the impact of this watershed bill in its earnings call:
"We expect script count growth benefits from the ACA."
Further, the mix of drugs will shift from brand name to generic. This will be positive for RAD as generic drugs provide higher profit margins. Coupled with younger Americans receiving health insurance is an overall aging U.S. population, as baby-boomers enter the senior demographic. The elderly have a much higher reliance on pharmaceuticals, so sales should rise from this as well.
Improvement In Operating Efficiency
In order to weather the storm that was the Great Recession, RAD became quite leveraged, which resulted in significant interest expenses. However, RAD has been in a period of deleveraging which is resulting in a reduction of interest expenses. Further, the company is seeing operational efficiencies, as the rent due for dark stores has been dropping each quarter.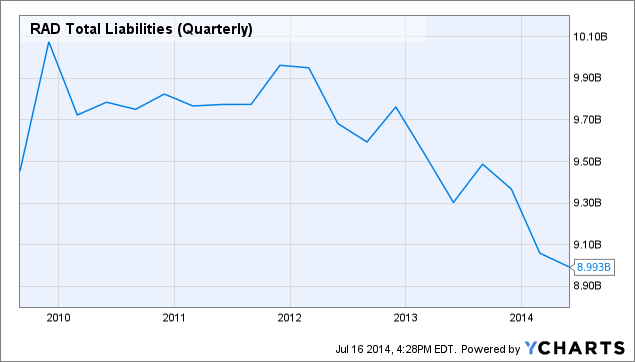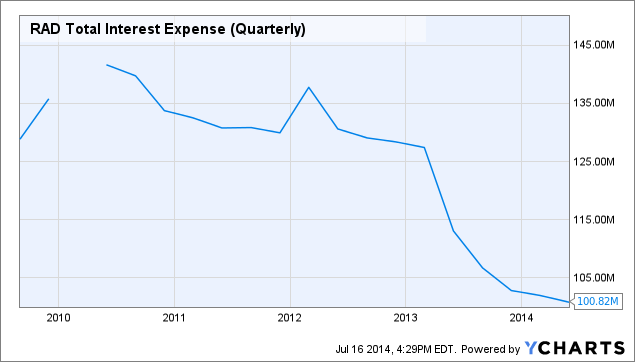 Superior Value To Competitors
RAD provides a great value for investors, compared to others in the industry. On a price to sales basis, CVS and WAG trade at over triple RAD's multiple. However, they are more profitable and thus should trade at a premium, but over 3x is egregious. With margin expansion coming in the future, RAD should close the gap and will trade at a more similar level with them.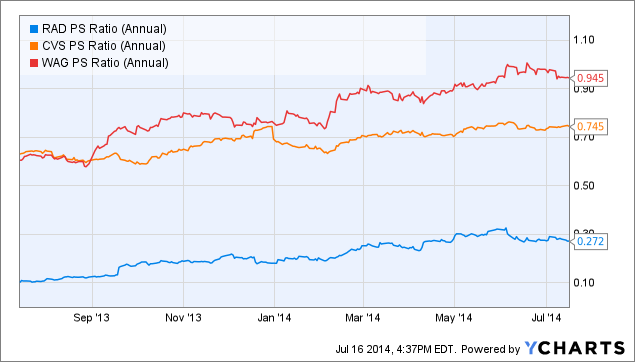 Conclusion
Investors that have a long-term outlook and can sustain the near-term vagaries of the market should accumulate shares of RAD at these levels. The decline in profitability was temporary and allows for a discounted buying opportunity. Numerous tailwinds will propel this stock and provide for substantial capital appreciation in the next few years.
Disclosure: The author has no positions in any stocks mentioned, but may initiate a long position in RAD over the next 72 hours. The author wrote this article themselves, and it expresses their own opinions. The author is not receiving compensation for it (other than from Seeking Alpha). The author has no business relationship with any company whose stock is mentioned in this article.