This is nothing exciting, no quick double, catalyst for a spike etc. Instead you have a simple preferred stock with a qualified (if that still matters after 2010) dividend that pays a high yield - 8.5%, higher than the quality of the credit would suggest. The reasons are simple: 1. the issue is callable, so nobody will bid it up much above the $25 par value, and 2. this is quite thinly traded, so not a feasible investment for everyone. As long as you don't pay over par, there is in my opinion, very limited risk with a nice yield while it lasts.
Preferred stocks are not exactly a rarity, but I think this is somewhat special not just because of the high yield for the quality, but also because it is in an industry that is different than most preferred issuers. Amerco is neither a bank nor a REIT, which are the issuers of most preferreds. While both those industries, and their preferreds, are quite popular, I think there are significant risks emanating from a weaker than expected economy that would impact the balance sheet of many companies in those industries. I believe that Amerco's business is more stable in a downturn than the typical REIT or bank.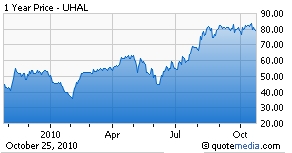 Amerco (NASDAQ:UHAL) is the holding company for uHaul and primarily in the business of renting trucks and trailers for do-it-yourself moves. Ancillary businesses are storage, supply sales and moving-related insurance. The company also owns a life insurer which typically contributes less than 10% in revenues and profits. The company has 1400 locations plus 14,000 independent dealers. It owns 100k trucks, 76k trailers and 35m sq ft of storage space. It has high fixed asset investments, and accordingly high leverage: total liabilities are $3bn, with equity at $565m. The market cap for the common is currently at around $1.6bn. Additionally, there are just under 6m preferred shares outstanding, at $25 each worth about $150m. Revenues are about $2bn.
The company is quite profitable at $53m net for the last fiscal year, and estimates around $125m for this year, although there is some variability over the years. While leverage looks very high, it does not worry me much: this is a low-end business, not a discretionary product: when you have to move, this is about the cheapest way to do it. So a complete collapse in revenues which would result in a squeeze by the indebtedness is unlikely. And in tough years, the company can defer replacing equipment, thus helping their cash flow. In that context the $12.5m annual preferred dividend is quite comfortable. The company has only once suspended the preferred dividend, during a chapter 11 reorganization necessitated by litigation. All accumulated dividends were ultimately paid.
The company could redeem the preferreds at any time. They have been buying some of them back when they dropped in price to under $18 in Q1 2009. But it seems that they do not want to reduce the already low equity number on their balance sheet. On the other hand, with their common price soaring recently, they may decide to sell some of those and redeem the preferreds.
So, I recommend buying the preferreds at $25 par, maybe plus accrued dividend, which is paid quarterly at $0.53125. The yield is 8.5%. Buy it and forget it, until one day they get called.
Disclosure: Long Ao-A