In an earlier article about the Orkut shutdown by Google (NASDAQ:GOOG) (NASDAQ:GOOGL), I mentioned that Google tried to fight back against Facebook (NASDAQ:FB) in Brazil and India, which are two of the biggest markets in the world. Fighting over the lead spot in these markets is crucial for both Google+ and Facebook; however, successfully penetrating the Chinese market would increase revenue substantially for both social networks.
Penetrating the Chinese market is hard for most companies, and even harder for social networking sites. Chinese authorities are very sensitive about user-generated content that is publicly presented without going through screening or filtering by the Chinese censor. It was only a matter of time until Facebook was blocked in China. Protestors used Facebook to communicate with each other in the 2009 Urumqi riots, and subsequently, access to the site was blocked.
Even though Facebook could not overlook the emerging internet market in China, it was blocked there. Facebook tried to find new ways to generate revenue from the Chinese market. One way to generate revenue in China was to use the familiar Facebook business model that the company used worldwide and create a Chinese Facebook site. Chinese users could use the site to interact with each other under the authorities' limitations, and Facebook could offer ads to Chinese advertisers as in any other country. Only a local company can purchase an internet content provider license to operate in China.

Facebook needed either to start a local private company as Google did or partner with a local internet company. At the end of 2010, Mark Zuckerberg traveled to China and was rumored to have discussed a partnership deal with internet giant Baidu (NASDAQ:BIDU). Baidu is the market leader of search engines in China, and, at that time, was looking to enter the social media market and compete with Weibo (NASDAQ:WB), Renren (NYSE:RENN) and Tencent (OTCPK:TCEHY). The Facebook-Baidu partnership agreement was not signed, and Facebook went looking for another way to gain revenues in the Chinese market.
Facebook also took the direction of selling ads to local Chinese companies that would be published abroad. In 2011, Facebook opened a sales office in Hong Kong that, officially, sells advertising to companies in Hong Kong and Taiwan, but, in practice, also serves companies from mainland China. As shown in Chart 1 below, Facebook's revenue from the Asia region, which includes Australia and New Zealand, continues to increase. It only consists of 15% of the total revenues of the company but has great potential.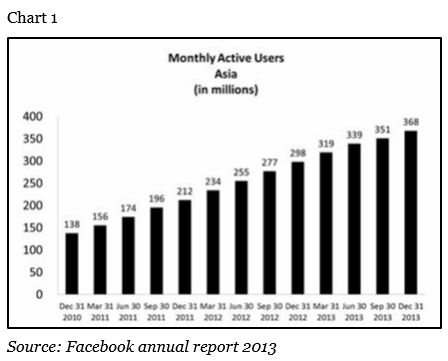 Two weeks ago, at the beginning of July, Facebook leased a new small office space in Beijing's central business center. Since Facebook has rented a relatively small space in Beijing and has not announced any strategic partnership in China, I assume that the new office will be used to support the Hong Kong office and to try to attract new advertisers from mainland China. Main players in the Chinese social media market such as Weibo, Renren, and Tencent have the advantage over Facebook as they are used by Chinese-speaking users and dominate the Chinese market. However, these companies are focused only on China and have no presence abroad. It is Facebook's power that enables it to sell ads in China even though Facebook is blocked there. A Chinese company that wants to penetrate new markets outside of China cannot advertise on local sites as they have no users elsewhere, but it can advertise on Facebook in order to reach customers outside of China. With the new office in central Beijing, Facebook could increase revenue from this type of company and increase the Asian portion of its revenue.
There is a good chance for this move to succeed, and when it does, it will grow Facebook's revenue in Asia and potentially have a positive impact on earnings and stock price.
Conclusions
Facebook has worked for a long time to penetrate the Chinese market. After the social networking site was blocked in 2009, Facebook's executives tried to find a different way to generate revenue in China. Facebook opened its first sales office in Hong Kong in 2011 to sell ads for local businesses that want to go global. In order to increase revenue from Asia, Facebook opened an office in mainland China that is probably targeted to attracting more local advertisers. Facebook's worldwide adoption makes it a better social media advertising alternative than the local social sites, and that clear advantage can make this move successful.
Disclosure: The author has no positions in any stocks mentioned, and no plans to initiate any positions within the next 72 hours. The author wrote this article themselves, and it expresses their own opinions. The author is not receiving compensation for it (other than from Seeking Alpha). The author has no business relationship with any company whose stock is mentioned in this article.
Additional disclosure: Information provided in this article is for informational purposes only and should not be regarded as investment advice or a recommendation regarding any particular security or course of action. This information is the writer's personal opinion about the companies mentioned in the article. Investors should conduct their own due diligence and consult with a registered financial adviser before making any investment decision. Lior Ronen and Finro Financial Consulting and Analysis are not registered financial advisers and shall not have any liability for any damages of any kind whatsoever relating to this material. By accepting this material, you acknowledge, understand and accept the foregoing.
Editor's Note: This article discusses one or more securities that do not trade on a major U.S. exchange. Please be aware of the risks associated with these stocks.