The following is a list of stocks that are 0%-5% above their 52-week lows. Judging by the number of open call option contracts relative to put option contracts, it's clear that options traders expect these names to rebound.

To create this list, we started with a universe of roughly 80 stocks that are trading near 52-week lows. We then narrowed down the list to the 10 stocks with the lowest Put/Call ratios.

To give more perspective on investor sentiment, we'll also include data on short float and performance.

Performance and short float data sourced from Finviz, options data sourced from Schaeffer's.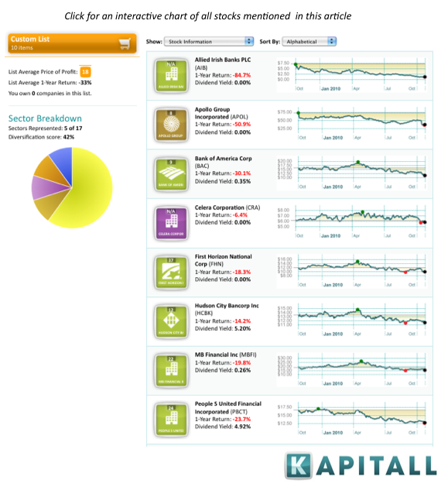 The list has been sorted by the Put/Call ratio.

1. Celera Corporation (NASDAQ:CRA): Diagnostic Substances Industry. Market cap of $474.72M. The stock has lost 8.24% over the last year. Call open interest at 1,392 contracts vs. put open interest at 171 contracts (Put/Call ratio at 0.12). Short float at 5.23%, which implies a short ratio of 7.65 days.

2. MB Financial Inc. (NASDAQ:MBFI): Regional Bank. Market cap of $832.6M. The stock has lost 20.13% over the last year. Call open interest at 279 contracts vs. put open interest at 98 contracts (Put/Call ratio at 0.35). Short float at 8.92%, which implies a short ratio of 14.65 days.

3. Allied Irish Banks plc (AIB): Foreign Money Center Banks Industry. Market cap of $722.6M. The stock has lost 85.17% over the last year. Call open interest at 10,772 contracts vs. put open interest at 4,689 contracts (Put/Call ratio at 0.44). Short float at 0.28%, which implies a short ratio of 0.41 days.

4. People's United Financial Inc. (NASDAQ:PBCT): Savings & Loans Industry. Market cap of $4.68B. The stock has lost 21.87% over the last year. Call open interest at 7,651 contracts vs. put open interest at 4,188 contracts (Put/Call ratio at 0.55). Short float at 5.09%, which implies a short ratio of 5.49 days.

5. Scientific Games Corporation (NASDAQ:SGMS): Diversified Computer Systems Industry. Market cap of $829.18M. The stock has lost 49.33% over the last year. Call open interest at 872 contracts vs. put open interest at 487 contracts (Put/Call ratio at 0.56). Short float at 6.76%, which implies a short ratio of 6.46 days.

6. Apollo Group Inc. (NASDAQ:APOL): Education & Training Services Industry. Market cap of $5.32B. The stock has lost 51.88% over the last year. Call open interest at 146,763 contracts vs. put open interest at 95,306 contracts (Put/Call ratio at 0.65). Short float at 7.58%, which implies a short ratio of 2.15 days.

7. Bank of America Corporation (NYSE:BAC): Banking Industry. Market cap of $114.79B. The stock has lost 30.58% over the last year. Call open interest at 4,342,649 contracts vs. put open interest at 3,161,390 contracts (Put/Call ratio at 0.73). Short float at 1.53%, which implies a short ratio of 0.87 days.

8. Petroleo Brasileiro (NYSE:PBR): Oil & Gas Drilling & Exploration Industry. Market cap of $139.95B. The stock has lost 35.92% over the last year. Call open interest at 436,410 contracts vs. put open interest at 341,637 contracts (Put/Call ratio at 0.78). Short float at 0.63%, which implies a short ratio of 0.88 days.

9. First Horizon National Corp. (NYSE:FHN): Regional Bank. Market cap of $2.31B. The stock has lost 23.79% over the last year. Call open interest at 9,007 contracts vs. put open interest at 7,849 contracts (Put/Call ratio at 0.87). Short float at 11.49%, which implies a short ratio of 7.09 days.

10. Hudson City Bancorp, Inc. (NASDAQ:HCBK): Savings & Loans Industry. Market cap of $6.07B. The stock has lost 10.69% over the last year. Call open interest at 16,913 contracts vs. put open interest at 14,857 contracts (Put/Call ratio at 0.88). Short float at 3.22%, which implies a short ratio of 2.85 days.

Disclosure: No positions