By Chris McKhann
MetLife (NYSE:MET) heads into its earnings announcement Thursday with volatility near the lowest levels of the year, and one trader is selling longer-term puts to profit.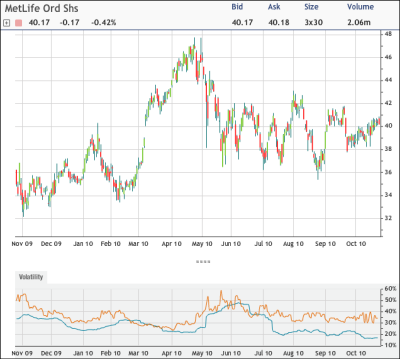 MET's 20-day historical volatility has fallen to 20 percent, just a tick above the low from March and coming down from above 60 percent in May. The average implied volatility sits at 34 percent, just above the six-month lows and lower than it has been going into the last four earnings announcements.
This would appear to be a decent time to buy options, but the big trade of the day involves the sale of the March 40 puts. A trader sold 6,550 of those puts for $3.55, and the volume was 20 times the previous open interest, so it was clearly a new opening position. The implied volatility of these puts is 36 percent.
The stock is trading just above that strike price this morning at $40.17, down 0.42 percent on the day. It has been range-bound for months, trading between $42.50 and $36 since early May. The credit from the short puts would give a downside cushion to $36.45--but only at expiration.
The realized volatility was last above that 36 percent level in late September. This odd position seems to be from a trader who sees a mild to slightly bullish response to earnings.

Disclosure: No positions