I read this article today by a staff writer of YCharts. The gist of the piece was that the prices of many dividend winning stocks have share prices that are too high, and investing in them NOW is "dangerous."
The stocks that were singled out were Coca Cola (NYSE:KO), Colgate-Palmolive (NYSE:CL), Procter & Gamble (NYSE:PG), and Walgreen (NYSE:WAG). The "proof" was the trailing P/E ratios. Just for fun, let me toss up this chart: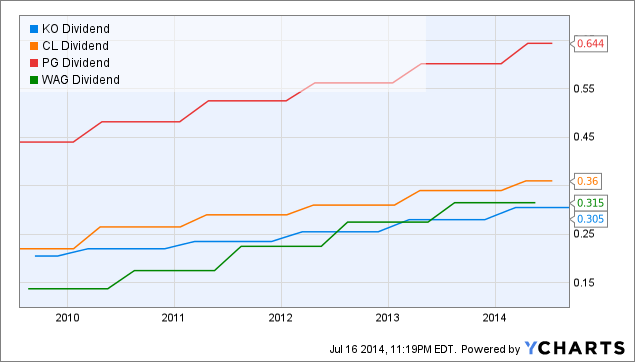 Using the same timeframe, you can easily see that the stocks that were selected as being "especially" overpriced are the same dividend champion stocks that most dividend growth investors own for income. As you can see, each of them has increased its dividend every year.
Keep in mind, that this is a far cry from "chasing yield," as that article suggests.
When You Invest For Dividends, It Is All About Income
It appears that this basic premise needs to be constantly repeated, or it is brushed aside too quickly by those who seem to be less than impressed with dividend growth investing. I do not focus on the share price or P/E ratios outside of two times -- maybe just once -- when I am opening a position or adding to one.
As a matter of fact, using our "Buy The Dips Portfolio," better known as the BTDP, let me put a few charts up to offer my opinion on the two areas that are of most importance to me in my own personal dividend growth investing style.
Income and allocation
Diversification
The BTDP consists of the following stocks: AT&T (NYSE:T), Exxon Mobil (NYSE:XOM), Johnson & Johnson (NYSE:JNJ), Coca-Cola (NYSE:KO), Procter & Gamble (NYSE:PG), Altria (NYSE:MO), McDonald's (NYSE:MCD), Chevron (NYSE:CVX), Apple (NASDAQ:AAPL) General Electric (NYSE:GE), Ford (NYSE:F), Microsoft (NASDAQ:MSFT), Wal-Mart (NYSE:WMT) and Pfizer (NYSE:PFE).
Of these core positions, only Apple, Ford, and GE do not fall into the "dividend champion" category. That being said, I believe they will eventually be among them in time as well.
Here is the first chart:
| | | | | |
| --- | --- | --- | --- | --- |
| Symbol | Shares | Dividend | Yrly Income | Orig Alloc |
| T | 300 | 1.84 | 552 | 9.00% |
| XOM | 100 | 2.76 | 276 | 8.00% |
| JNJ | 100 | 2.8 | 280 | 8.00% |
| KO | 200 | 1.22 | 244 | 7.00% |
| PG | 100 | 2.57 | 257 | 7.00% |
| GE | 300 | 0.88 | 264 | 7.00% |
| MCD | 100 | 3.24 | 324 | 9.00% |
| CVX | 100 | 4.28 | 428 | 10.00% |
| AAPL | 105 | 1.88 | 197 | 7.00% |
| MO | 100 | 1.92 | 192 | 3.00% |
| F | 400 | 0.5 | 200 | 5.00% |
| MSFT | 200 | 1.12 | 224 | 7.00% |
| WMT | 100 | 1.92 | 192 | 7.00% |
| PFE | 200 | 1.04 | 208 | 6.00% |
| Annual Inc. |   |   | 3838 | 100.00% |
Notice that I have left out the share price of each stock. Why? It is not very important at this point. You can see the entire chart right here if you must peek, but try not to dwell on the price.
From this simple chart you can see that based on my initial investment into these core holdings, I will receive $3,838 in income from dividends paid by these mega cap, blue chip, dividend winners, this year. All but 3 of them has increased dividends for more than 25 consecutive years, no matter what the share price was, or the P/E ratio.
As a dividend growth investor, that is what I need to know: Income. Of course the allocation in each stock is reasonable and realistic based on just 14 holdings, and that is important as well. As time goes by, I might re-balance the allocations, trim positions, and redeploy any cash from selling right back into dividend winning stocks.
Here is the second chart:
Tech
Energy
Retail
Health
Consumer
Global
Auto
T
XOM
WMT
JNJ
KO
GE
F
AAPL
CVX
MCD
PFE
PG
MSFT
 
*MO should be a consumer stock.
I believe that diversification across business sectors is just as important, if not more so, than allocation. I want to own a cross section of the biggest business segments in the world within my dividend income portfolio. Perhaps this could be expanded further and more industries added, but I think Jim Cramer would say emphatically: I am diversified!
OK, So What About Share Price?
I believe that there are only two times that the price of any stock is important to know -- when I buy it, and when I sell it. Since I sell very rarely, maybe it is only 1 1/2 times. Nobody wants to pay more for a stock if they can help it, but dividend growth investing is not about that.
As far as I am concerned, for those investors selecting this path, putting money to work for a more secure financial future and retirement income is much more important than the share price. We can wait for the "right" price, dollar cost average with our purchases, or wait for a correction (some have waited 6 years for that).
Money not working is money lost in income. Dividend growth investing offers the unique strategy of putting share price well below the income received from the stocks purchased.
That is NOT chasing dividend yield, folks, it is securing a better financial future.
Disclaimer: The opinions of the author are not recommendations to either buy or sell any security. Please remember to do your own research prior to making any investment decisions.
Disclosure: The author is long AAPL, CVX, F, GE, JNJ, KO, MCD, MO, MSFT, T, WAG, XOM. The author wrote this article themselves, and it expresses their own opinions. The author is not receiving compensation for it (other than from Seeking Alpha). The author has no business relationship with any company whose stock is mentioned in this article.