Caterpillar (NYSE:CAT) has had a rough stretch for a while and was actually a favorite candidate for the "Bear of the Day" for much of last year. However, as industrial production has come back a bit and as emerging markets have stabilized, CAT has become an intriguing play in 2014.
In fact, shares of CAT have added over 22% YTD, easily crushing the S&P 500 and its return over the same time period. Still, when taking a two year look, CAT is behind the broad benchmark and has quite a bit of territory left to cover in order to make up the difference. But with recent earnings estimate activity and hope for a strong earnings number, CAT may very well close the gap in short order.
CAT Estimates
Analysts seem to believe that CAT is back on track, as there have been many earnings estimates moving higher as of late for this stock. The current year and the next year are the real movers though, as both of these have seen strong estimate revisions in the past week, including three estimates moving higher in just the past seven days for the next year time frame.
Thanks to these moves higher, CAT is closing in on expectations of 7% EPS growth for 2014, when compared to the year ago period. However, the true focus should be on next year, as CAT is now expected to see growth of nearly 15% year-over-year for earnings.
While higher expectations are always troubling, it is important to note that CAT has turned things around on this front and is now on a two quarter streak for beating earnings estimates. Both of the last two quarters saw earnings beats in double digit territory, and the Earnings ESP for the current quarter is also positive, suggesting another beat might be on the way (at least when this is coupled with a positive/neutral Zacks Rank).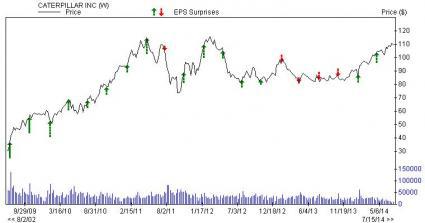 Other Factors
Investors should also note that even with the solid gains in its share price this year, the forward PE for CAT remains below 20. And with decent growth prospects going forward, especially if China pumps more into the infrastructure side of its economy, this could be a reasonable value.
If that wasn't enough, CAT is also a solid dividend payer as well, with current rates coming at 2.6% a year. This is thanks to a recent dividend increase which bumped the quarterly figure up to 80 cents per quarter, ensuring that CAT remains a great option for income investors as well.
Bottom Line
It is also important to note that CAT's industry is very highly ranked, so this isn't a Caterpillar specific trend. Instead, the machinery-construction/mining sector is ranked in the top 20% overall, suggesting there is broad strength here.
Still, CAT is a leader in the space and the company, thanks to its strong earnings picture, has earned itself a Zacks Rank #1 (Strong Buy), meaning that we are looking for outperformance. And with the positive ESP and the upcoming earnings report, this could be a very interesting play this earnings season, especially if current trends continue.