Although it is the height of summer vacation for many students, education stocks have managed to receive falling grades nonetheless. Several names in the sector have come under investigation by the Department of Education over financial aid issues, and worries are spreading across the space that more pain could be ahead.
While this trend has impacted a number of stocks in this space, an overlooked one that could be poised for a further slide is undoubtedly Bridgepoint Education (NYSE:BPI). This San Diego-based for-profit education company has lost about one-fourth of its value since the start of the year, and based on the recent industry trends and earnings estimates for BPI, there could definitely be more losses ahead for this stock.
BPI in Focus
Bridgepoint is best known for its brands of Ashford University and University of the Rockies, providing a variety of degrees in numerous fields to students. The majority of its programs are online, though it does have two campuses as well.
Much like other education stocks, this was a booming business for a while, but heavy competition and regulatory scrutiny are dulling the appeal of many names in this sector now. BPI has been unable to escape this trend, while analysts appear very bearish on the company's near term prospects too.
BPI Earnings Picture
BPI has a horrible track record when it comes to earnings season, as it hasn't been able to beat, or even come close, to estimates as of late. In fact, all of its reports in the past year had misses greater than 25%, showcasing how difficult it has been for BPI to beat earnings estimates.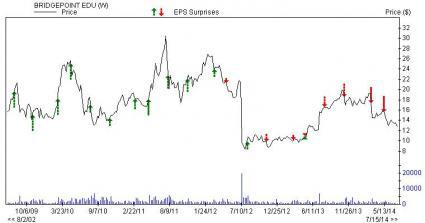 And as competitive pressures and regulatory worries have begun to build, analysts have been pushing their estimates down on the stock. The consensus estimate has fallen from 60 days ago in both the current quarter and the current year, while the current year's estimate falling from 38 cents a share in profits to just 33 cents a share today.
With these cuts, BPI is now expected to see earnings contract by 60% year-over-year for 2014. Meanwhile, current quarter and next quarter earnings are also expected to contract (year-over-year), with double digit contractions expected.
Thanks to these factors BPI has earned itself a Zacks Rank #5 (Strong Sell), so we are looking for more outperformance. And if recent DOE action is any guide, the government's review of the broader industry isn't done yet, so there could be a big shakeup in this space with more volatility on the way.
Other Picks
Currently, the schools industry is ranked in the bottom 40% in terms of the Zacks Industry Rank, so there aren't a whole lot of great choices. However, there are two top ranked stocks which could be interesting choices for investors willing to stay in the space; Devry Education (NYSE:DV) and Tal Education Group (XRS).
Both of these education companies have surged to top ranks within the past week, while they have seen double digit earnings beats for the most recent quarter. Given this, either of these might be a better choice than BPI, at least until Bridgepoint can turn around its earnings estimate picture, or finally find a way to match analyst expectations.